We believe hedge funds continue to have competitive advantages relative to larger institutional asset managers, which result from their largely unconstrained investment mandate. They can be more dynamic, hire the brightest investment talent and should be less influenced by underlying market returns. Consequently, a hedge fund portfolio can potentially generate performance and help complement a total portfolio.
In this paper, we take a look at the hedge fund industry and share how we have designed a new way — a way that seeks to combat the structural headwinds facing the industry by isolating specialist skill, designing appropriate solutions to fit in with the wider portfolio and negotiating value for money. We believe that this new way allows hedge fund portfolios to help deliver potential returns, improve portfolio balance and ultimately justify their inclusion in our clients' portfolios.
Willis Towers Watson has worked with its clients to implement hedge funds in portfolios for many years, leveraging a large team of manager research professionals to help deliver differentiated outcomes. We have always avoided viewing hedge funds in isolation, but rather as part of a portfolio, designed to complement and to augment. This philosophy has helped drive the downside protection we believe is so important. Evolving to the new way, to thrive going forward, has been far from a trivial exercise. It has required us to draw on our wider resources. We have leveraged our clients' collective scale, new infrastructure and our culture of innovation to help identify, design and launch specialist hedge fund solutions underpinned by a desire to change the investment industry for the benefit of the end saver. We believe we have created a new and different way and hope disillusioned asset owners will evaluate hedge funds through this alternative lens.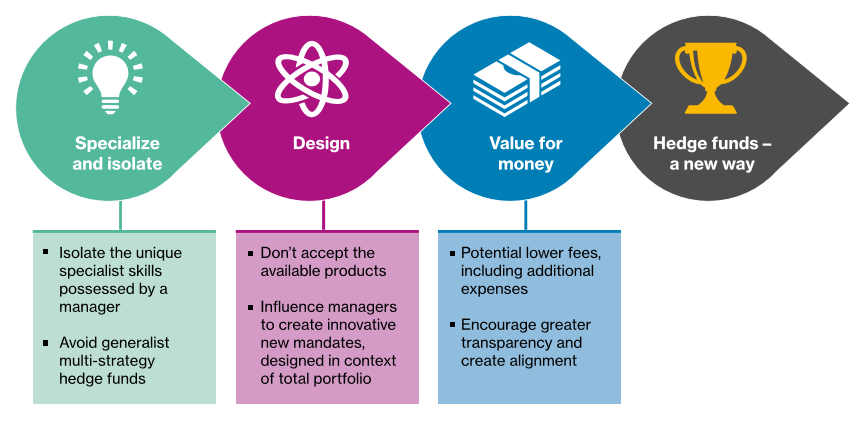 Figure 1. Hedge funds: A new way
This document was prepared for general information purposes only and should not be considered a substitute for specific professional advice. In particular, its contents are not intended by Willis Towers Watson to be construed as the provision of investment, legal, accounting, tax or other professional advice or recommendations of any kind, or to form the basis of any decision to do or to refrain from doing anything. The information included in this presentation is not based on the particular investment situation or requirements of any specific trust, plan, fiduciary, plan participant or beneficiary, endowment, or any other fund; any examples or illustrations used in this presentation are hypothetical. As such, this document should not be relied upon for investment or other financial decisions and no such decisions should be taken on the basis of its contents without seeking specific advice.
This document is based on information available to Willis Towers Watson at the date of issue, and takes no account of subsequent developments. In addition, past performance is not indicative of future results. In producing this document Willis Towers Watson has relied upon the accuracy and completeness of certain data and information obtained from third parties.