The meaning of Careers has changed.
It's evolved away from linear, ladder-climbing to encompass a wide-ranging journey, where the sky's the limit... Today, your employees want to lead their own adventure.
Where will that adventure take them? How can you help them get there? What skills and experiences do they have? What skills will they need, and how can they learn them? Our research shows employees are more likely to stay with an organization and be highly engaged when they see a number of clear career experiences and growth opportunities within reach. We also know that replacing employees is disruptive and expensive. It can cost three times an average salary to replace an employee, and you lose each individual's unique talents.
The answer? An integrated Career Ecosystem. And WTW can show you the way.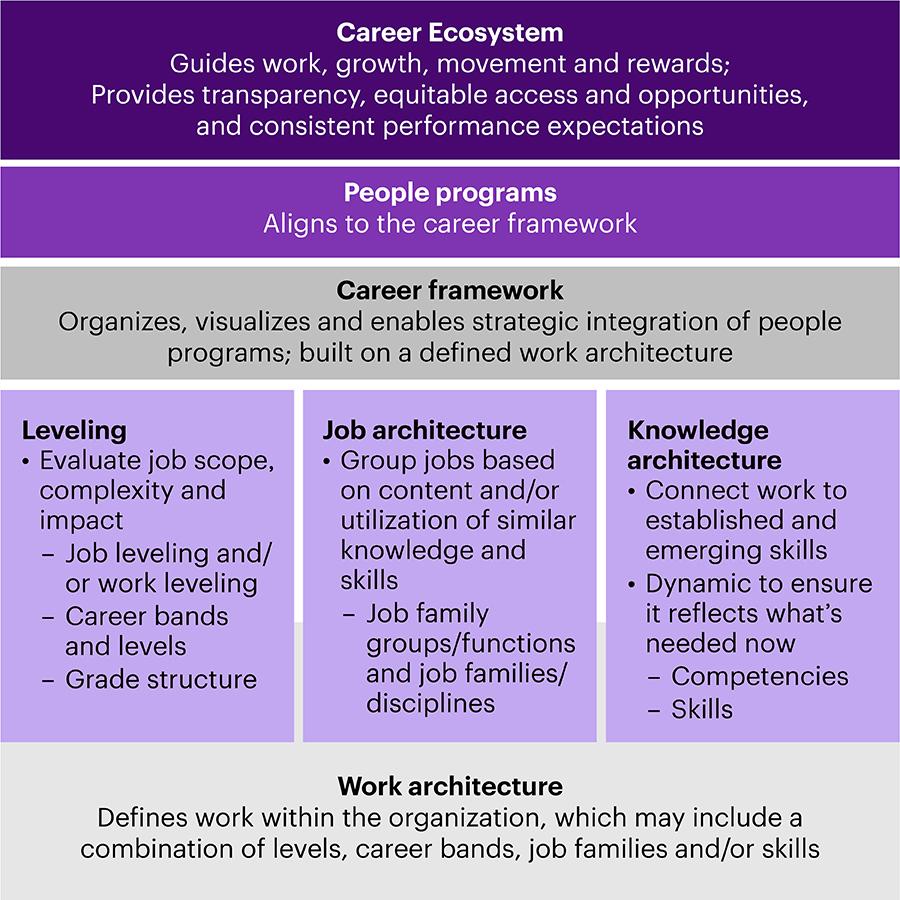 Figure 1: Career Ecosystem
People Programs: Aligns to the Career Framework. Career Framework: Organizes, visualizes and enables strategic integration of people programs; built on a defined Work Architecture. Leveling: Evaluate job scope, complexity and impact. 1) Job leveling and/or work leveling 2) Career bands and levels 3) Grade structure. Job Architecture: Group jobs based on content and/or utilization of similar knowledge and skills. Job family groups/functions and job families/disciplines. Knowledge Architecture: Connect work to established and emerging skills. Dynamic to ensure it reflects what's needed now like competencies and skills.Work Architecture: Defines work within the organization, which may include a combination of levels, career bands, job families and/or skills.
We help you draw a map, build infrastructure and create tools to help employees navigate their careers. We help you develop a thought-out Job Architecture, Global Job Leveling and Knowledge Architecture – keys to unlocking Career Experiences.
The Career Ecosystem anticipates questions on your employees' minds – what about future career development, pay progression and career equity? A new direction or a new locale? It's a new dawn for Careers and a Career Ecosystem lights the path forward – accurately defining work, delivering return on investment and developing your future leaders. It links your people strategy to your company purpose and to every employee's journey, no matter where it takes them. And it ensures your people programs are connected, effective and deliver the results your organization needs.
Their journey is your journey; their success, your success.
Careers in motion is the new work horizon.
Careers in motion; the evolving work horizon
A new dawn is here for career design. In today's competitive environment, many organizations are in the process of creating meaningful career experiences for employees. These are enabled through a Career Ecosystem.