Managing the physical risks of climate change, such as extreme flooding, wildfire weather and hurricanes, means understanding which risks are mostly likely to impact your business, its supply chain partners and customers.
Effective physical climate risk management is also about quantifying these exposures so your mitigation and adaption strategies are effective and represent value to the business while readying it to meet new and emerging climate reporting obligations.
Climate Diagnostic from WTW gives you a path to improved climate risk management and climate reporting through an analytical view on your physical risk exposures.
Using industry recognized models and the latest scientific projections, these perspectives allow you to evaluate climate change and the impact on your global assets, those of your partners and customers. These valuable and dynamic insights can inform more targeted and effective climate risk management and align to your evolving climate reporting disclosures.
How can Climate Diagnostic direct your physical climate risk management and sustainability strategy?
The model delivers an actionable risk view of your global assets by considering the impact of a wide range of physical climate risks in alternate climate scenarios and over shorter, medium and longer term time horizons.
Which of your assets are most at risk from physical climate risk now and decades into the future? How will your customers be impacted? Should you be moving to alternative suppliers ahead of climate-related disruption? What climate risk controls should the business be prioritizing to strengthen resilience in a warming world?
Climate Diagnostic gives you the answers, clarity that can drive:
Strategic planning insight – The model outputs provide valuable insight towards your longer-term strategic planning
Build portfolio resiliency – Identify which assets or properties have the highest physical risk, allowing targeted mitigation to reduce risk exposure
Regulatory alignment – Our approach responds to evolving climate reporting regimes, allowing you to meet regulatory, investor and stakeholder expectations.
How Climate Diagnostic clarifies your climate risk view?
Climate Diagnostic allows you to understand both the impact of acute physical climate risks – those arising from changes in event-driven hazards – such as heat stress, sea-level rise, precipitation and drought, and chronic physical climate risks – those driven by longer-term shifts in climate patterns – including tropical cyclones (hurricanes), extreme flooding and wildfire weather under multiple climate scenarios.
To drive longer-term resilience, the model also offers you the flexibility to assess acute and chronic climate risks over shorter and longer-term views, assessing your global exposures over time horizons to 2030, 2050 and to 2100.
Climate Diagnostic informs climate risk management action by giving you options to view high-risk areas, locate individual assets and identify the relative impact of each hazard.
To explore relative risk over time under different climate scenarios you can adapt your climate view by both by time horizon and by climate scenario using to project your exposure for Representative Concentration Pathways (RCP) 2.6, 4.5 and 8.5, the scientific standard climate projection scenarios, based on greenhouse gas concentration.
Pathways are also mapped to the Shared Social Economic Pathways (SSPs), the scientific standard climate projection scenarios, based on greenhouse gas concentration in latest climate research from the Intergovernmental Panel for Climate Change (IPCC).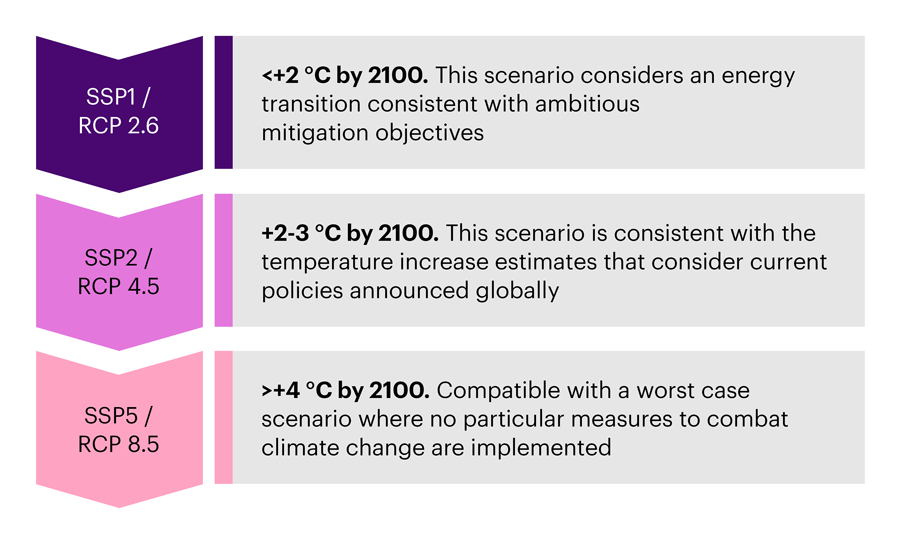 Scenario illustration projecting exposure under RCP and pathways mapped to the SSPs
You can visualize all of this through interactive maps, while the executive summary and dashboard functionalities make it easy to articulate your climate risk priorities to stakeholders.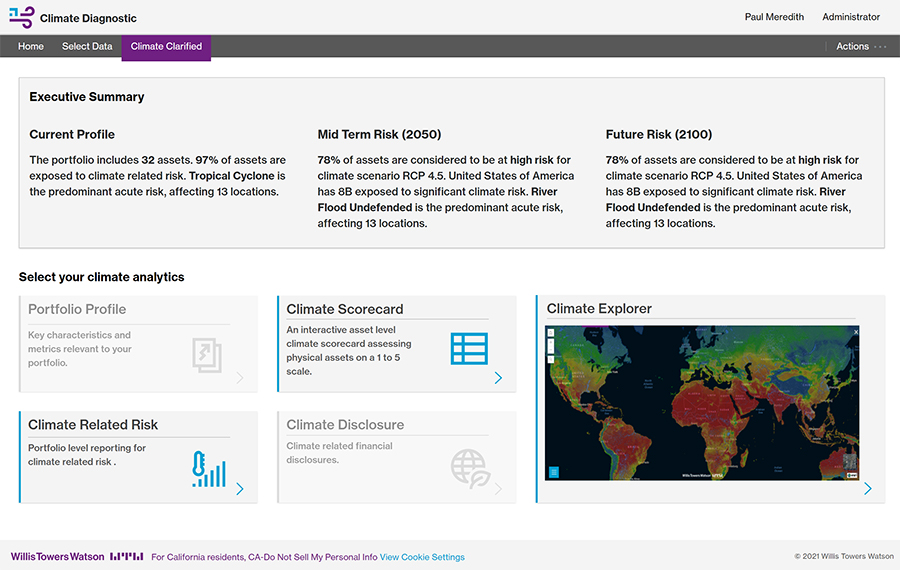 Climate Diagnostic delivers a multifaceted exploration of your organzation climate risk.
How to use Climate Diagnostic to meet your climate risk reporting requirements?
Many organizations are facing challenges defining their climate risk priorities from the multitude of issues and from the proliferation of developing climate-related financial disclosures.
To support you in meeting your climate reporting obligations, as well as take a deeper dive deeper into specific hazards and resulting exposures, you can use data from Climate Diagnostic to generate reporting summaries at an aggregate level, or break down your view out by region, time projection and by acute and chronic climate risks.
In this way, Climate Diagnostic can help you meet climate risk reporting obligations, such as:
International Financial Reporting Standards Standard 1 (IFRS S1) and International Financial Reporting Standards Standard 2 (IFRS S2)
The Financial Stability Board (FSB)'s Task Force on Climate-related Financial Disclosures (TCFD)
The proposed Securities and Exchange Commission (SEC) climate proposal to standardize climate-related disclosures for investors in the U.S.
For the EU, the Corporate Sustainability Reporting Directive (CSRD) alongside the EU Taxonomy common classification scheme for sustainable economic activities.
You can also take greater ownership control of your physical climate change risk and how to strategically manage them by combining our state-of-the-art models and data with our industry expertise through climate risk consulting.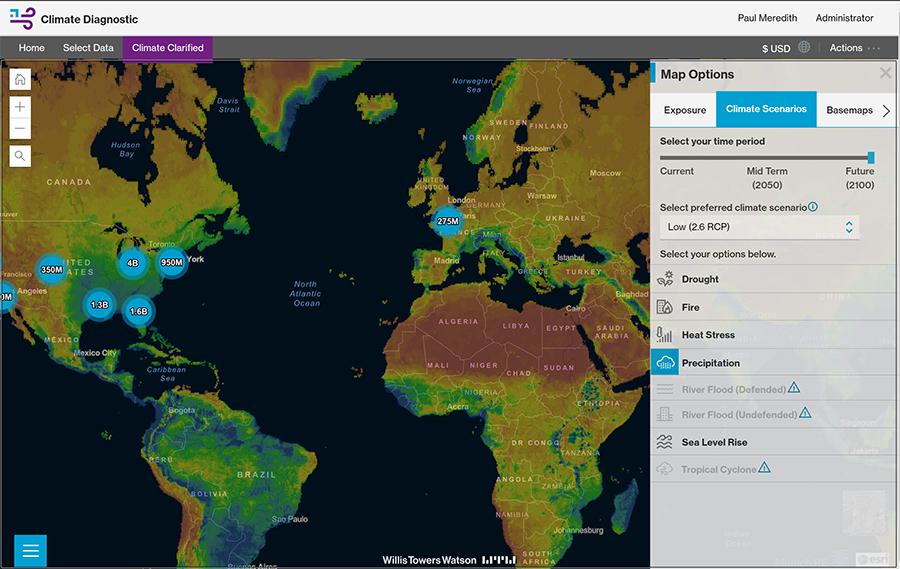 Explore your risks via our atlas of interactive maps to see climate risk projections for your locations across the globe.
Climate Diagnostic key features
Dynamic results dashboard and reporting to reveal changes in your risk profile
Interactive maps by climate scenario and time horizon
Physical climate risk scorecards at location level
Comparison of current versus future climate risk by asset location
Linkage of hazard scores to relevant metrics
Executive summary of key climate exposures
Ability to view the physical risks to your suppliers' and customers' global footprint
Expert support
Which organizations can benefit from Climate Diagnostic?
The model can generate strategic and climate risk reporting benefits many global industries and company sizes, but in particular for large companies in the following areas:
Real estate and asset management
Hotels and hospitality
Retailers, particularly those with dependence on distribution and supply
Manufacturers, particularly those with strong dependence on natural resources or a global supply chain.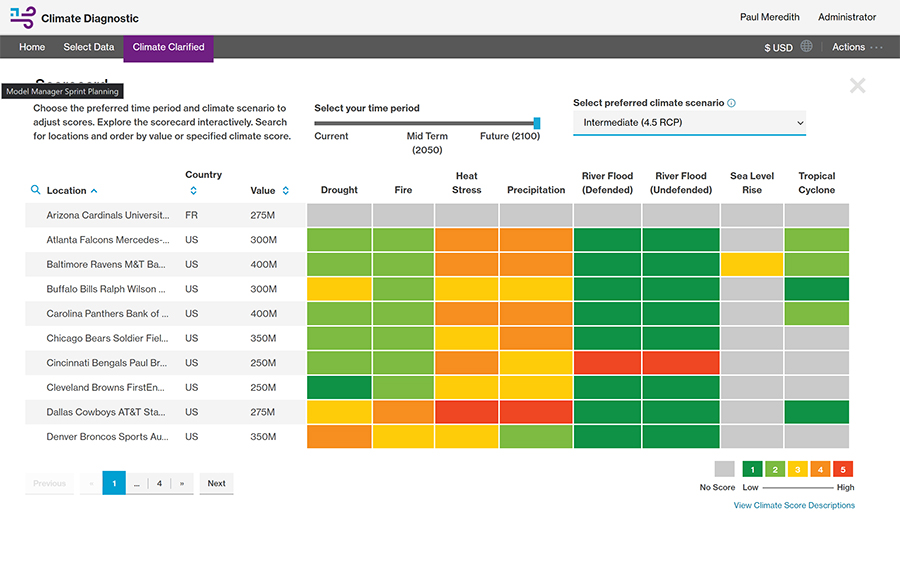 Climate Diagnostic provides clear risk ratings for each of your asset locations.
To discover more on smarter ways to understand physical climate risk, get in touch.