Our Peer Analytics helps you shape your risk mitigation strategies by going beyond simple comparisons, and thoughtfully combining qualitative broking data with our robust actuarial and financial metrics. This reflects our vision of benchmarking as an entry point for your holistic risk evaluation through our suite of analytic offerings.
Peer Analytics helps you:
Visualize pricing and risk retention dynamics for an interactive view of how your risk is perceived by the marketplace
Benchmark your current insurance program (rate, retention, limit) against risk specific peers
Highlight key problem areas in your current insurance program through frequency and severity benchmarking and market analytics
Provide risk-adjusted alternatives where appropriate
Benchmarking summary
Why should you use Peer Analytics?
Understand how the market perceives your risk
Diagnose problems within coverage, exposure and loss which then become entry points to additional analytical capabilities
When is it right for you?
Peer Analytics helps clients demonstrate how relevant coverage, exposure and loss metrics benchmark against a well-defined, risk-appropriate peer group.
What geographies does this tool support?
Peer Analytics will evolve globally as local business needs dictate.
When should you use Peer Analytics?
Use this tool to diagnose risk mitigation concerns through risk specific benchmarking.
Layers by Coverage Group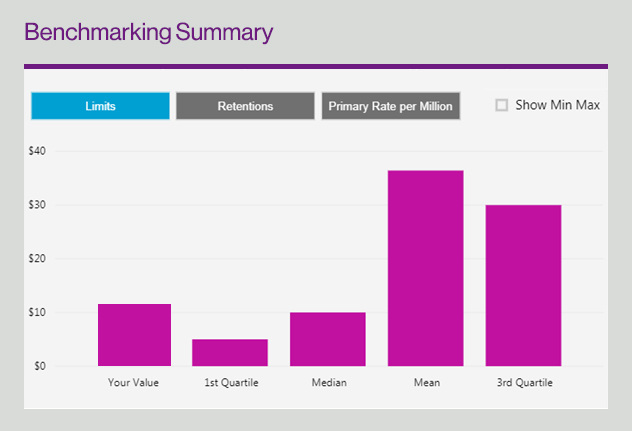 What can you do with the information gained from Peer Analytics?
Start to discuss risk mitigation strategies and consider stepping stones to other analytics and consulting engagement capabilities where appropriate
Future enhancements
Peer Analytics models in development include Casualty Insight and Analytics, Financial Lines Insight and Analytics, EMod Diagnostic and Advanced Claims Package.
Placement summary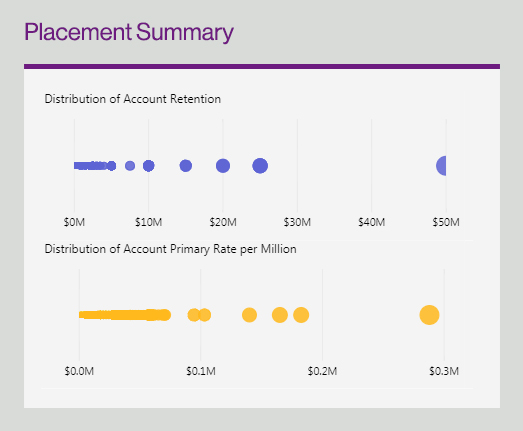 Year-on-Year Rate Change summary