Our biennial Benefit Trends Survey, the most comprehensive of its kind, is designed to track high-level trends around global employers' benefit plans and strategies. It examines the future direction of an organisation's benefits strategy – including a focus on employee experience and trends in benefits design, financing, administration and analytics. This year's questionnaire also incorporates a focus on Inclusion & Diversity (I&D), climate change/Environment, Social and Governance (ESG) and vendor selection.
2021 we collected responses from over 3600 companies across 100 countries representing 14 million employees.
By participating, you are able to gain insights on:
Are your benefits strategies future-ready and will they stack up against your competitors? Do not miss out on valuable insights and take part in our survey. By participating you will receive a free personalized scorecard that benchmarks your organization to your peers.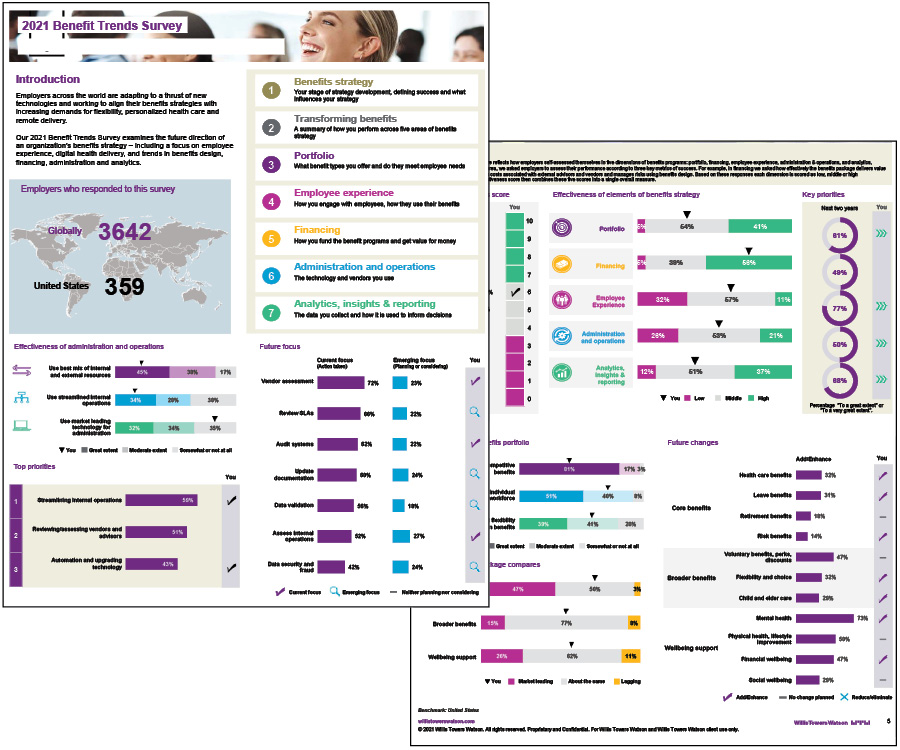 Sample personalized scorecard
Don't hesitate to contact our BTS experts (Fabienne Züger and Michael Dean) to have a chat.
Contacts
---
Employee Benefits Consultant, Health & Benefits
---
Michael Dean
Senior Employee Benefits Consultant, Health & Benefits
---
Survey
2023 Benefits Trends Survey
High-level trends around global employers' benefit plans and strategies - survey open from 1st - 31 March 2023