GLOBAL, November 22, 2022 – WTW has been selected as one of the first private sector companies to support a landmark $3 billion per year initiative led by USAID to support climate resilience across vulnerable developing countries with a focus on:
Climate Analytics
Health
Infrastructure
Water
Food & Agriculture
Financial Tools and Services.
Launched at the COP26 climate summit in Glasgow last year, PREPARE will support half a billion people in developing countries to adapt to and manage the damaging impacts of climate change by delivering knowledge, plans, programs and money. President Biden is seeking US$3bn of climate adaptation funding annually from Congress by 2024 to support the initiative.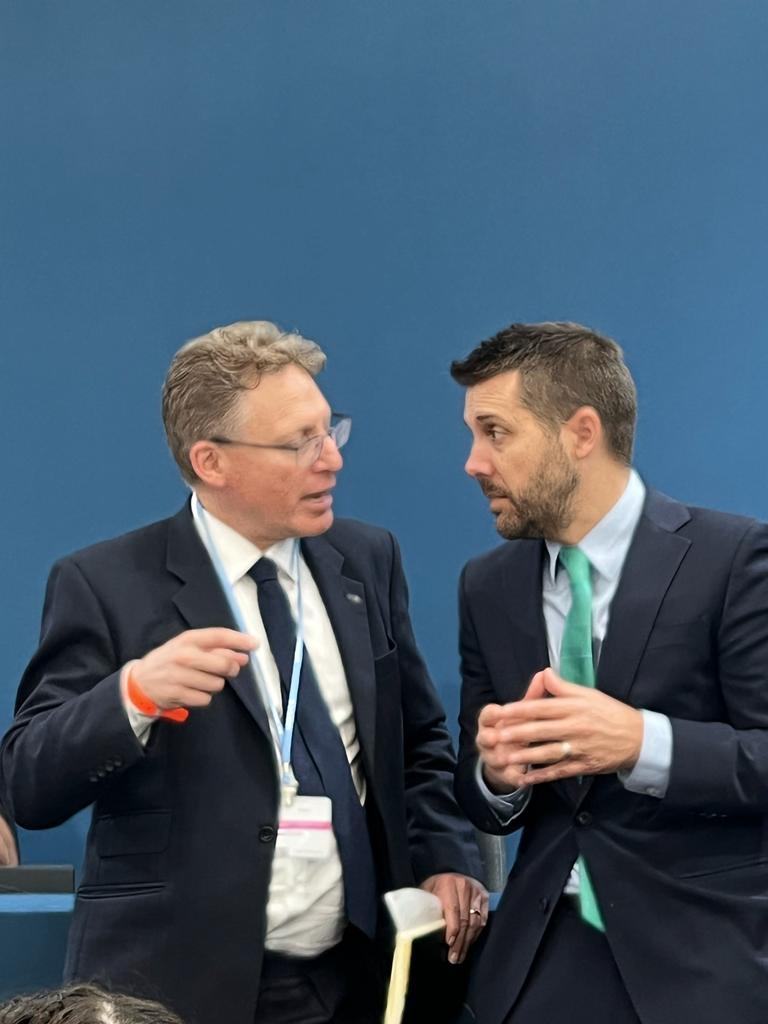 Rowan Douglas, Head of WTW's Climate and Resilience Hub (left), meets Brian Deese, Director of the US National Economic Council. The NEC is part of the Executive Office of the President.
One year later at COP27, PREPARE's 'Call to Action' engages private sector businesses to make new, significant commitments to help build climate resilience in partner countries. USAID Administrator Samantha Power is co-leading the implementation of PREPARE with Special Presidential Envoy for Climate, John Kerry.
WTW was invited alongside Google, Mastercard, Microsoft and PepsiCo and five others to join the President's Emergency Plan for Climate Adaptation and Resilience 'Call to Action'.
Speaking at a high-level event to launch the Call at COP27 in Egypt, alongside Director of the US National Economic Council, Brian Deese, Samantha Power said:
"Our goal is to create the same kind of energy for climate adaptation commitments, as we have seen around cutting the emissions that have brought us to this juncture, to create the adaptation equivalence of net zero pledges – that is our goal.
"These are first mover companies that span the global economy – corporations like Google, MasterCard, WTW and Microsoft – companies that have come forward with significant adaptation commitments. Commitments like expanding access to climate data, new financial and insurance products that can protect the poor and innovate to make agriculture more productive and less dirty. Our hope is that today marks a wave of broader private investment in adaptation not just from big global corporations, but from small and medium-sized companies based in the developing world."
"

Seeing USAID Administrator Power and NEC Director Deese speak together signals the urgency of global climate adaptation and resilience."

Rowan Douglas

| Head of the Climate and Resilience Hub at WTW
In reply, Rowan Douglas, Head of the Climate and Resilience Hub at WTW said:
"Seeing USAID Administrator Power and NEC Director Deese speak together signals the urgency of global climate adaptation and resilience. WTW is delighted to accept the invitation as an inaugural member of the PREPARE Call to Action.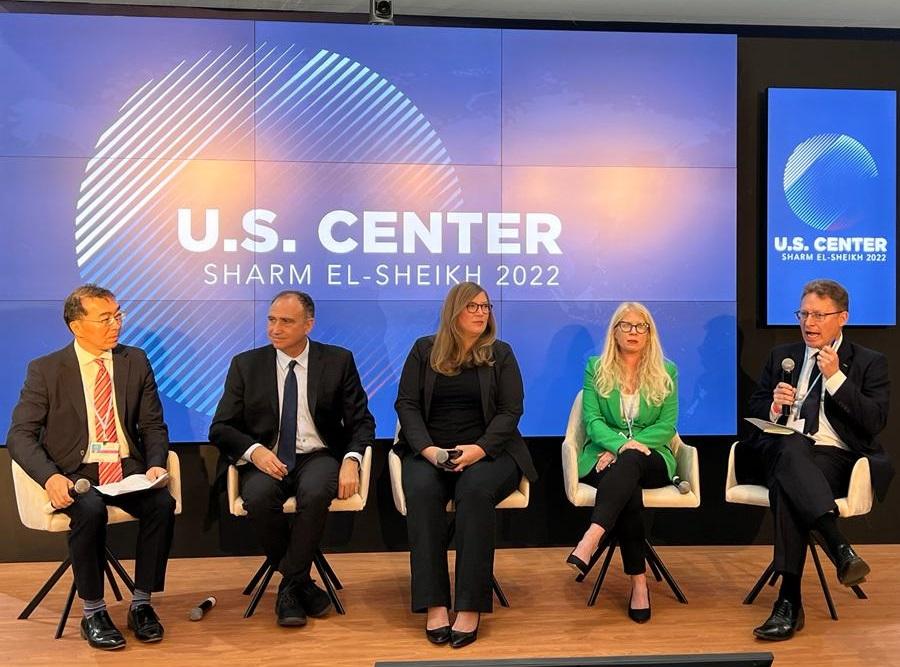 Rowan Douglas, Head of WTW's Climate and Resilience Hub (far right), speaks at the launch of the PREPARE Call to Action, alongside moderator Jay Koh from The Lightsmith Group (far left) and senior representatives from Google, Mastercard and Microsoft.
"PREPARE matches with WTW's international priorities and capabilities across Climate Analytics; Infrastructure; Health; Water; Food & Agriculture and Financial Tools and Services.
"Here at COP27 we're announcing major innovations towards a more resilient future including the largest use of insurance-based instruments by UNICEF to protect millions living in vulnerable coastal communities, the financial protection of fragile marine ecosystem assets in Central America and climate transition scenario analysis for Indonesia.
"We have worked with the UN and the development community for well over a decade, as a key supplier, but often in public-private collaborations like PREPARE. WTW led the formation of the Insurance Development Forum launched at Paris and has incubated the award-winning Coalition for Climate Resilient Investment.
"We'll bring all our existing capabilities to bear to support PREPARE, but to answer the Call to Action we are mobilising one of our most ambitious collaborations to date.
"To empower PREPARE WTW commits our expertise and resources to develop and drive the Global Resilience Index Initiative (GRII), planned to be fully launched at COP28, by the Insurance Development Forum and United Nations Office for Disaster Risk Reduction and the Centre for Greening Finance and Investment.
"The GRII aims to provide open reference data, metrics and projections of climate resilience for all countries worldwide.
"This critical missing layer of the world's information architecture will support people, policymakers, and businesses to understand climate risks, address sovereign risks and provide a basis for financing measures to adapt to and build resilience against climate change. The GRII also enables greater transparency about the impacts of financial flows, to begin to shift capital towards activities that support climate resilient development worldwide."
About WTW
At WTW (NASDAQ: WTW), we provide data-driven, insight-led solutions in the areas of people, risk and capital. Leveraging the global view and local expertise of our colleagues serving 140 countries and markets, we help organisations sharpen their strategy, enhance organisational resilience, motivate their workforce and maximise performance.
Working shoulder to shoulder with our clients, we uncover opportunities for sustainable success—and provide perspective that moves you.
About the Climate and Resilience Hub
The Climate and Resilience Hub (CRH) is the focal point for our climate expertise and capabilities, pooling knowledge from across our people, risk and capital businesses and from our collaborations to deliver climate and resilience solutions in response to a range of regulatory, investor, consumer, employee and operating pressures. Under the Climate Quantified™ brand we deliver analytics, advice and transactions to enable corporate, finance and public sector institutions to embrace the climate decade ahead.