Do your people believe in your organization's ESG strategy? Are they engaged in its success?
Your employees look to their organization to support and invest in their wellbeing and Total Rewards. They also want their organizations to demonstrate its commitment to the core tenets of ESG: protecting the environment, enhancing social impact and diversity and inclusion, investing responsibly and ensuring effective corporate governance. So much so, boards are taking the lead on how organizations manage ESG issues and incorporate them into all they do.
Unlock More
Why does ESG matter?
People seek meaning from their work today more than ever. Building a strong reputation for ESG allows you to attract, retain and engage talent more effectively in a competitive talent environment. That talent is also critical to your ability to deliver on your ESG targets. Your employees need to be inspired by your vision, aware of your activities and allowed to contribute to them, feeling motivated to make a difference through their personal contributions. Our research also shows organizations leading in ESG perform better financially than less advanced peers.
Your employees are critical to the success of your ESG strategy
With an ESG survey from Willis Towers Watson, you can quickly assess the effectiveness of your ESG efforts with your employees.
Measure the extent to which your organization articulates a vision that inspires employees to contribute
Determine if employees feel enabled with the understanding, capability, resources and support they need to deliver on your ESG strategy and plan
Assess if your reward offering incentivizes optimal personal and team contribution to your ESG goals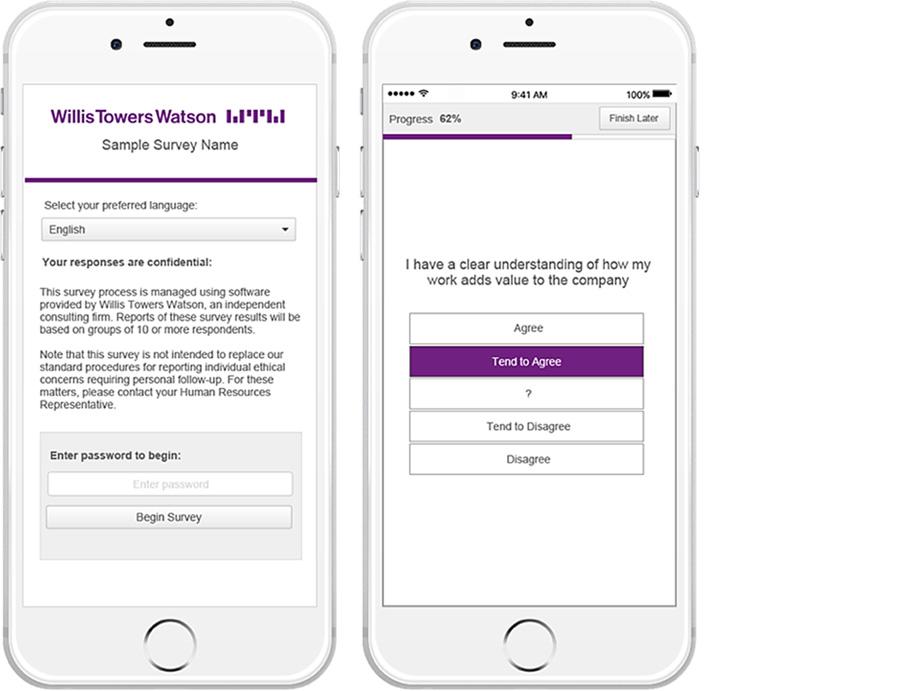 You can be confident our surveys meet the highest standards of data privacy, security and confidentiality for you and your employees.
Harness the potential of your employees to realize your ESG ambitions
Survey results will provide insights into the effectiveness of your ESG strategy and help you answer key questions:
Are your employees inspired by your efforts to become a more climate conscious, socially responsible, ethically led organization?
Are they aware of opportunities to contribute?
What are the key barriers to their participation?
How can you accelerate your progress?
With the results from your ESG survey, you'll be able to:
Assess the extent to which your people believe in your ESG strategy and are engaged in its success through a single score index
Benchmark your organization against others recognized for their leadership in ESG efforts
Identify your strengths as well as areas where you can improve colleague contribution
Identify hot spots in your organization where you have awareness and engagement in your ESG strategy
Dive into text analytics of open-ended questions for additional ideas and insights
Improvements in your employee experience of ESG can also be tracked in your annual report as evidence of your company's value to the market and its employees.
benchmarks of your results against dimensions critical to ESG success as well as a breakdown of segments of your employee population by engagement level so you can navigate the scope of the task ahead.
Actionable insights from your ESG survey allow you to quickly identify how to better support your ESG strategy internally.
People are at the heart of your ESG goals and strategy. Organizations that can engage their people in advancing their ESG goals, while supporting employee wellbeing and resilience are more successful than companies that don't. Get the intelligence you need to succeed in your ESG efforts today and into the future.
Come explore the Willis Towers Watson difference.