Access rights can be set so that only the appropriate teams can see data appropriate to their scope of responsibility, enabling efficient overall plan management anywhere in the world.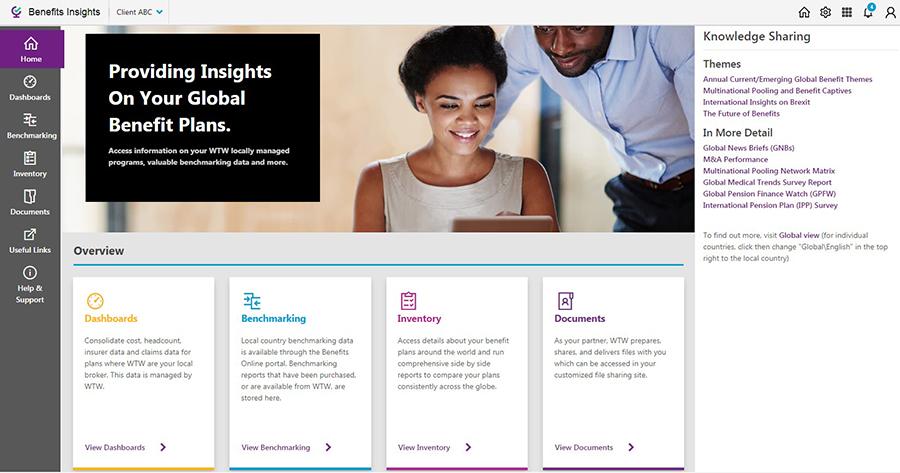 Working with Benefits Insights
For a global user, Benefits Insights provides a valuable, high-level snapshot of your total global benefits offering in one place.
Through the homepage, you can:
View the latest regulatory updates, industry research and insights, helping you stay up to date on trends and developments.

Access a range of dynamic modules, frequently asked questions (FAQs) and "Contact Us" links as helpful guides for navigating the rich functionality we deliver.

Compare your key benefit plans against high-level prevalence information, helping you with governance, oversight and management activities worldwide.
A local user that only has responsibility for a single country will not need the cross-country comparisons, so their views will be slightly different.
Benchmarking: see where you stand
Through the benchmarking module, you can:
Access our industry-leading benchmarking solutions, reports and data, with nearly 16,000 submissions, across nearly 4,000 companies, in 120 countries.
Seamlessly access any benchmarking reports and solutions to compare to your own portfolio of benefits.

The intuitive "I want to" navigation and map views make it easy for users to understand the wide range of benchmarking solutions available and add business insight as quickly as possible.
Data made simple through dashboards
Interactive, live dashboards provide comprehensive reporting for all of your benefit arrangements. Each dashboard clearly displays key data that can help you make both tactical and strategic decisions about your own benefits portfolio, including:
The total cost per employee, per country; year-over-year cost changes; and which contracts have undergone the biggest cost changes.
The overall employee headcount per country, numbers in particular plans, and the numbers of dependents relative to employees.
Plan breakdowns by renewal date and region, how they are financed and if they are captive or pooled.
Upcoming renewal activity to help manage your resources and workflow.
Comparison of key claims statistics by country and year over year trend.
Unique platform features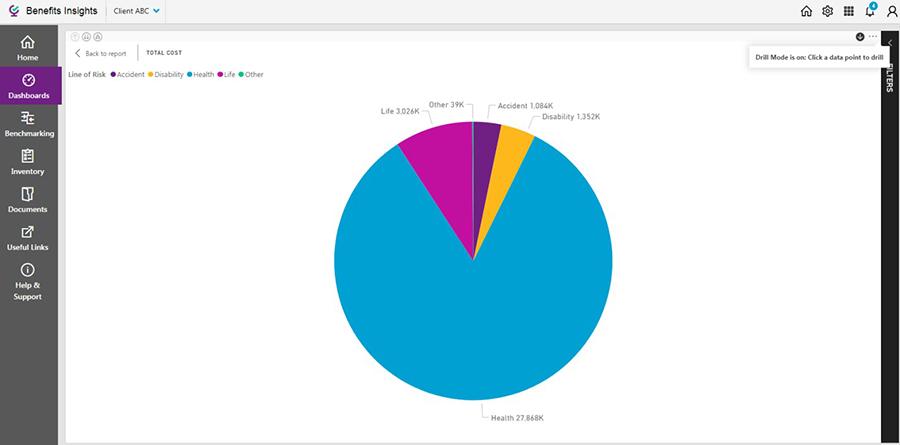 Click on any chart and drill down to view more granular information or filter elements. All aggregated financial reporting is converted into your home currency.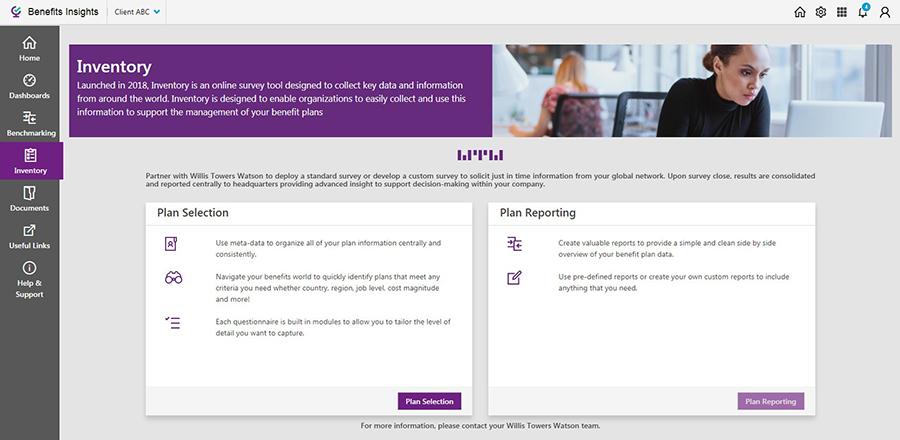 The Benefits Inventory module includes your plan, program design, financial, and program management governance information. Designed to be scalable to allow you to tailor the level of detail captured, the global inventory information ensures reliability and timeliness of data in support of your strategic initiatives, while still meeting all your inventory needs.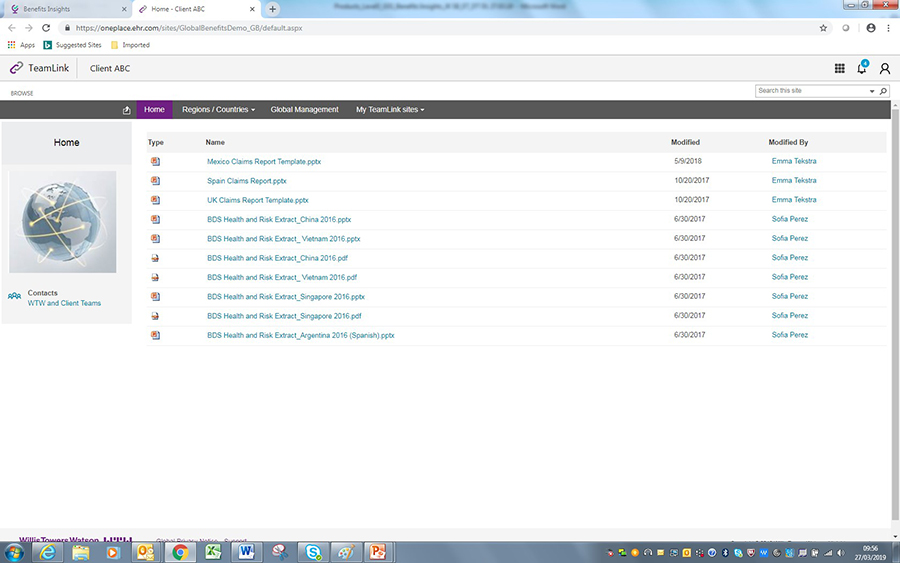 Serving as a critical part of your organization's institutional memory, the Documents Module brings all of your benefits information together in one place. It provides a structured document storage facility that enables you to collaborate and share documents internally and with Willis Towers Watson in a controlled, secure and private online space. Documents can be tagged for easy filing and filtering.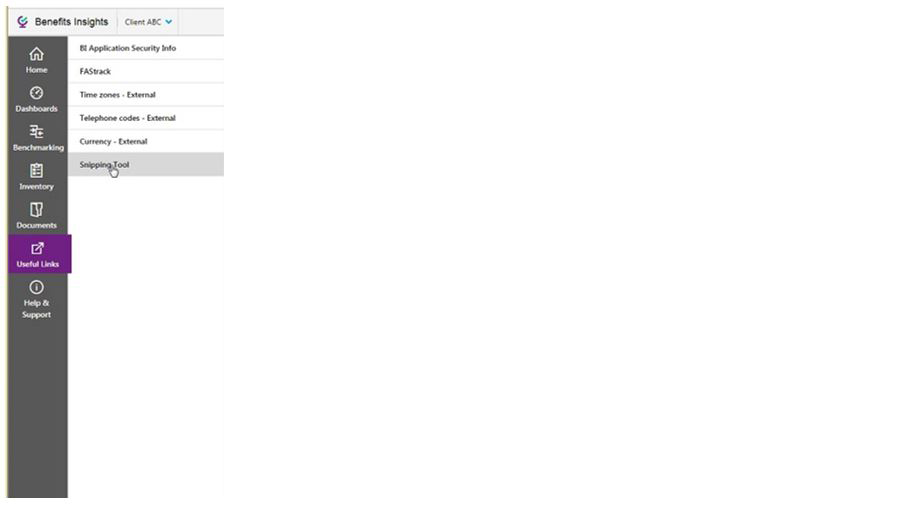 The "Useful links" section provides access to other important Willis Towers Watson benefit-focused applications and sites that benefit managers find helpful in their day-to-day activities, such as multiple time zone calculators.
Benefits Insights is a powerful, must-have technology for all benefit managers, as well as finance and risk staff, at the global, regional or local level. Through a unique set of interactive, collaborative tools, you can go beyond the data to make informed decisions so that you can manage your benefit plans globally with greater efficiency.