Climate Vista
One of the most important duties of boards is to oversee the effective management of risk. Climate risk poses challenges for boards as it drives risk in many different ways that affect all parts of the business. With shareholder, investor, and regulator pressure increasing, alongside the growing demand for climate risk disclosure, it has never been more important to ensure that your company's board and senior management are taking proactive steps to raise knowledge and understanding of the range of climate risks to your business. Boards that fail to effectively oversee climate risks may be vulnerable to shareholder action and litigation. Those that achieve alignment on their climate objectives and can begin to implement a strategic response will be best placed to reduce their risk exposure and capitalise on market opportunities.
Our tailored Climate Vista board-level engagement sessions are specifically designed for boards and senior leadership to establish the foundation for an aligned, strategic response to climate risks and opportunities and continue meaningful engagement.
"

Our board members were very engaged in the robust discussion led by Climate Vista. They particularly appreciated that the content was both grounded in science and in the perspective of the energy sector. It really felt like it was created for us."

Bruce Marchand

| Chief Risk & Sustainability Office, Emera Inc.
Climate Vista delivers:
A tailored, 90-minute session, delivered by leading climate experts designed specifically for your board.
Essential knowledge about climate risks including the fundamentals of climate science, physical, transition, and climate-related liability risks.
A shared understanding of the drivers of climate risks and opportunities, and the challenges you face with the transition to Net Zero.
A foundation for meaningful engagement on climate risks, ensuring your board is starting from the same knowledge base and are aligned on your company's climate ambition.
Guidance on suitable next steps for your strategic response, including the principles of good governance for climate risk management, and how to use the power of your people to drive your climate strategy forward.
A three-step process, tailored to your needs
Our Climate Vista process is simple but effective. It consists of a consultation with leadership and a board survey, a 90-minute session led by climate experts, and a strategic debrief.
Step 1: Understanding your position: We take the time to discuss your needs with you helping to shape an agenda that is right for your company. Our board survey provides insights that inform the content of the session.
Step 2: Enhance knowledge and understanding: A 90-minute session is delivered to your board by leading climate experts drawn from WTW's Climate and Resilience Hub and other specialist areas.
Step 3: Identifying needs and actions: A strategic debrief to inform next-steps for board and employee engagement, identifying gaps in climate risk assessment, and providing guidance on strategy.
Step 1 Understanding your position: consultation and pre-survey.
Unlike other products on the market, Climate Vista is tailored specifically to your needs. The sessions are informed by listening to your organisation's context and needs through consultations and surveys, with your board and other employees, in advance of the session.
We make sure we answer the questions that are pressing for your business: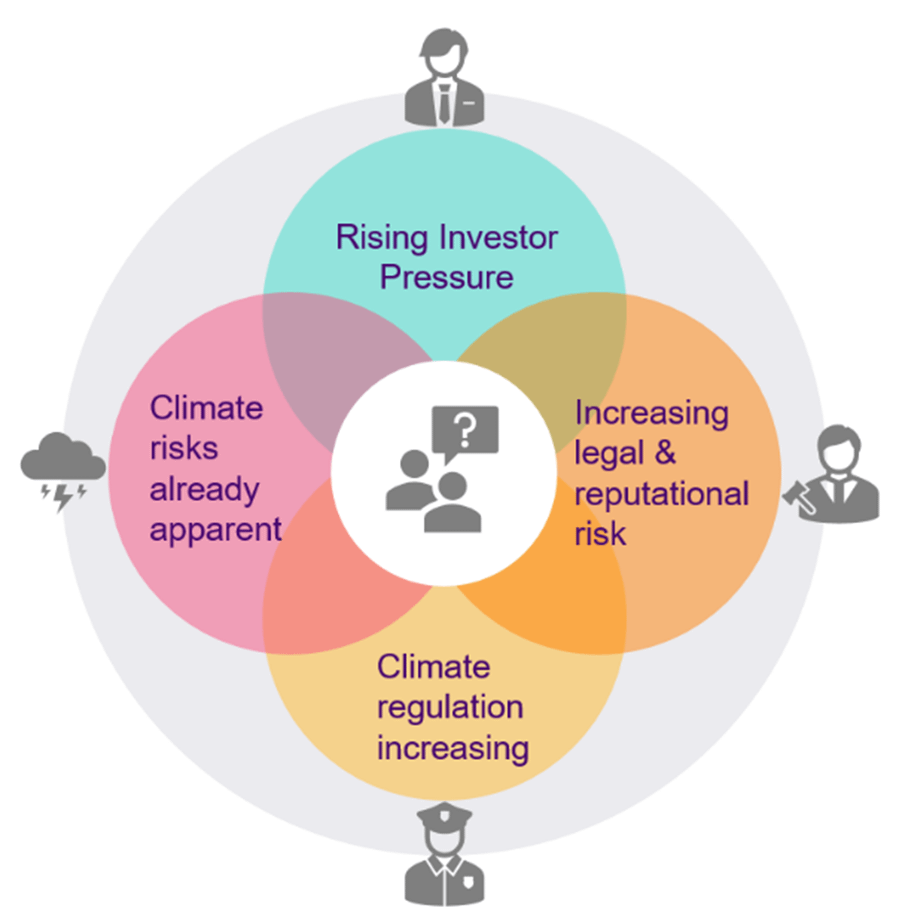 Rising investor pressure; Increasing legal and reputational risk; climate regulation increasing; and climate risks already apparent.
Drivers for business action on climate risk
Boards and senior leadership have questions about how to respond to climate change including: Rising investor pressure; increasing legal and reputational risk; increasing climate regulation; and existing physical and transition risks impacting their business.
Rising Investor Pressure: What are science-based targets, and is net zero the way to go? What are the business benefits?
Increasing legal and reputational risk: What are others doing? How do I know we're doing enough?
Climate risks are already apparent: How do I know that the climate analytics we've undertaken are right for us? Are we using the right metrics?
Climate regulation increasing: What should we be doing to get our TCFD reporting right? What regulations are on the horizon that I should be aware of?
Step 2 Enhance knowledge and understanding: A 90-minute session with your board.
The session itself is designed to solidify and extend your board's knowledge of climate issues, help interpret and contextualise these for your business and demystify the types of actions you can take to do something about it. Our agenda covers the topics that are essential for board members to understand as part of their fiduciary duties. Depending on your company's situation the session will be tailored to explore particular topics in greater depth. A sample agenda is provided below.
Step 3 Identifying needs and actions: Strategic debrief.
In a strategic debrief meeting, we reflect on the session outcomes and work with you to identify potential next steps for your business in taking strategic action to manage climate risks.
After Climate Vista, what happens next?
Climate Vista is the first step in raising awareness and understanding of climate risk for senior leaders. We have found that it provides a great foundation to build momentum for responding strategically to climate risk and deepening engagement at all levels of your business. Potential next steps include: