What is Cyber Quantified?
Cyber Quantified is a cyber risk quantification and modeling tool providing a smarter way to optimize your cyber risk management strategy. By accurately predicting and quantifying the financial implications of cyber risk, Cyber Quantified gives you a new level of clarity and transparency on the cyber risk your organization faces, and confidence on how much insurance you need, plus the optimal price and structure of cover.
Why quantify your cyber risk?
Threats like ransomware attacks capable of shutting down operations and supply chains loom large at board level and amongst shareholders. To your key stakeholders, cyber risk can feel like a 'black box' with potentially catastrophic impacts and insurance that seems to cost more and more each year, while the value it provides remains unknown.
So, how can you gain a deeper understand your cyber loss potential and the financial impact of the threats most likely to hit the business? What level and structure of cyberinsurance is most efficient? What material impact will risk controls have on the outcome of a threat or vulnerability?
Cyber Quantified provides answers by using analytics to predict and quantify the financial damages and volatility arising from the actuarial-forecasted scenarios most relevant to your organization, its sector and specific risk controls.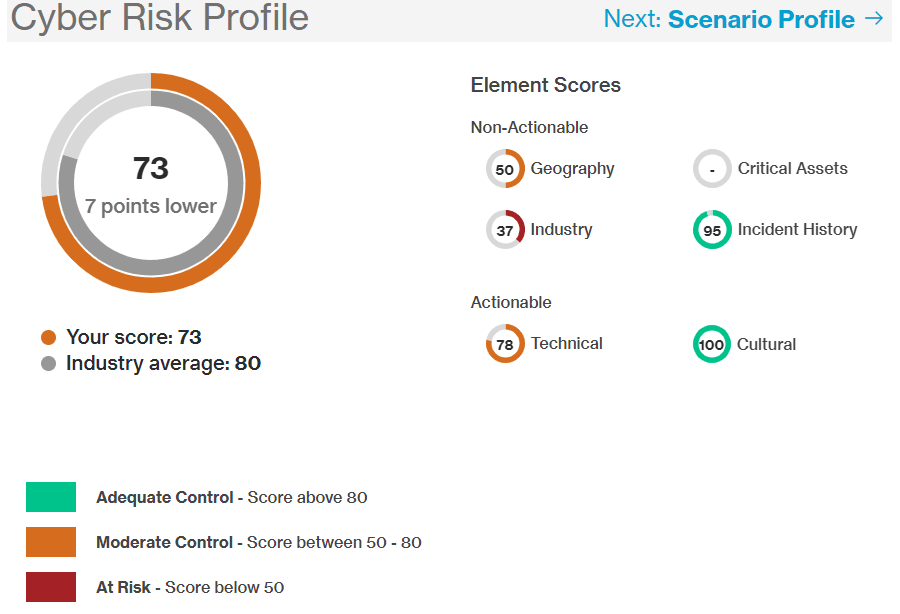 Cyber risk profile summary
What are the key features of Cyber Quantified?
Cyber Quantified's is designed for risk professionals to use, either independently, or ideally in collaboration with cyber experts to develop elevated and more transparent cyber risk management strategies. It works to remove historical barriers between the security and risk functions to better protect the business and support long-term resilience in the face of ever-changing cyber threats.
Cyber Quantified offers:
360⁰ view of your cyber risks, highlighting vulnerabilities and threats by examining risks in the context of your current controls
Thorough quantification, allowing you to understand how cyber risk scenarios impact your organization in financial terms, with predicted frequency and severity of losses and breakdowns on how these scenarios contribute to total projected losses
Visually compelling data, with severity projections across a range of confidence intervals, enabling informed decision-making that aligns cyber insurance purchasing with the risk mitigation activities of the chief information security officer (CISO)
Projected losses broken down into discrete cost categories allowing you to understand what drives costs in the event of a cyber loss, whether that's business interruption costs, the response to a ransomware attack, or any one of a wide range of factors that could generate costs
Insurance strategy comparison with the ability to enter detailed sub limits, retentions and quota shares, revealing the options that deliver value
Integrated Security Scorecard data, facilitates assessment of your technical and cultural control posture
Concise and easily consumable outputs and reports, driving efficient communication with internal and external stakeholders on how you are identifying, mitigating and insuring against cyber risk.
How does Cyber Quantified deliver cyber risk transparency and cyber insurance value?
Cyber Quantified's modelling and quantification platform incorporates the scenarios most relevant to your organization. Events are selected from WTW's Scenario Library, a comprehensive and constantly growing database, based on a multitude of datapoints and real-time cyber incidents globally and across all sectors.
Cyber Quantified measures the financial damages and volatility arising from scenarios in light of your organization's specific risk profile and cyber risk controls.
High level overview of cyber event frequency and severity projections
What are the key benefits of Cyber Quantified?
You can call on Cyber Quantified to help:
Improve transparency around the impact of cyber risk on your organization and the risk controls it currently has or is considering
Strengthen cyber risk governance using robust actuarial data
Identify and quantify the universe of cyber risks and vulnerabilities that could threaten the business
Facilitate strategic and tactical engagement with insurance markets with a view to achieving better value from your risk management strategy
Articulate your cyber risk mitigation and transfer strategies to the C-suite, shareholders and other stakeholders in transparent, robust and auditable ways
Elevate your approach to cyber risk management by breaking down traditional barriers between the risk function and the CISO
Boost long-term organizational resilience by aligning cyber risk strategy with the strategic objectives of the business.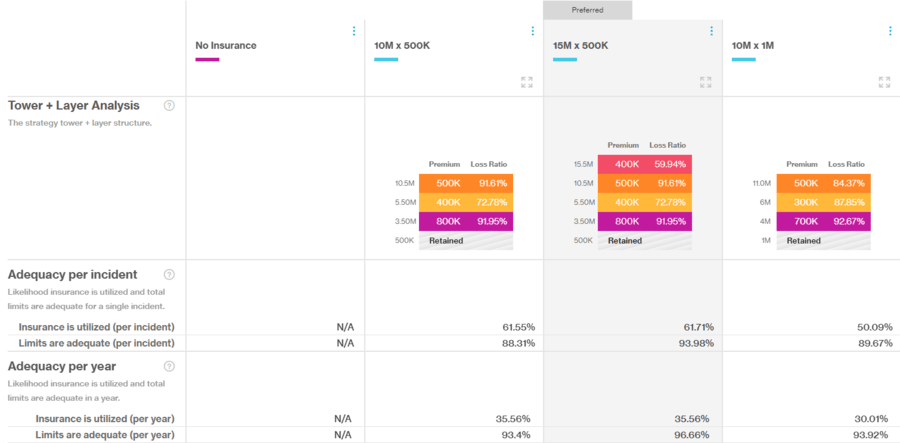 Sampling of strategy comparison metrics
You can engage Cyber Quantified through direct licensed access to the tool, through our cyber brokerage team, and/or with a WTW cyber risk quantification consultant. Our consultants can help create alignment with your CISO and customize the model to your controls, threats, and business operations. Find out more on how Cyber Quantified can deliver smarter ways to optimize your cyber risk.