The COVID-19 pandemic caught the world off-guard and served as an eye-opener on various levels. Now more than ever, the health and wellbeing of employees has become a major focus area for most companies. Fragmented programmes and activities are no longer sufficient to address the changing needs of employees. Wellness programmes were treated as a supplementary benefit but are now finding focus as a core offering. These programmes need to be built around a holistic strategy on health and wellbeing to produce significant business impact, enhance employee engagement and productivity. Also, companies need to ensure their wellbeing programmes are adaptable and respond to the evolving needs of employees as traditional benefits will no longer be deemed as valuable.
About the survey
The Wellbeing Diagnostic India Survey was run between October and November 2020 and covers responses from 203 employers from India. The survey aimed to better understand organisations' approaches to wellbeing in the workplace.
Participant attributes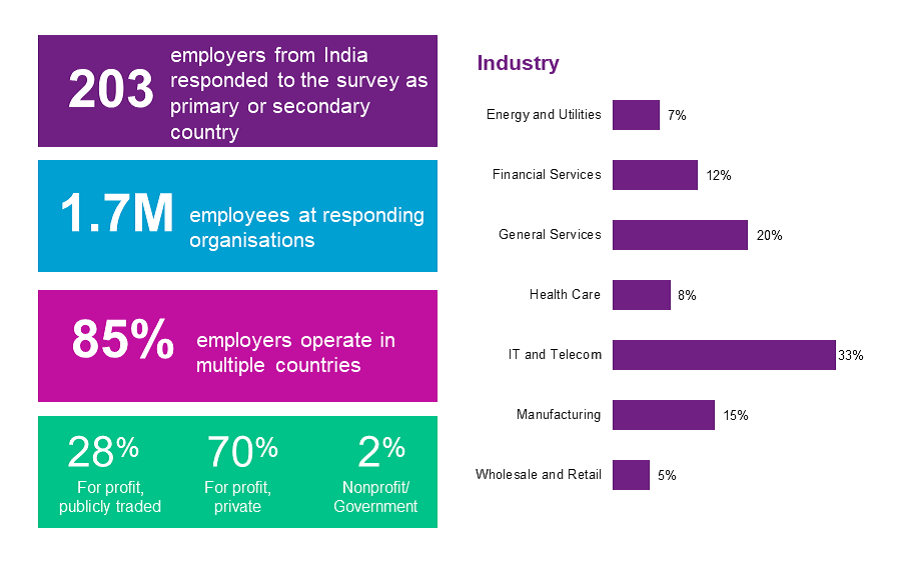 Over 203 employers from India, majorly from the IT and Telecom industry, responded to the survey with around 85% of them operating in multiple countries.
Wellbeing Diagnostic India Survey Respondent Profile
Source: Wellbeing Diagnostic Survey, India
Key findings of the survey
Wellbeing has become a top priority of the health care strategy in many organisations as a result of the pandemic and companies look to make wellbeing a key differentiator of their value proposition.
Management has increasingly demonstrated their support for employee wellbeing over the last 2 years and have taken steps to enhance the employee experience by reshaping their work environment, offering training and providing family support.
Mental health issues, stress and anxiety have become a growing problem due to the pandemic and economic recession. Rising costs and the disjointed delivery of wellbeing programmes remain a challenge for companies to overcome.
Use of data and analytics continue to expand with a priority towards a variety of financial and non-financial measures including employee listening strategies to better understand employee needs. But use remains low with opportunities to expand.
Employers continue to expand their offerings to address the physical, emotional, financial and social wellbeing of employees with increased emphasis on developing an employee experience that is engaging and connects employees with diverse needs.
Please complete the form to receive the executive summary. For questions about this research, or on how to receive your own Employer and Employee Wellbeing Diagnostic, write to us.