Risk Tolerance Clarified empowers risk management decisions that explicitly support your organization's financial priorities. The fundamental purpose of risk finance and insurance is to deliver financial resilience in adverse events. But what is an adverse event for your organization, and what level of loss imperils your financial resilience? These are the questions you must ask to know how much risk protection your organization needs. And these are the questions Risk Tolerance Clarified aims to answer.
This live and interactive financial analysis is now available to license for direct access, arming you to continuously update your understanding of risk as your organization's financial posture or imperatives evolve.
With Risk Tolerance Clarified, you will:
Understand your vulnerabilities and reveal your strengths. How do your financials compare to your peers? What do they say about your solvency potential, earnings power and cash flow utilization?
Customize financial priorities using forward looking financial projections
Engage the entire organization. Establish a risk tolerance strategy through risk and finance all the way up to the C-suite and board of directors
Embed an efficient risk view. Empower smarter and more consistent business decision making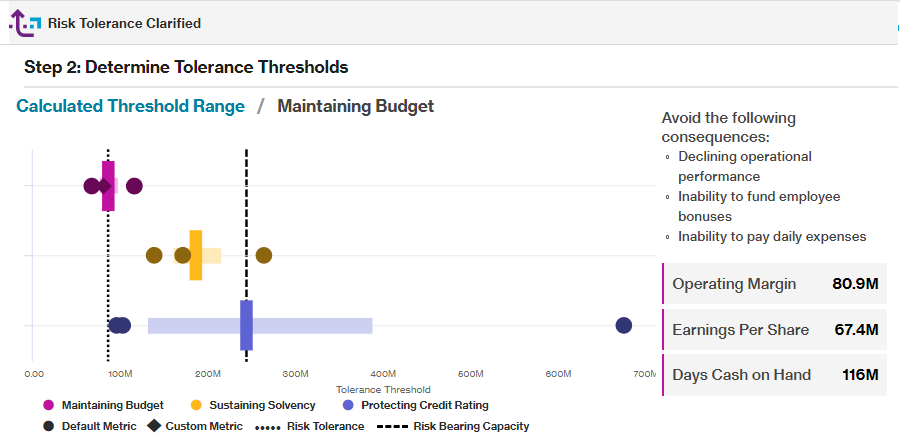 Calculated loss thresholds and their consequences - Risk Tolerance Clarified screenshot
Debt to Assets loss impact and peer comparison - Risk Tolerance Clarified screenshot
Why should you use the Risk Tolerance Clarified?
Align risk management strategy with your organization's financial priorities. For instance, to determine if you need risk financing or insurance, how much insurance you need, and how much risk you can retain
Gain a common financial framework to create objectives, communicate with stakeholders and demonstrate the value of risk investments to your organization's financial health
Evaluate changing financial dynamics of your organization and the resultant impact on risk resilience. Use this information to proactively update risk management activities
When should you use Risk Tolerance Clarified?
After quarterly financial reporting and any planned significant investments or changes to corporate structure
As part of enterprise risk management discussions to form a unified and company-wide risk tolerance statement
In concert with our other risk quantification tools to make informed risk management decisions
For whom is it appropriate?
This tool is designed for companies of all sizes, public or private
Additional data not required for publicly traded organizations or if your organization's financial statements are otherwise publicly available.