The growth and resilience of your organization begins with a quantitative understanding of your risk tolerance. Embed this view into your enterprise risk management framework and you can lay the foundation for advanced analytical insights.
Taking either too aggressive or too conservative an approach to risk can undermine long-term success. Gaining clarity and structure around your risk tolerance equips the business for better decision-making and empowers the risk function to contribute to long-term performance.
Risk Tolerance Clarified enables taking the calculated risks you need to thrive without compromising your financial standing. By giving you access to precise analytical perspectives on your risk tolerance, this powerful software also allows you to avoid risk aversion that neither reflects your risk appetite nor is likely to deliver the profitability your stakeholders require.
Sidestep subjectivity with customizable, data-driven views of your risk tolerance that allow risk management, treasury, and the c-suite to speak the same language and accurately align strategic business decisions with the company's risk appetite.
By transforming risk tolerance conversations from qualitative to quantitative, you can align risk management to the financial performance goals of the business and deliver crucial insight for long-term resilience.
Use Risk Tolerance Clarified to:
Empower the risk function with a data-driven view that bridges historical communication barriers with treasury
Engage business leaders with a shared understanding of risk tolerance in line with your risk appetite, and the expectations of investors and shareholders
Align risk tolerance with financial priorities, by putting numbers against your risk tolerance, giving internal and external stakeholders reassurance the business is taking the risk it needs to grow safely.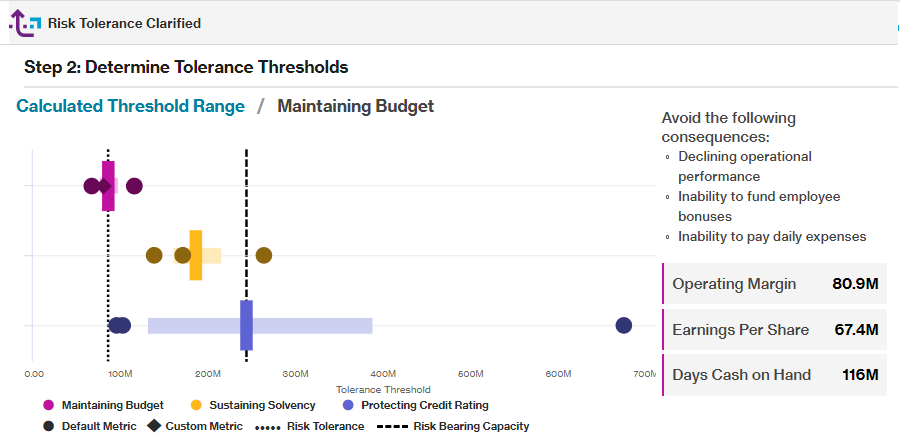 Calculated loss thresholds for each priority. Metric specific thresholds for the Maintaining Budget priority, are displayed on the right of the screen.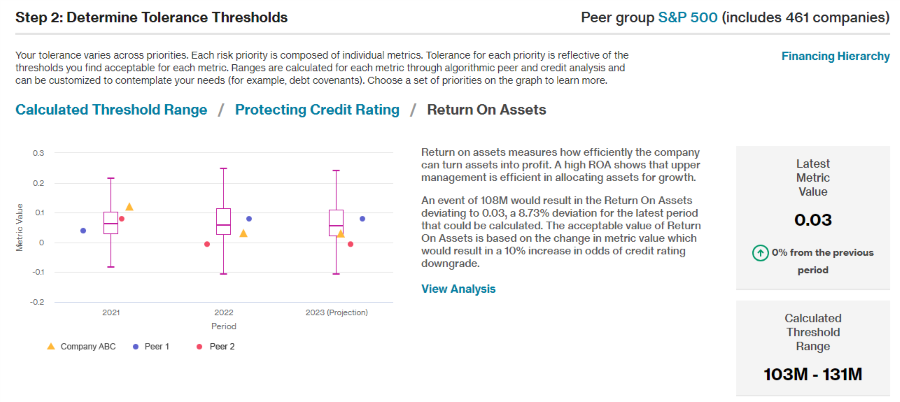 View your performance relative to your selected peer group and individual peers, for each metric of interest.
Discover the smarter way to define and refine your risk tolerance approach by learning more about Risk Tolerance Clarified and WTW's suite of powerful risk analytics tools.