New Delhi, 11 February 2021 — Salaries in India are projected to rise by an average of 6.4% in 2021 (translating to a median increase of 7%), according to Willis Towers Watson's latest Salary Budget Planning Survey report. This is marginally higher than the average actual increase of 5.9% in 2020. The report looks at a range of job grades across various industry sectors and is designed to provide companies with guidance for their annual salary forecasting for the year ahead.
A comparison of projected salary increases across key markets in Asia Pacific this year shows that Indonesia is projected at 6.5%, China at 6.0%, Philippines at 5%, Singapore at 3.5% and Hong Kong at 3.0%.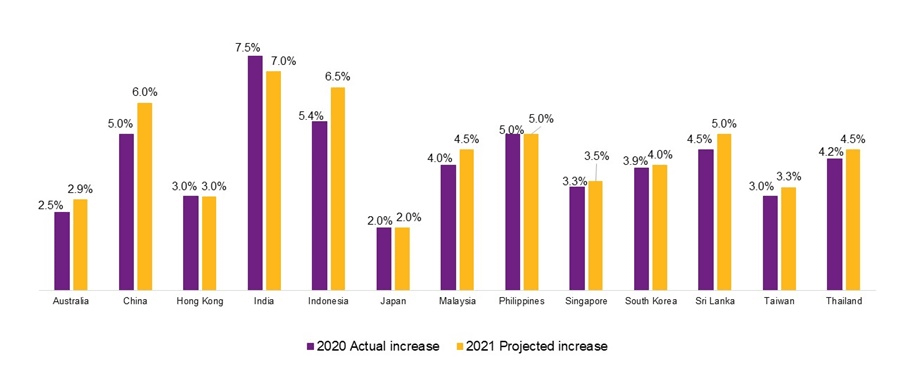 *includes companies that plan zero salary increase
Comparing median salary increase in India with key markets in the Asia Pacific region
Economic outlook and hiring trends in India
Of the surveyed companies in India, 37% have projected a positive business revenue outlook for the next 12 months, up from 18% in Q3 2020.
Despite a comparatively optimistic projected business outlook, recruitment is yet to pick up. The study shows that only 10% of the organisations in India plan to add new headcount compared to 14% last quarter.
On average, 20.6% of the salary increase budget is being allocated to top performers, which represent 10.3% of the employees in India. this implies that for each ~ INR 1 allocated to an average performer, INR 2.35 is allocated to a top performer and INR 1.25 is allocated to an above average performer.
Commenting on the findings, Rajul Mathur, Consulting Head – Talent & Rewards, Willis Towers Watson India said, "As companies in India respond to the economic implications of the COVID-19 crisis, there is an increased optimism on business recovery, but it is yet to translate into the salary increment budget. With compensation budgets lower than previous years, companies are likely to prioritise allocation towards protecting critical and high skilled talent. Through 2021, we can continue to expect greater emphasis on pay for performance and pay linked to business output."
Sectoral trends in India
High Tech, Pharmaceuticals and Consumer Products & Retail project a median salary increase around 8%, which is more than the General Industry projection. The Financial Services and Manufacturing sector projects a 7% increase in 2021, while the BPO sector is at 6%. The Energy sector is expected to see the lowest increase of 4.6%.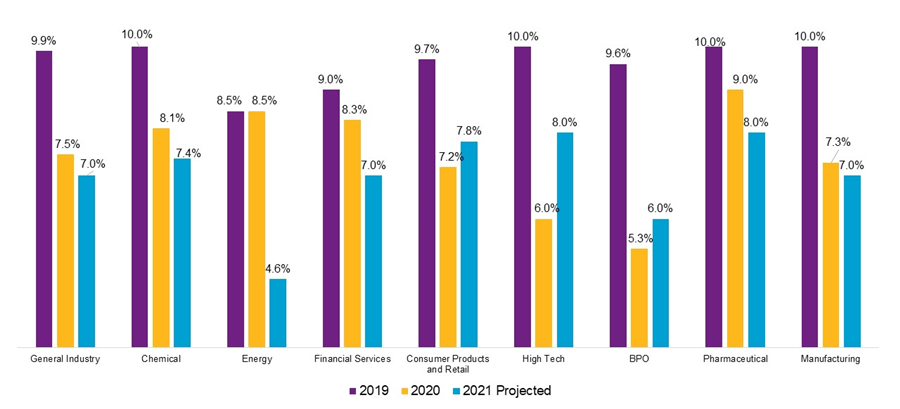 Industry specific median salary increase budget
Arvind Usretay, Director, Rewards, Willis Towers Watson India said, "All sectors witnessed varying levels of impact due to COVID-19. Some sectors such as hospitality, aviation, travel and tourism were hit harder than the others. Sectors such as Pharma, FMCG, ecommerce and High-tech have experienced growth and this is reflective in their hiring plans and salary budgets for 2021."
Salary increase by management and performance level
Median salary increase at the Executive level for 2021 is projected at 7.0%, a slight decline from 7.1% in the previous year. For Middle Management, Professional and Support Staff, a decrease from 7.5 % in 2020 to 7.3% in 2021 is projected. The employee group of Production Manual Labour is also expected to receive a lower salary increase of 7.2% as compared to 7.7% last year.
"Unprecedented change linked to an increasingly virtual work environment has brought to the fore the role of distributed leadership. Organisations should evolve structures to identify, recognise and reward leaders who have demonstrated the ability to lead change and positively impact engagement and productivity" added Mathur.
About the survey
The Salary Budget Planning Report is compiled by Willis Towers Watson's Data Services Practice. The survey was conducted online in October/November 2020, receiving over 18,000 sets of responses covering over 130 countries worldwide. The report summarises the findings of Willis Towers Watson's annual survey on salary movement and reviews practices as a means of helping companies with their compensation planning for 2021 and beyond.
About Willis Towers Watson
Willis Towers Watson (NASDAQ: WLTW) is a leading global advisory, broking and solutions company that helps clients around the world turn risk into a path for growth. With roots dating to 1828, Willis Towers Watson has 45,000 employees serving more than 140 countries and markets. We design and deliver solutions that manage risk, optimize benefits, cultivate talent, and expand the power of capital to protect and strengthen institutions and individuals. Our unique perspective allows us to see the critical intersections between talent, assets and ideas — the dynamic formula that drives business performance. Together, we unlock potential.