We live in an increasingly volatile, uncertain, complex and ambiguous time. Geopolitical conflicts combined with macroeconomic difficulties are broadening the range and severity of risks that companies are exposed to.
According to WTW's latest special risk contingency report, violent events including kidnaps and threats overtook the traditionally most-reported incidents like medical emergencies in Asia Pacific (APAC) in the first quarter of this year. Standard protection cover is no longer enough.
In view of evolving risks, business leaders in APAC should be rethinking their risk management strategies in three ways – identifying current and future risks, adopting a nimble approach to risk mitigation and protecting its people risks during crises.
Talent, supply chain partners and investors are likely to become less tolerant of organisations that appear to stumble into these events unprepared.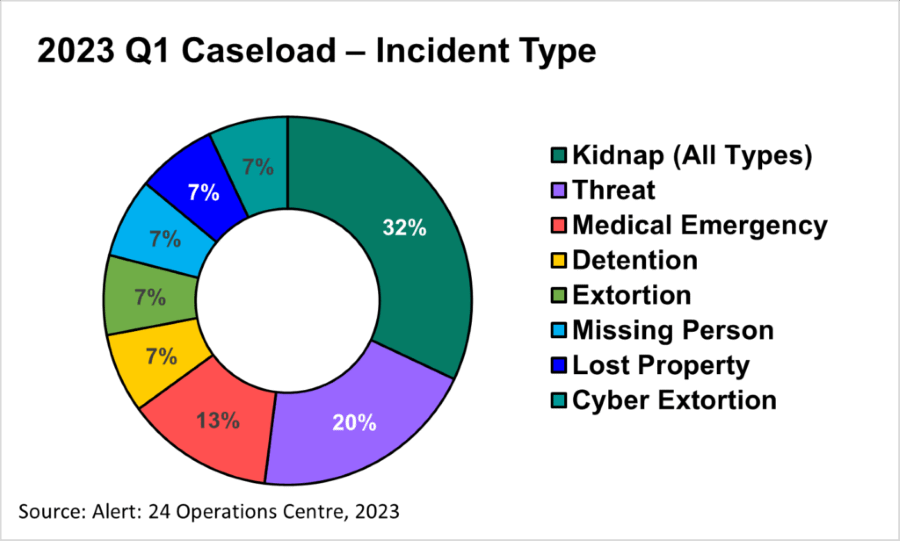 2023 Q1 Caseload - Incident Type
Source: Alert: 24 Operations Centre, 2023
Violent events rise as geopolitical tensions and economic instability heighten
Security in many parts of APAC continues to benefit from increased development and falling poverty levels. Although the region represented only 5.7% of recorded global kidnaps, areas such as Papua New Guinea and Indonesia's Papua province lie in contrast to the rest of the region. The Papua province has seen the rate of attacks by separatist rebels increase, enabled by the proliferation of weapons in the hands of militants.
Papua New Guinea police commissioner David Manning warned of the increased threat from kidnap and ransom (K&R) incidents to the country's national security. The statement followed the June 7 kidnapping of 17 schoolgirls and the February 20 kidnapping of an archaeology research team, both along the borders of the Southern Highlands and Hela provinces.
Authorities suspected the involvement of the same armed group. Manning added that the police had established links between the armed group and prominent district, provincial and national leaders. The risk of K&R is expected to remain high.
On the other hand, the APAC region experienced 23 maritime security incidents both in Q1 2023 and during the same period in 2022. This overall steady incident rate observed can be attributed to an increase in incidents on the Straits of Malacca and Singapore (SOMS). With about a third of global container trade and around a quarter of global oil trade transiting through them each year, the SOMS are some of the busiest sea lanes in the world. This can be a profitable target for criminals.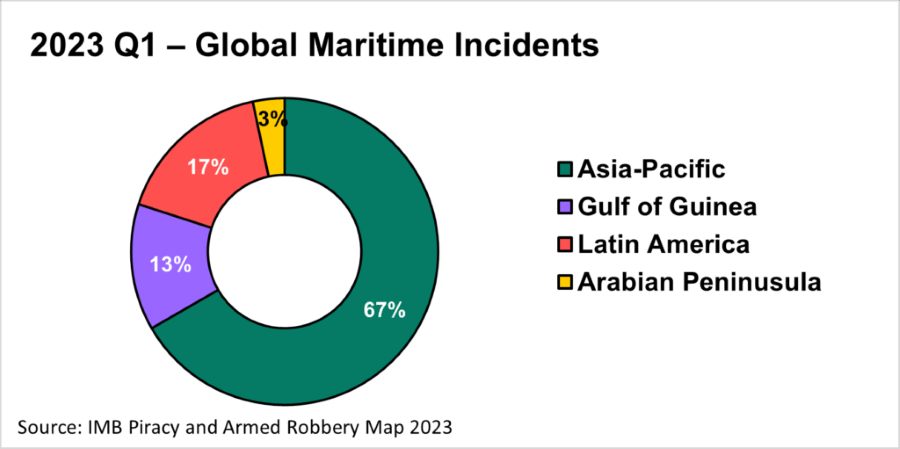 2023 Q1 - Global Maritime Incidents
Source: IMB Piracy and Armed Robbery Map 2023
In Q1 2023, we saw a 23% increase in cases in the SOMS from Q4 2022, while South-East Asian anchorages experienced a 20% increase in recorded incidents from Q1 2022 to Q1 2023, countering the drop in incident numbers witnessed in other parts of the world.
Unlike piracy elsewhere, all reported maritime crime cases in the APAC in Q1 2023 were robberies at sea. Fifty-two percent of the vessels targeted were bulk carriers and the incidents were predominately perpetrated by small groups of between four and six lightly armed assailants aiming to steal easily handled luxury items. Violence during these attacks remains rare, with only two known cases of physical abuse against crew so far.
Marine piracy insurance coverage has traditionally been geared towards the Horn of Africa and Gulf of Guinea and is typically triggered by a demand for ransom. So, companies operating in APAC are at risk of not having an appropriate and effective insurance solution, particularly at a time when geopolitical tensions have also continued to play out in the South China Sea and waters around Taiwan.
On a broader scale, the Ukraine conflict set a modern precedent that major sovereign risk is no longer off the table. Companies found themselves scrambling for evacuation, relocation, and sanctions solutions, and assessing their coverage levels under terrorism and political violence and property programmes. In APAC, geopolitical uncertainties brought about by rising US-China tensions should be a motivator for corporations to rethink their business interruption and property risk in response to war and ensure continuity of cover including in highly sensitive and complex situations.
The duty of care in a warmer world
Finally, we live in a world that is warmer than it has been at any other time in the history of civilisation. The consequences of our modern warming have cascaded through the environment, pushing global sea level to a modern-day high, causing a rapid and near-universal retreat of mountain glaciers, and in some places, expanding the wildfire season into months that were, in past decades, usually free of fires.
APAC suffered close to a third of the global natural disasters over the past three decades.[1] Archipelagic states such as the Philippines and Indonesia are especially vulnerable to extreme weather causing loss of life, property damage and supply chain disruption.
Research has also shown that rising temperatures are likely to have socio-economic spillover effects, including causing an uptick in violent crimes, kidnappings, and active assailant incidents.[2] For example, a recent study found that dwindling fish stocks have led to a loss of economic opportunities, leading to increased maritime piracy.[3]
As global warming and climate change trends continue, we expect to see more occurrences of accidents and health-related hazards. Companies and insurers will need to take a closer look at their vulnerability in this area, including measures that are put in place to demonstrate the duty of care taken by organisations to protect their employees, especially if they are operating in or travelling to high-risk environments.
Ensuring the health and safety of employees, not just at work but also when travelling overseas is now a business imperative that can help organisations protect their reputation, liability and employee retention.
Businesses need to take greater preparatory measures against crises to remain secure
Increasingly, there is a growing requirement for companies to benchmark their response and capabilities in ensuring the safety and well-being of their employees. Working daily with some of the world's largest organisations, across industries and geographies, WTW has been helping them manage their crisis events and situation, and delivery of duty of care for their people.
Past events served to illustrate the advantages of spotting early warning signs of crises and calling on specialist capabilities to protect human and physical assets against them. Our newly established crisis management business in WTW and its APAC hub in Singapore advises companies to stay informed, prepared, and agile to cope with the potential challenges that are playing out across the globe and in the region.
Employing bespoke intelligence and analysis; assessing threats, current and potential exposures to risk; preparing for crisis and evacuation planning should be a default risk management position of international businesses operating in APAC. Working closely with our insurance partners, our team of terrorism, political violence and security experts have significant experience in developing risk portfolio strategies to help companies protect businesses while positively impacting the bottom-line through optimising the structure of their insurance programme.
This article was first published on Insurance Asia News on 1 July 2023.
Footnotes
Source: Science X Return to article
Author
---
Head of Crisis Management, Asia Pacific
---