Unlock More
About this Survey
Our Benefit Trends Survey, the most comprehensive of its kind, is designed to track high-level trends around global employers' benefit plans and strategies. Fielding in over 50 countries across all major industry sectors, the survey generates global, regional and local insights.
The 2021 survey was conducted between May and June 2021. Resulting insights are based on responses from a total of 3642 employers representing 14 million employees around the world.
The pandemic's toll on employee health and wellbeing — in particular, employee burnout, stress and mental health issues — is prompting employers to reshape their benefit strategy. External factors are also influencing benefit strategy globally. Top among these are a growing focus on diversity, equity and inclusion; tight labor markets; and increased remote working.
Addressing many of these factors will require employers to improve employees' experience with benefits, i.e., how employees engage with their benefits as well as understand and use the full range of programs.
72% of Swiss employers indicate that the employee experience is a key priority over the next two years.
Access our highlights report
The 2021 Benefit Trends Survey highlights report examines employer priorities and the measures organizations are taking or looking to take to modernize their benefit programs.
By completing the form, you will gain insights on:
The external factors and internal workforce challenges influencing benefit strategy.
How more employers are focusing on integrating wellbeing — in particular, initiatives supporting better mental health — into the benefit portfolio.
Emerging trends in benefit design, financing, administration and analytics.
How you can receive a personalized Benefit Trends Survey scorecard that benchmarks your organization to your peers.
How to get a Benefit Trends Survey scorecard
Even though the 2021 survey results are available, you can still take our survey and receive a personalized scorecard that benchmarks your organization to your peers, and speak with a benefit strategy consultant at no charge.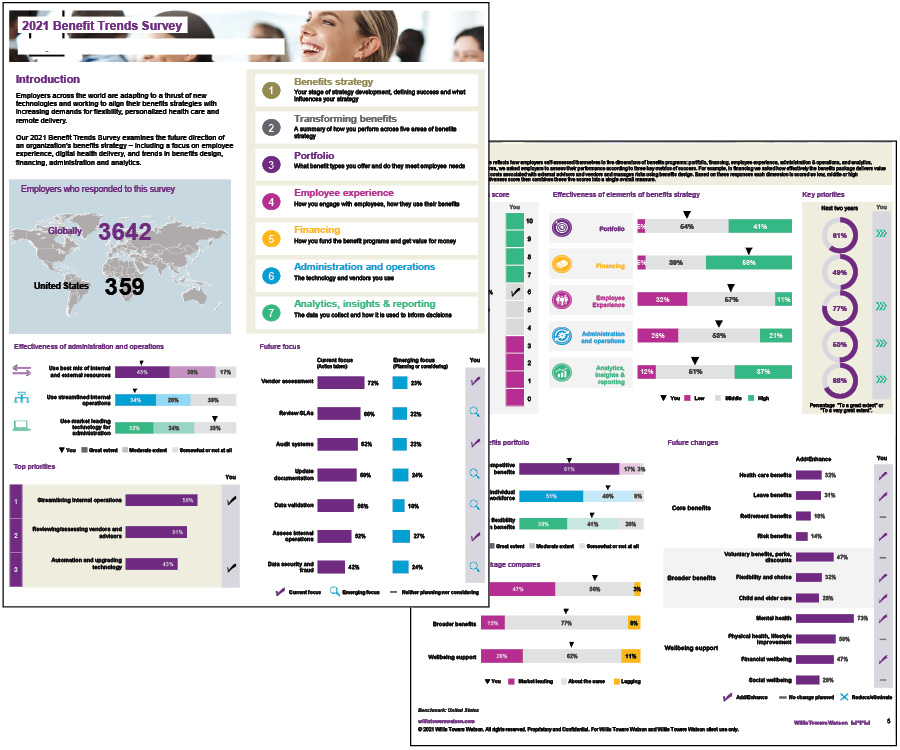 Sample personalized scorecard
Contact
---
Senior Consultant Global Benefits Management, Health & Benefits Switzerland
---