Change is constant. Organisations that effectively embrace change achieve higher levels of customer loyalty and employee engagement — often translating into stronger financial results.
But change is difficult, and many initiatives fail in the long-term – often because they focus on the "rational" elements of change like process maps and system designs, rather than the emotional aspects. It's the human behaviour element of change – like culture, leadership and engagement – that can make or break a project's success.
That's where Willis Towers Watson comes in.
Your change management needs, covered
We can work with you in many different capacities, from strategy development to on-the-ground support. Our teams bring a powerful combination of robust project management office (PMO) skills with agile change management capabilities.
A people-driven approach
The common thread across our projects is that we address the human dimensions of change. Willis Tower's Watson change management methodology focuses on driving employee readiness so your transformation project shapes behaviour change and business outcomes.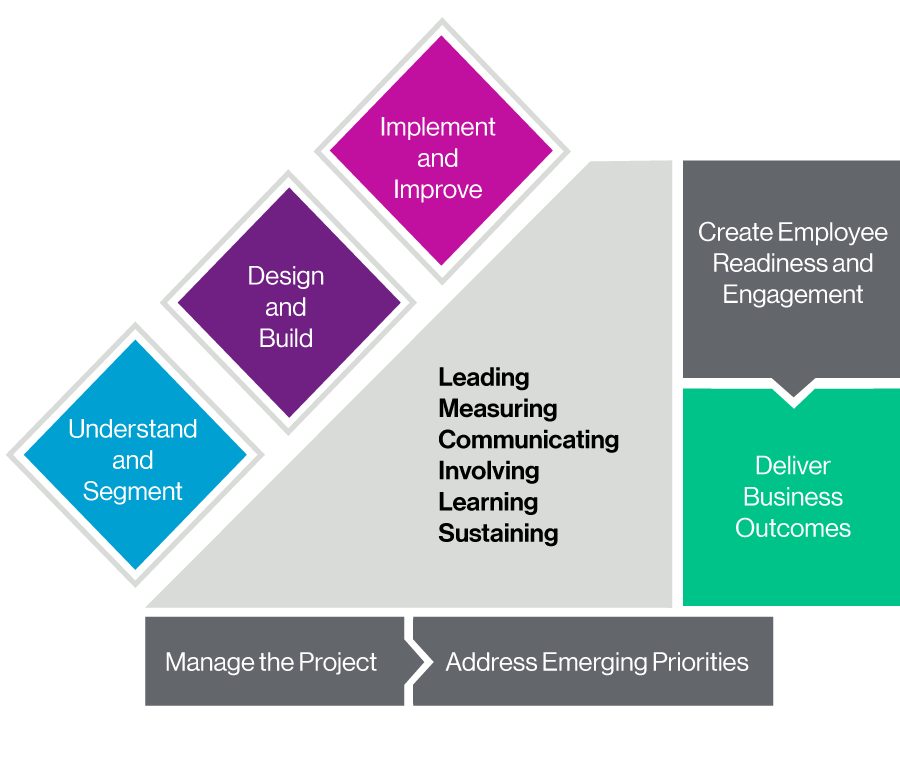 A people-driven approach
Our process involves three key phases: Understand and Segment; Design and Build; and Implement and Improve. Our change management plans address six change levers to ensure we're driving behaviour change. We operate with a unique combination of strong but flexible project management to keep your project on track along the way and address emerging needs as they arise.
Our people, powering your change
Our global network of change experts are ready to help you successfully transition your talent, teams and organisation through change. We have the people and the tools in place to take on any challenge. We have the experience and the evidence to back this up, and we'd love the chance to discover what we can do for your organisation.
The bottom line
Consulting solutions aren't business as usual when dealing with change. Effecting change is a subtle science that needs to be thoughtful and driven by behavioural science. Willis Towers Watson is here to help.
Embracing Change Management Series: Part 2 – Communication
Gaby Joyner discusses the importance of communication during change initiatives to quell employee fears and lead to success.