Employees increasingly view benefits as a critical component of their total rewards. For organizations, the employee benefits strategy is a valuable talent attraction and retention tool as well as an opportunity to reflect the talent strategy in a personal and tangible benefits experience.
Getting to the heart of your employee benefit strategy is complex. It requires balancing many factors such as
Design competitiveness
Employee experience
Cost optimization
Furthermore, you need to find the right data for analytics to refine your employee benefits strategy. And to implement it effectively, you need the right balance of technology for benefits administration.
Our employee benefits framework
It's helpful to have a framework to design and maintain an effective employee benefits program. Our Strategy Navigator (see below) outlines the five critical components of an exceptional employee benefits package:
Elevating benefits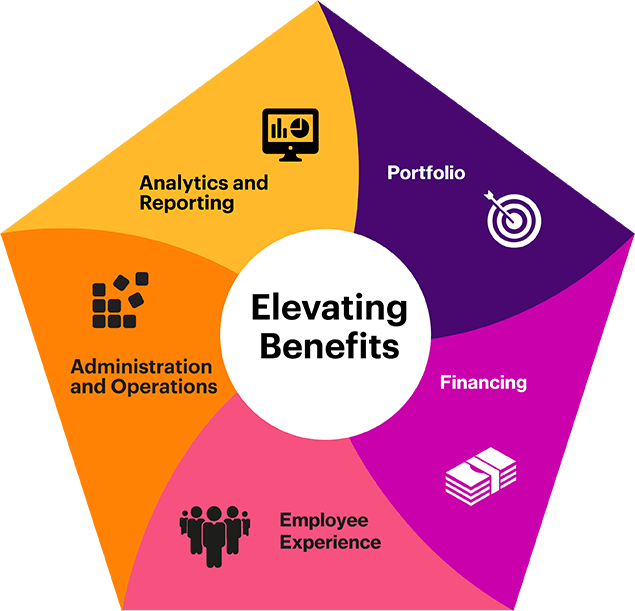 Benefits portfolio
Benefits financing
Employee experience
Benefits administration and operations
The Strategy Navigator is a five-pillar framework that outlines critical components of an employee benefits strategy.
Benefits analytics, insights and reporting: Apply data-driven insights to inform decision-making and measure outcomes
Benefits portfolio: Align benefits portfolio with business and talent goals, company culture and purpose, employee needs and industry and market norms
Benefits financing: Manage company cost (spend money where it has the highest impact and risk)
Employee experience: Maximize employee value and appreciation through awareness, decision-support and engagement
Benefits administration and operations: Optimize internal and external resources and technology solutions to deliver operating efficiency