Willis Towers Watson's insights on the SRD and executive pay
In 2017, EU regulations on governance, known as the Shareholders' Rights Directive (SRD), were approved by the European Parliament after significant debate over SRD's content and consequences. The SRD is comprised of a set of regulations meant to increase transparency and strengthen the shareholder's position through new disclosure requirements leading to an increasing influence of shareholders and proxy advisors.
It is expected that annual reports of companies based and listed in the EU will need to comply with the new rules for financial year 2019. Companies should be preparing now for:
Enhanced explanation of relationship between pay and performance
Development of new remuneration report structures
Preparation of detailed discussions in remuneration committees and AGMs
Proactive communication with proxy advisors and institutional investors
It is essential that companies monitor these developing regulations and be prepared to comply. Check this page regularly for the latest information.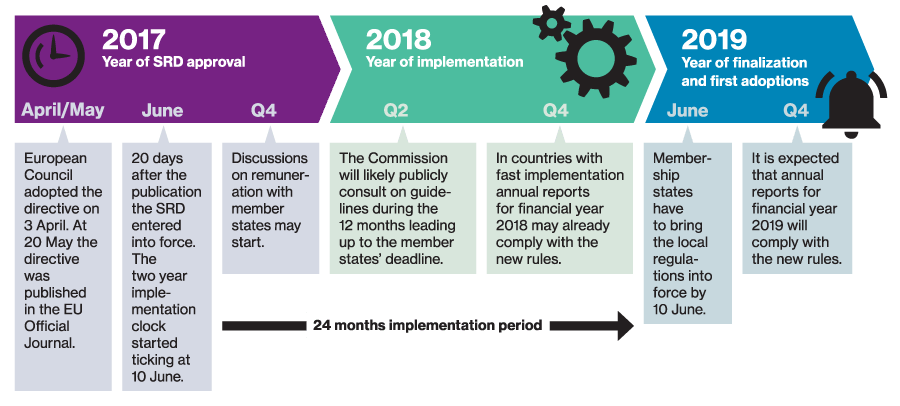 How Willis Towers Watson can help
Willis Towers Watson provides a depth of resources and expertise available only from the world's largest executive compensation consulting practice. We have consultants on the ground in countries across Europe who can guide you through the impact of the SRD. Our experts are well-connected to each other, and in particular, have deep expertise working with clients on similar projects in the U.K. and U.S.
We can help you through all stages of the SRD implementation, including:
Preparation
Getting familiar with the implications for your company
Understanding investor views
Reviewing company programs and policies with respect to SRD and investor expectations
Implementation
Changing policies and programs as needed
Preparing information and documentation for board meetings
Drafting text for remuneration report explaining relationship between pay and performance
Define strategy for shareholder and investor communication on executive compensation
Preparation for AGM
Ongoing support
Staying up-to-date with changing views of investors and proxy advisors
Regular review and update of remuneration policy and report
Contact us
Contact a Willis Towers Watson expert in your country: