Manage all phases of the HR M&A lifecycle and ensure consistency across all deals, regardless of geography, with one interactive playbook. Choose our off-the-shelf, customized or by-subscription playbook solution.
10 reasons you need the HR M&A Digital Playbook
Strengthen transaction value
Increase likelihood key talent is retained
Reduce risk
Develop a formal deal approach, rather than rely on individual experience
Help team members understand their roles and give each one a step-by-step guide
Ensure version control of information and tools
Save time with a library of proven templates
Review key activities in one spot
Update in real-time
Onboard M&A community members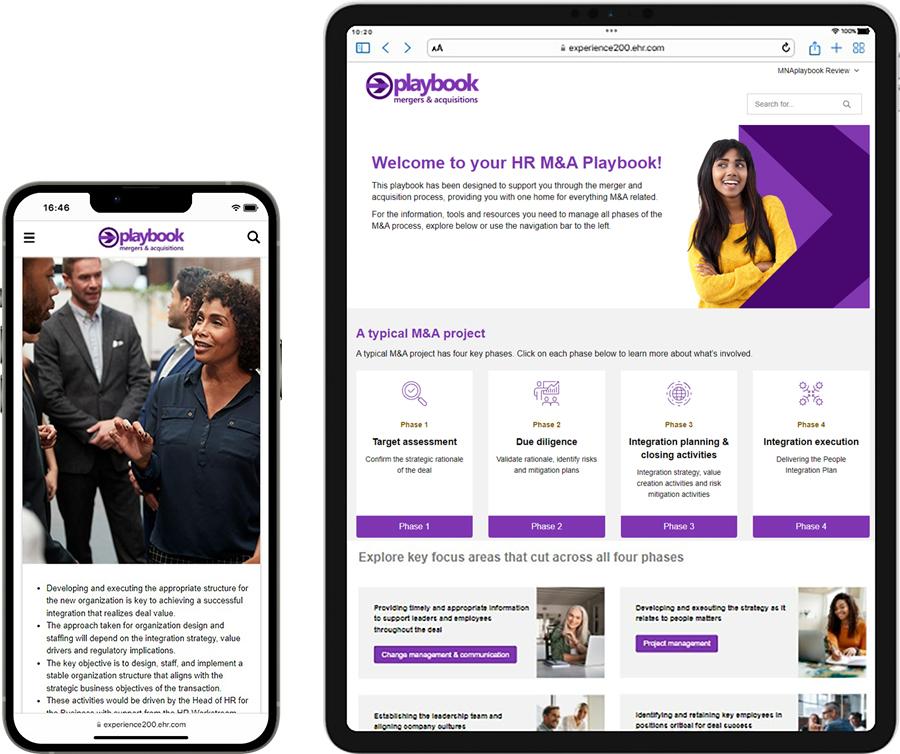 The second image is an iPad preview of the home screen of the playbook, showing "Welcome to your HR M&A Playbook" and an image of a young woman smiling. The text shows "A typical M&A project has four key phases." Phase 1: Target assessment. Phase 2: Due diligence. Phase 3: Integration planning and closing activities. Phase 4: Integration execution.
Screenshots of the HR M&A Digital Playbook
One central location…
Four phases
Ensure you're expertly addressing HR-related challenges
Change management & communication
Project management
Culture & leadership
Talent identification & retention
Labor relations
Total rewards
Organization design & staffing
The HR M&A Digital Playbook is powered by Embark