Do your employees feel a sense of inclusion and equity at work? Are your employees aligned and engaged with your organization's DEI strategy?
Research shows that diversity, equity and inclusion drive superior financial results. So, it should come as no surprise that future-focused leaders are creating diverse and inclusive environments where employees are seen and respected with dignity. In fact, over 70% of surveyed leaders report broader emphasis on diversity, equity and inclusion to support both attraction and retention, with 90% expecting actions to become permanent.
But understanding your employees' experience of diversity, equity and inclusion in your organization can be a challenge.
Tackle your toughest DEI challenges with valuable insights from your employees
Employees' sense of inclusion is comprised of three key aspects:
Feeling they belong and are accepted and respected by others;
Having opportunity and equal access to what is valuable and
Operating in a climate of impartiality where they have a fair chance to contribute and succeed.
The second square shows Opportunity: Providing equal access to what is valuable and the third square shows Impartiality: Ensuring all have full contribution to success.
Active listening can be a great way of learning from your employees and their experiences of DEI in your organization. WTW's DEI survey provides you with critical insight into tough diversity, equity and inclusion questions like:
Why is your organization losing underrepresented groups later in their careers?
Is your organization fostering a culture that allows underrepresented groups to be successful at all career levels?
How can your organization ensure your employees can bring their full self to work?
Are your attraction and promotion policies open equally to diverse candidates? How can you close gaps in inclusion?
Delve into your employees' inclusion experience at work with a DEI survey
We have designed a turnkey DEI survey to help you assess the level of inclusion in your organization, understand how it compares externally, as well as identify groups experiencing a lower level of inclusion at work. Our approach extends to identifying the reasons behind any gaps, providing further insights to support your DEI strategy and roadmap.
Your employees are critical to the success of your DEI strategy
With a DEI survey from WTW, you can quickly:
Establish your inclusion baseline
DEI survey results will generate an Inclusion Index score and help you assess your organization's performance against common employee experience drivers of inclusion.
Compare your organization externally
Your DEI survey scores are benchmarked by country, industry and high-performing organizations to help you assess your organization's opportunity for DEI growth.
Explore gaps across demographics to understand where the inclusion experience differs, why, and how to improve it
We use multi-factor analysis to dig deeper into the data, identify segments and pinpoint key intersections such as gender and level or age and employment status to help you better understand who is having a different work experience and why. We also provide insight into how the inclusion experience can be improved based on our proprietary EX inclusion model and common employee experience drivers of inclusion.
alongside comparisons to country, industry and high performing company norms.
Actionable insights from your DEI survey allow you to quickly identify how to better support your DEI strategy and DEI roadmap.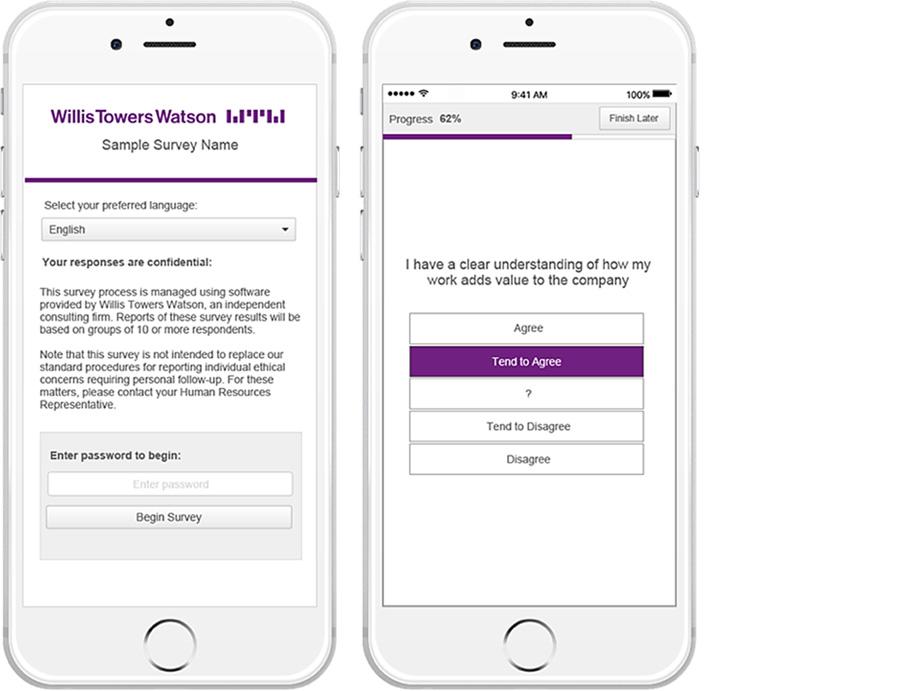 You can be confident our surveys meet the highest standards of data privacy, security and confidentiality for you and your employees.
Effective leaders collect employee feedback on each pillar of healthy company culture (dignity, psychological safety, inclusion, wellbeing, physical safety, agility and innovation) as part of a comprehensive employee listening strategy. Get the intelligence you need to succeed in your diversity, equity and inclusion efforts today and into the future.
Come explore the WTW difference.