Unlock More
About the survey
This article is based on an online survey conducted from March 5, 2021, to May 20, 2021. 144 insurance and corporate executives, academic researchers and policy makers participated in the survey as part of the Willis Research Network 15 year anniversary conference.
Climate change, Cyber risks / Cyber business interruption, and Antimicrobial resistance are the top three emerging risks that are most underappreciated and in need of greater understanding, according to a new Willis Towers Watson survey of more than 140 risk professionals.
If the recent past has done anything it has emphasized the need to reconsider the risk landscape and look with fresh eyes at our never normal. This is especially important as there is no shortage of risks where planning may be out of date for our current society, impacts are not fully recognised, or potential for threats compounding each other.
This thinking provided the backdrop for the Willis Research Network 15-year anniversary conference emerging risk survey – to draw down into those knowns and unknowns, gauge uncertainty and provide a starting point on thinking about interconnectivity.
Which 5 emerging risks do you believe are most underappreciated, and in need of greater understanding?
Here we asked participants not for their top emerging risks, but where they felt risks might be under appreciated and in need of greater understanding. As Dave Ingram flagged in our December 2020 webinar, while we ask about "DANGER" in risk assessments what we often get is more related to "FEAR". While this has its use, considering risks from other angles is increasingly important to challenge thinking.
Highlighting areas of uncertainty is the first step towards reducing it and deciding what to do next. Should risks remain on a watch list? Is a new scenario needed, or do you engage with new partners or experts to raise awareness? Are we tapping into the right teams around the organisation? If you're having a conversation around people driven risk, are your talent and reward teams in the room?
Getting the wisdom of the crowds taps into a diversity of thoughts across sectors that allows you to compare it to your own experiences and challenge thinking.
Out of 672 risk votes Climate Change was the most underappreciated risk, followed by Cyber risks / Cyber business interruption, and Antimicrobial resistance:
Climate change
Cyber risks / Cyber business interruption
Supply chain disruption / Contingent BI
Demographic shifts / Longevity risks
COVID-19 / Uncertain long-term impacts
Retrenchment from globalization
Antimicrobial resistance
Other risks
Failure to innovate
Infectious diseases
Illustrating the results as above that the top emerging risks include Climate change, Cyber risks / Cyber business interruption, and Supply chain disruption, as surveyed at the WRN Conference in May 2021.
Which 5 emerging risks do you believe are most underappreciated, and in need of greater understanding?
While climate change it is now well recognised as a risk and subject to increasing reporting, many others are at different points in their journey and these results highlight the need to keep sharing knowledge and advancing science to level up understanding. This will be increasingly important as more countries bring forward mandatory climate reporting, and boards are challenged to explain how their strategy supports a sustainable world.
The results also highlights the COVID-19 effect of increasing recognition around issues such as antimicrobial resistance and longevity, which as flagged by Metabiota in our October 2020 webinar, and the need to maintain curiosity and action beyond this news cycle.
Just before the COVID-19 pandemic hit, our Willis Towers Watson survey of risks that insurers perceived as the most dangerous to their business were led by cybercrime and the effects of disruptive technology. Those won't have dissipated, but they are likely to have been joined and indeed coloured by the lessons we've learned and are still learning from the impacts of the pandemic on public health, economies, ways of working and buying patterns.
While climate and cyber were consistently the most underappreciated risks across all time spent in industry, the other risks in the top 5 varied, with social risks making up half of the top six risks for those newest industry, and supply chain of more concern to those longest in their posts:
with the top row for all respondents, second row by 0-5 years and the third row by 15+ years in their industry. Climate change and Cyber business interests come first for all groups.
Which 5 emerging risks do you believe are most underappreciated, and in need of greater understanding?
While any survey is a snapshot of one set of views and those limitations should be recognised, it does highlight the mindset shift needed to move away from siloed risk thinking and ensure a diversity of perspectives are captured. Next time you're in a room making a decision about risks have a look around and see who's there with you. Are there perspectives designed to challenge views and encourage a healthy debate? Are we engaging our colleagues in conversations to ensure they feel included and support their drive for purpose in life and work? If not, did you know a study in Psychosomatic Medicine found when people have a greater sense of purpose, they have less incidence of cardiovascular disease and lower mortality. Not just a culture issue for businesses, but for individuals as well.
Getting the wisdom of the crowds taps into a diversity of thoughts across sectors that allows you to compare it to your own experiences and challenge your thinking.
Respondents were also able to put forwards "other" risks, and here only one respondent said it was the interconnections risks they were most uncertain of. This list provides a set of risks to consider and challenge yourself with.
The interconnected nature of many risks and their systemic implications
Climate Change and Environmental risks
Climate risks

Breakdown of the global conveyer belt
Collapse of entire, multiple ecosystems
Biodiversity collapse

Soil degradation, pollinator extinction, etc.

Threats to ecosystem services
Inflation of natural catastrophe losses arising from human factors

Space weather
Social and global population, trends
Generational shifts

Cultural shifts, i.e. protests for BLM, climate change, anti-lockdown, farming rights, political activism
"Culture wars" caused by political shifts
Generational wealth disparity
Sociopolitical unrest from fed-up young people

Mental health
Geopolitical, economic and regulatory trends
Political risk

Collapse in democratic structures, frameworks and institutions
Failure of politics through inappropriate individuals in power
Inequality driven social unrest
Security
War (China / Russia)
US / China tensions

Financial risks

Central bank collapse
Social inflation
Inflation
Under-pricing and externalization of risk in the financial system
Technology trends
Cryptocurrency impact on the Fiat currency
Space debris/orbital sustainability
Trust in government and media
Fragmentation of the internet
Cyber IIoT physical damage & bodily injury
Machine learning / AI Governance failures
Reinforced autoclaved aerated concrete (RAAC) collapse
How many of these are on your risk register, and if not, has a decision been made around why – or does the question need to be asked? Could a process like red teaming help with risk maturity? Red teaming is the practice of rigorously challenging plans, policies, systems and assumptions by adopting an adversarial approach. This challenge process has been seen in organisations such as insurers like Beazley Group and luxury brands like Gucci as they make use of initiatives like shadow boards, or find new ways to tap into wider pools knowledge – something we've been helping our clients do with the WRN network – to use science for resilience.
What top 3 business and market drivers have the greatest impact on the ability to manage emerging risks?
Yet risks are just one part of the puzzle. As organisations and members of markets and sectors we often experience drivers that impact our ability to manage them. Here respondents highlighted the barriers – perceived or real – that are getting in the way. There's no one silver bullet or target to aim at. Disruptive technology, human factors, culture, and data management are all factors.
The top results are 'Lack of Adaptation and Mitigation Process', 'Diversity of Thought', 'Poor understanding of resilience culture', 'Failure to innovate' and 'Data management/governance'. Other selections include: 'Changing talent and skills', 'Competition/Disruptive technology', 'Reputational risks from partners' and others.
What top 3 business and market drivers have the greatest impact on the ability to manage emerging risks?
Also, from our 'others' category we can see there's a whole series of issues acting as barriers, from a lack of time due to busy business-as-usual activities, to a lack of incentive to act ahead of the market:
Challenging BAU / Everyone is too busy: focus on their day job
Externalisation of risk in all financial transactions (IFRS, IAS, credit reserves, ratings, etc.)
Fear of failure, underlies risks like failure to innovate
Lack of incentive to act ahead of the market
Open data and standards
Operational processes around risk mitigation
Regulatory Uncertainty
Credibility of the process at the senior management/board level
Lack of experience/empirical evidence constrains business case for investing in research/mitigation/ resilience
Short-termism, too much focus on single year time horizons, weak incentives for long-term value creation / risk management.
Businesses being judged on a quarterly basis are circumventing this outlook and much needed funding in areas which will not give an immediate return
These factors will need to be challenged and are being explored in our work with the National Preparedness Commission (NPC), the aim of which is to promote better preparedness for a major crisis or incident. The NPC's programme of work is intended to be both strategic, (recognising that what is needed to be better prepared for many shocks is the same whatever the initiating crisis or incident), and practical to encourage comprehensive actions so as to get away from merely "admiring the problem". It will look holistically at what needs to be done to improve societal preparedness and national resilience.
Choose up to 3 combinations of risk pairs where respondents feel there is the potential for unexplored but significant consequences.
The final survey question looked at the interconnections between risks and levers explored in the first part of the survey. Risks don't happen in isolation and more needs to be done to surface these connections, raise awareness, and identify further modelling and research needed to fill knowledge gaps.
652 connection points were put forwards with no categories lacking connections. This new way to explore risks – created by the WRN Emerging Risks hub at Willis Towers Watson – provides a starting point for those who raised the uncertainty around specific risks to find and challenge connections to explore consequences. This holistic view will be increasingly important for many industries looking to build forwards from the pandemic, so that when investments are made, they consider wider risks and reduce the potential of solving one problem and making others worse.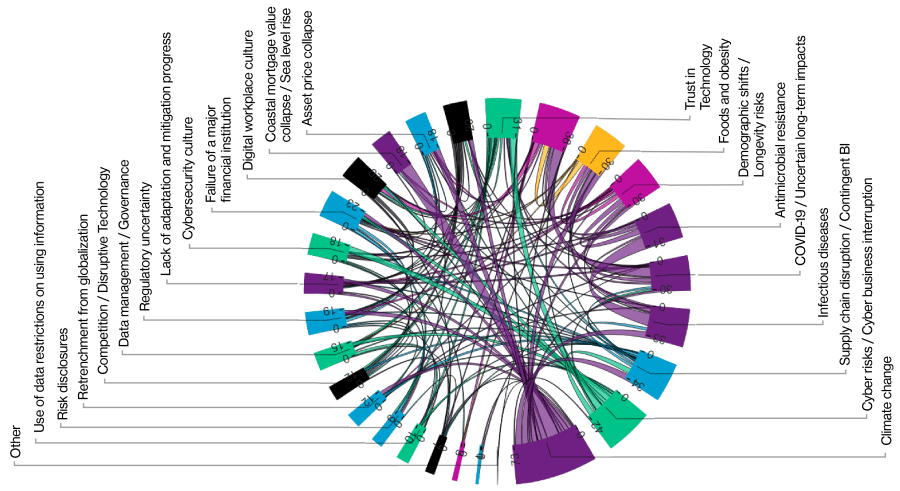 The largest selection is by far 'Climate change', with 'Cyber risks/Cyber business interruption', 'supply chain disruption/contingent business interruption', 'Infectious diseases' and 'COVID-19/Uncertain long-term impacts'.
Choose up to 3 combinations of risk pairs where respondents feel there is the potential for unexplored but significant consequences.
There are also deeper stats within this view that are valuable to consider. The trap is often to focus on those risks found at the top of lists. If we look again, not at the counts but the diversity of risk connections (how many other risks it is connected to) the top 4 looks different:
17: Climate change has connections to 17 of our other risks
16: Wellbeing, Supply chain disruption / Contingent BI, Trust in Technology 16
This is why it is essential to challenge your processes, ask questions, and ensure emerging risk thinking is not just a list-based process, and a one and done. Pandemic flu was at the top of the UK risk register, however it didn't mean that the country was well-prepared. Registers have their place but to help decision-making engaging storylines are more effective and this new risk map could form the basis to consider multi-risk scenarios.
This is something we have been exploring and welcome discussion on. Businesses need to be ready for multiple scenarios and be flexible when the exact situation doesn't unfold as scripted or risks have fallen between the cracks of formal risk registers. Some of those are called "grey rhinos" (a cross between elephant in the room and black swan): you see them, but you're not sure how to tackle them, as they weave together lots of issues. If you missed the conference session, our panel walked through two rich narrative scenarios that considered workforces of the future and critical infrastructure dependencies. These scenarios formed the basis of discussion between panel members representing key perspectives to highlight risks, opportunities, and how science can be used to support awareness and understanding.
Emerging Risks and Panel Session
Session opening with Lucy Stanbrough, Head of Emerging Risks Research, Willis Research Network
Over the next few months we will be taking deeper dives into some of the risks, uncertainties and connections raised through the survey. For example, only 7/144 respondents highlighted reputational risks from partners an area of uncertainty and yet findings from our Global Reputational Risk Management Survey Report, saw almost 80% of the risk managers and executives we spoke to felt the focus on reputational risk in their business would only increase in the coming five years. Is this an area where further work is needed to highlight the art of the possible?
The WRN will also be looking to repeat the survey across sectors to build wider insights into risks. If there is an aspect you would like considered, please reach out.
Author
---
Head of Emerging Risks and Business Engagement
---