Driving and sustaining change
We help you identify the root causes of pay inequities and the change you may need to make to how pay is managed in order to reduce the risks of inequities recurring. For many clients, this is a journey and can take several years. We support clients in building local buy in, developing manager guidance, accountability and reporting.
Pay equity analytics
We help you pay people fairly. We work with you to:
Develop a global approach to carrying out pay analytics
Use pay analytics software to conduct the analytics efficiently and effectively
Understand the analytical outcomes and the remedial actions needed
Integrate the analytics into your regular pay management process
Roll out your approach across markets, aligned to the EU Directive
Pay transparency
Alongside the analytics, we enable your path to pay transparency:
Assess the readiness of your job and pay structures
Review your policies on hire, promotion and annual review
Develop your approach to educating leaders, managers and employees on pay
Develop your communication strategy and supporting materials
Build your global narrative aligned with your DEI and ESG narrative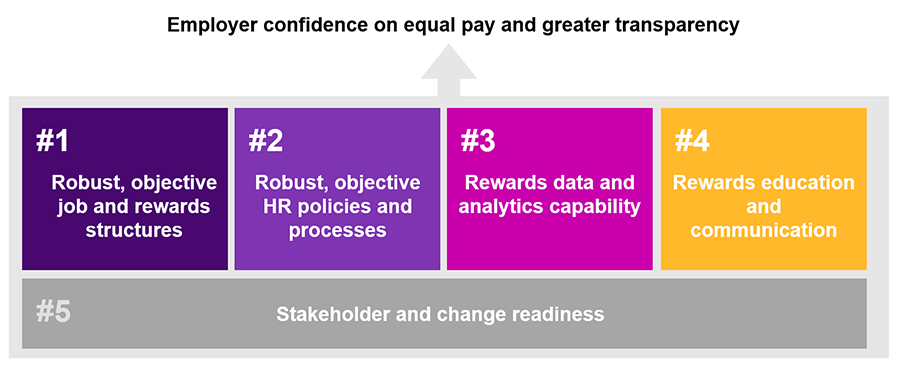 Employer confidence on equal pay and greater transparency
Bringing together global and local regulatory requirements
We support on local regulatory requirements, integrating these into your broader pay equity approach.
Pay transparency (US, Canada and EU Directive)
Gender pay gap statistics (UK, Ireland, Japan)
Equal pay and index analyses (France, Switzerland)
Workplace equality plans, wage registries, salary policies (Spain, Portugal)
Employment equity compliance (Canada)
Telling your story
Developing a strategy for how and what you will communicate is essential in the success of your pay equity journey. Expectations of pay transparency and the types of internal and external stakeholders you need to communicate to are growing. We work with organizations in crafting how, when and where to tell their fair pay story as well as how to integrate it with their broader equity, diversity and inclusion agenda.