As digital technologies continue to disrupt traditional business models, there is a growing need to secure unique digital talent and skills to drive digital transformation. Thirty-six percent of organizations in the world today are using automation or automated technologies, primarily to enable employees to be more efficient and productive. The use of automation at work is expected to grow to 72% globally over the next three years.1
Organizations know they need certain skills to get work done, but many face challenges with attracting and retaining critical digital talent. Traditional role-based job classifications are not able to meet the demands of the fast-evolving digital landscape.

Current challenges with valuing and benchmarking skills.
As skills are projected to become the 'currency' of the digital economy, compensation professionals should consider re-examining their benchmarking practices to include a strong view on skills. This is an example of where access to quality data and insight support developing breakthrough approaches in your HR, talent, and reward plans and help drive successful business strategies.
To help address those challenges, reward professionals can now choose to go beyond pure role-based compensation frameworks and use SkillsVue — the new platform from Willis Towers Watson that enables you to understand the impact of skills on pay for digital talent.

Three significant changes to job design in the future of work.
Let's look at the three trends influencing skill-based pay
Jobs are being broken down into tasks and skills. Organizations are starting to re-examine their definition of a job and think about how they can deconstruct their jobs into work and tasks. Instead of benchmarking an entire job, organizations will need to think more about the work they need to get done and the skills required to do that work. This may mean looking at the market rate of unique skills (which underpin the tasks to do the work) and tying them to the market price for a job.
Skill diversity is valued over experience. At the rate that job requirements are changing, organizations are beginning to value skill diversity and greater levels of flexibility and adaptability from their employees over their past experiences or education. What does this mean for benchmarking? Organizations need to be able to understand the demand for the skills required to get work done and relative value of those skills. They may need to be prepared to differentiate their rewards programs to pay a premium for 'premier' skills that are in high-demand but low supply.
Skills are becoming industry-agnostic. The most common approach to compensation benchmarking has been industry focused. Now when benchmarking compensation, organizations may need to benchmark their pay data across industries or a broader market, and consider including non-traditional peers who are recruiting talent with similar skills. The Artificial Intelligence and Digital Talent Survey does exactly that, by providing organizations with market insights on pay levels for digital talent across all industries.
Time to get to work – how can you understand the impact of skills on pay?
You need to begin with a change in mind-set. Think beyond traditional approaches to skill-based pay where employees are rewarded with additional pay for their mastery of skills, knowledge, and/or competencies. Instead, understand your business strategy and what skills your organization needs to drive business results. Focus on the primary challenges for valuing skills.
Leverage technology to see the impact of skills
Rethink pay design
Stay ahead of future skill demand
Let's look at the example of a software engineer. Your organization may have two groups of application developers, all matched to the same Application Development Senior Professional survey benchmark with a market rate of $100,000. However, in order to complete the work one of the groups requires C# amongst many other skills, but that you are finding it hard to get the right talent with those skills at the standard market rate. You want to be able to see the impact of those skills on the market rate. In traditional ways of benchmarking, you can't differentiate the benchmarks, and you would need to search in alternative sources to see which skill is more in demand and decide whether to differentiate in pay or not. This becomes an impossible task.
Willis Towers Watson's SkillsVue, combines pay data from our Artificial Intelligence and Digital Talent Compensation Survey with proprietary machine learning algorithms that collect, extract, classify, map and analyze publicly available job posting skill information to represent the most complete vision to date for skill-based benchmarking.
SkillsVue is an interactive analytics platform where you can model and instantly visualize the impact of individual skill permutations on pay. Adding C# skills for the application developer leads in this example to a premium of 7.5%.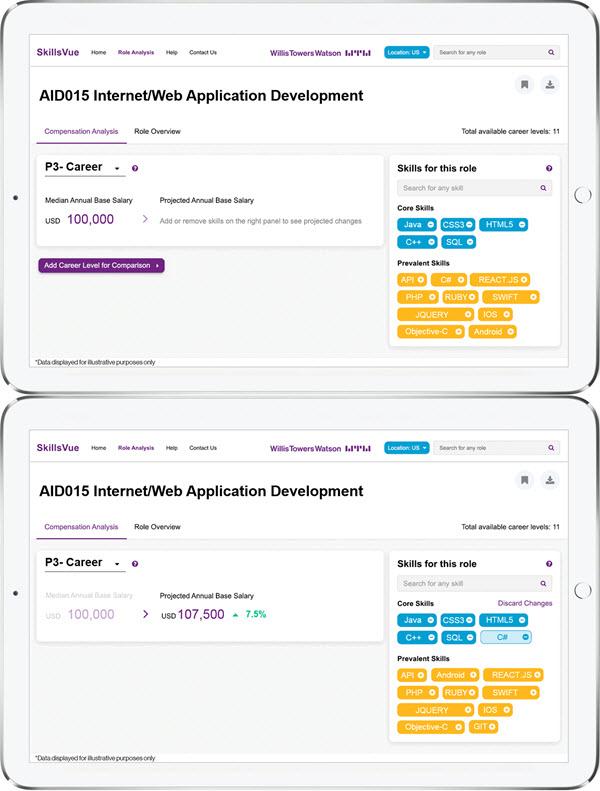 Skill-based pay modeling at your fingertips – SkillsVue output example*
SkillsVue can help you take a new view on how to:

Understand the impact of skills on pay, without having to understand the content of the skills

Have a solid governance that allows you to repeat year-over-year your potential differentiated approach for skill-based benchmarking

Use interactive technology to model and instantly visualize the impact of one or more skills on pay

Build a foundation to rethink pay design and stay relevant in this highly competitive market for attracting and retaining digital talent
Source:
2018 Artificial Intelligence and Digital Talent Survey, Digital Transformation Practices Report – Global