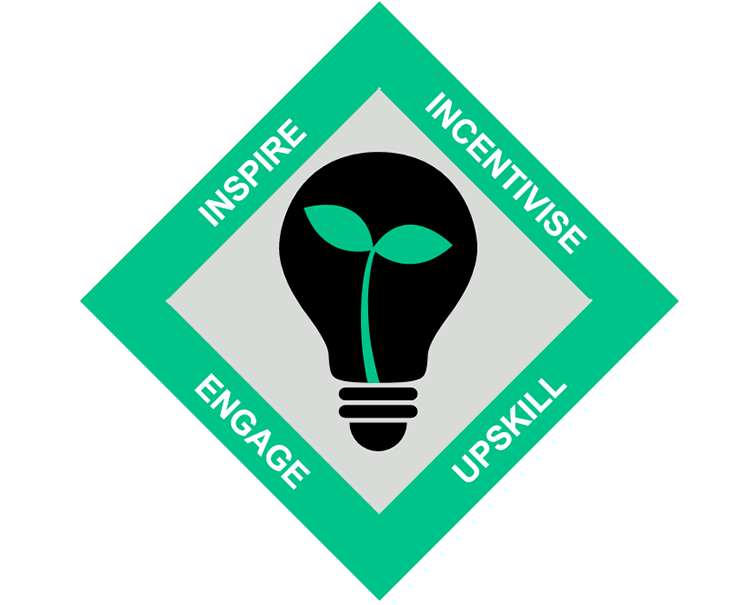 Emerging data suggests that there is a significant 'say versus do' gap for incorporating climate strategy into the People and HR agenda. In our recent survey of 121 organisations, 92% said it's important to have a clear climate strategy as part of their Employee Value Proposition (EVP). However, only 13% of those organisations said they had implemented this in practice.
This highlights a clear disconnect between the importance organisations are placing on climate strategy as part of their people agenda and the steps they are taking to address it. Today, we want to share four tips for embedding climate in your HR strategy and EVP, and for driving this through your culture and employer brand.
In our last article we introduced our diamond model – the four core areas organisations can focus on to drive their climate strategy through their people. This article focuses on the first of the four areas: inspire – how do we tie climate to our business and people needs and create an environment that drives the right behaviours to achieve our climate goals?
Tip 1: Define how the climate agenda integrates into your business and HR strategy
Of course, there are important moral and societal reasons why organisations should, and do, support the collective effort to mitigate climate change. The dial shifts up a gear when organisations also ground climate issues in business and workforce needs and expectations. This means helping leaders and employees understand why this effort is important not only for society, but also for the business and the people within it. The first step towards achieving this is to bring together key stakeholders to map out how climate is an enabler of your business and workforce strategy, and to define the critical people initiatives required to deliver on this.
Tip 2: Refresh your EVP with a climate focus
Once you have understood how climate integrates into your business and workforce strategy, the next step is to refresh your EVP with this in mind – what are the behaviours you want to see from people to drive climate goals, and what will you offer in return? You might want to encourage employees to actively assess their carbon footprint so that they can understand how they may be able to reduce it, particularly for work-related impacts. Or perhaps you might want to inspire employees to use their volunteering day to support environmental charities.
In return, you could consider how climate can be tied to incentive arrangements, how it can be factored into supply chain decisions or how you can minimise international travel. There are many options and possibilities, and developing a meaningful and practical set of behaviours as part of your EVP can help form the basis of your action plan.
Tip 3: Help leaders become your climate role models
Next, it's important to consider how to build a culture that drives these behaviours – and leadership will play a key role in this. This starts with promoting awareness of climate issues with leaders, and educating them about the impact of these issues on the organisation and how it can positively contribute to change. It's also critical to define what each leader as an individual needs to do to become a role model within their organisation so they can inspire others.
This might involve reinforcing messaging, actively sharing stories or visibly minimising their own impact – however it is done, it begins with equipping and empowering leaders with the knowledge of why it's important that they are climate advocates and how they can live this day by day in order to have a personal impact and to encourage others to do the same. This is what starts to shift culture.
Tip 4: Build climate into your employer brand
Finally, you need to focus on how to engage your people in the climate challenge. An effective way to do this is through your employer brand: a reflection and expression of your identity and what you stand for. Building climate into your employer brand sends a message to employees that climate and sustainability is a priority for your organisation – this can build pride and emotional connection, and it can pave the way for behaviour and culture change. You could even create a sub-brand specifically for climate initiatives and communications, to help employees immediately recognise any climate activity. This can help to bring together any climate or environmental initiatives that already exist in your organisation and to drive employee awareness of them as a holistic organisational effort. Employees are increasingly expecting their employers to play their part in the climate challenge, and authentic branding, with a robust strategy and plan sitting behind it, can help employers communicate their part in a powerful and engaging narrative.
To the 60% of organisations which are considering embedding climate into their EVP today – and to the 10% of organisations which haven't considered it yet – we encourage you to start here, today, with our four tips. Ground climate in your business strategy, define the behaviours you need to achieve your climate goals, and create a culture and environment to drive these, starting with your leaders and inspiring your employees through a powerful employer brand.
Contact us
---
Managing Director, Global M&A Leader
---
Gaby Joyner
Head of Great Britain
---
Sarah Gledhill
Associate Director - Change Management and Communication
---