We recently released breakthrough research which showed that companies with more effective employee experience (EX) outperformed their peers for top-line growth, bottom-line profitability and return to shareholders. We found that, for each financial measure, companies with low EX scores had the poorest financial performance and companies with high EX scores had the best financial performance. For example:
Return on equity: Low EX companies were 6 percentage points (pp) below the index; strong EX companies performed 3pp above the benchmark.
One-year change in gross profit margin: Low EX companies were 10pp below the index; strong EX companies performed 3pp above the index.
Three-year revenue growth: Low EX companies were 1pp below the index; strong EX companies performed 4pp above the index.
This research provides hard evidence for a theory we've all felt to be true, but until now, couldn't prove: that EX matters. Not just for people, but for business performance.
Defining High-Performance EX
Our research identified the 12 components of a high-performance EX. We call this our High-Performance Employee Experience (HPEX) model.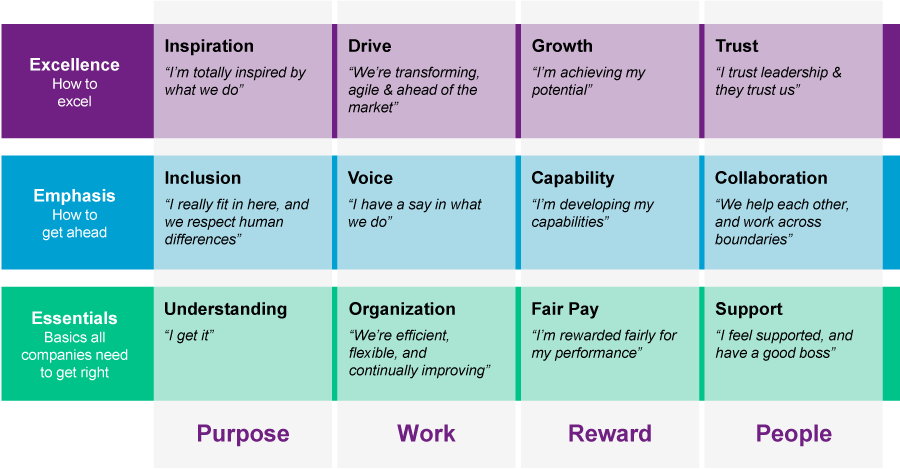 HPEX model
© Willis Towers Watson
Essentials: At a foundational level are four aspects of EX we call the "Essentials" (Understanding, Organization, Fair Pay, Support). Our research shows that these are issues all companies need to get right, but do not necessarily differentiate high-performance organizations.
Emphasis: Next are aspects of EX which help create personal agency (Inclusion, Voice, Capability, Collaboration). The research demonstrates that companies who succeed in these areas begin to pull away from "average" organizations, suggesting a precursor to high-performance.
Excellence: The final four components (Inspiration, Drive, Growth, Trust) are where high-performance organizations truly excel. However, doing well on these is hard, and not many organizations achieve success here. But for those that do, the chances of sustained financial success are high. Ultimately what determines success on the essentials is effective leadership.
Measuring employee experience and building a path to excellence
We believe if you build strength on the 12 components of HPEX, you'll achieve high-performance. But how do you know where you stand today, and how can you move the needle forward? Here are the practical steps you can take.
Step 1: Measure your current EX
The first step is to assess your EX through the lens of our industry-leading HPEX model.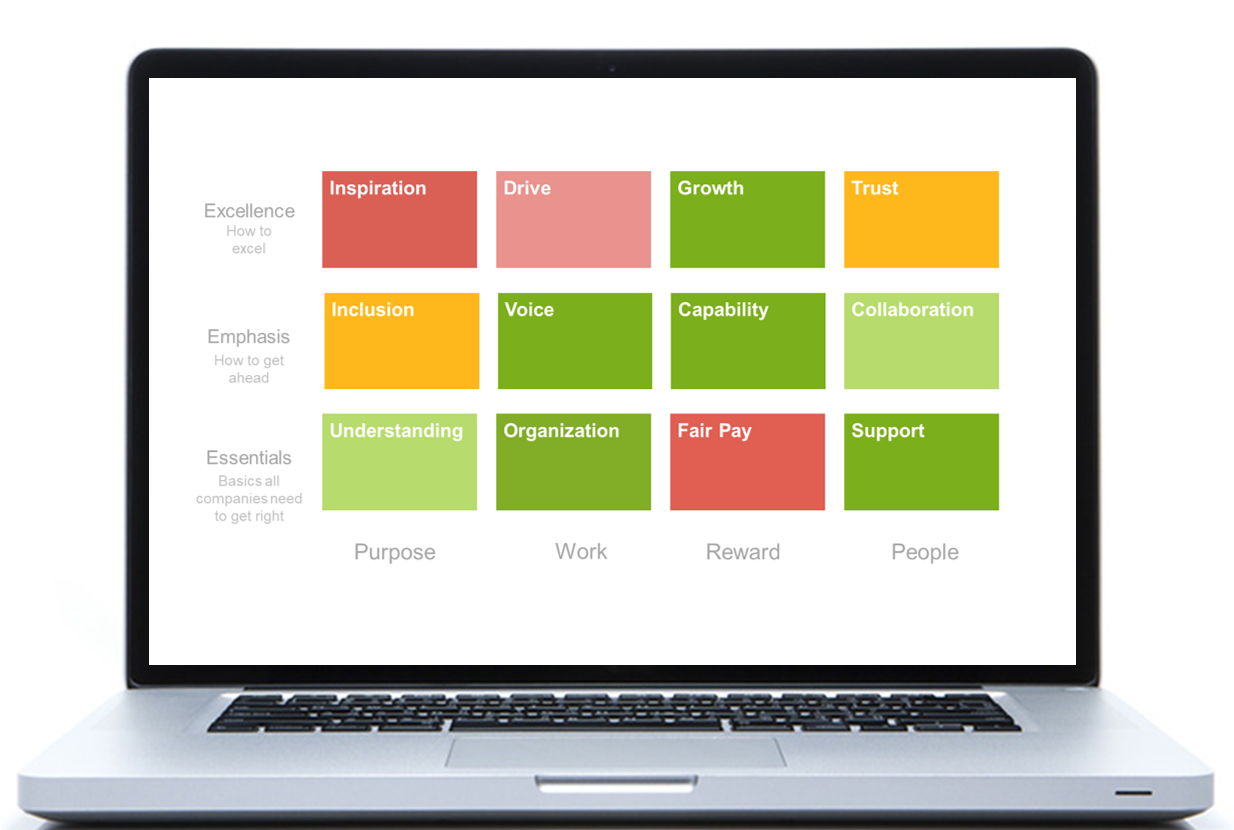 HPEX Scorecard
© Willis Towers Watson
Start by gathering the employee voice on each of the 12 areas through employee surveys and virtual focus groups. Once the assessment phase is complete, we create a custom scorecard for you indicating your priorities for change and highlighting where you're already succeeding.
If you use WTW's Engage, we now have a standard 34-item HPEX survey, and creating a scorecard is a quick and easy step at the end of the survey. And even if you don't run your survey with us, we can do a best fit and create a scorecard for you in just a couple of days.
Step 2: Establish priorities for change
Once you receive your scorecard, the most powerful next step is to create a multi-disciplinary EX team (across HR and the business), and through a facilitated workshop with Willis Towers Watson, sketch out an ideal EX aligned to your strategy, together with your priorities for change. As many organisations are currently rethinking their purpose, now is a great time to ensure you have an EX to match.
Step 3: Activate
The ultimate purpose of your survey activity is to help build a better EX. The great thing about having HPEX as an organizing framework is that it helps you reassess your existing workstreams. If your existing workstreams contribute to your desired EX, great, keep them. If they don't, ditch them. One of our clients ended up rationalizing over 200 HR activities down to just 9, and with greater impact. And that's the point, using insight to drive change.
If you'd like to learn more about our research, or how we help clients build a better EX, do get in touch.
Author
---
Managing Director
Employee Experience
Dr. Stephen Young is a thought leader on the transformative power of employee listening. He believes a high-performing employee experience, at work and in life, is the key to winning the war on talent and delivering sustained financial results. He has a Ph.D. in business psychology, and more than 20 years of experience advising the world's leading organisations on making employee voices louder, clearer, and more actionable than ever before. In his spare time, you'll find Steve with his kids, cycling, and supporting Arsenal Football Club. Follow him on LinkedIn.
---