In previous installments of our employee engagement fundamentals series, we've covered what is employee engagement and what drives employee engagement. In this article, we explore why engagement is important.
Willis Towers Watson has been studying employee engagement — and the organizational elements that drive it — for decades, and we work with organizations across industries and around the world to measure and improve it.
To us, there are three reasons employee engagement matters:
Employee engagement impacts the bottom line.
Employee engagement drives the customer experience.
Employee engagement makes for a more productive, safer work environment.
01

Employee engagement impacts the bottom line.

Willis Towers Watson research shows that a more engaged workforce links with better financial performance in a statistically significant way. In global cross-company study of 41 multinationals, we found that companies with above average employee engagement achieved profit margins five points higher than their sectors' typical results. By comparison, companies with below average employee engagement faired 13 points lower. We also saw earnings results for companies with above average engagement beat sector performance by more than two times the rate of companies with below average engagement.

We find similar patterns within individual companies. In one retailer we worked closely with, we observed a three percent sales growth advantage for stores with the most engaged staff versus the least engaged. Over time, sales growth for those high engagement stores reached five percent versus prior year, compared with only two percent for stores with low engagement. In a global financial services company we worked with, we found that bank branches with the highest employee engagement managed to beat sales targets by 17%, compared to the least engaged branches, which achieved just one percent over target.

02

Employee engagement drives the customer experience.

Employee engagement's impact on financials is due, in part, to more engaged employees delivering better service to customers. In a global, financial services organization we studied, bank branches with the most engaged employees achieved customer satisfaction scores 19 points higher than units with the least engaged employees. In a large retailer, we found that stores with high engagement levels received customer feedback ratings two points higher than stores with low engagement. In another study in banking, we found that bank branches with the highest engagement levels also experienced significantly better customer loyalty than other branches.

03

Employee engagement makes for a more productive, safer work environment.

Employee behavior and productivity-oriented metrics also link with employee engagement. For example, in a global mining company, job sites with the highest engagement levels completed work two percent above their target rate. This is paralleled to job sites with the lowest engagement levels, which completed work two percent below their target. In a telecommunications company, the most engaged teams reached 94% of goal for call times, compared to the last engaged teams, which averaged only 88% of goal. In a global manufacturer, the most engaged sites had half the rate of work injuries compared to the least engaged sites. Employee turnover, likewise, links with employee engagement levels. In a synthesis of results across five retailers, rates of employee turnover were 23 points lower in stores with high engagement versus low engagement.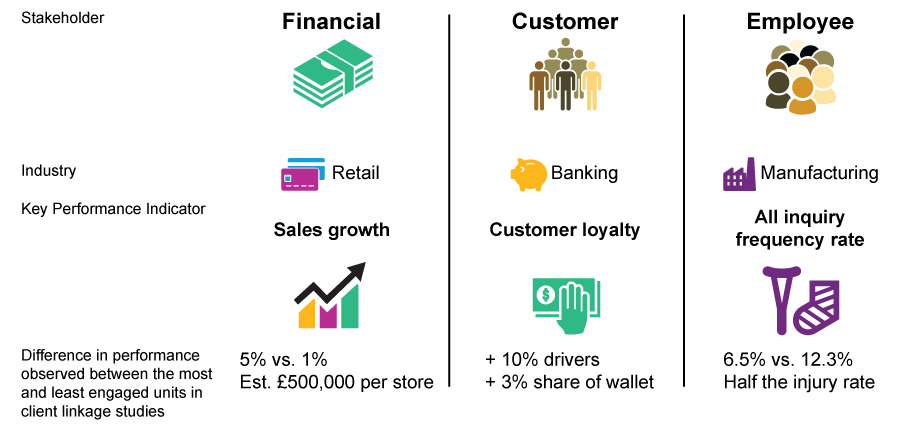 Key performance indicators across a variety of industries demonstrate the difference in performance between the most and least engaged units and the positive impact employee engagement can have on business results and people metrics.
These results indicate that higher employee engagement in a workplace links with better business results and people metrics. We are often asked if employee engagement is the driver of those results, or if simply working for a better-performing company (for whatever reason) creates more engagement? With employee engagement and business data tracked across multiple years, we can study this question directly, and we have for numerous companies. We see linkages pointing in both directions. For example, in a study of sales teams in a consumer products company, initial levels of employee engagement among team leaders linked with better sales results in later years, primarily because more engaged sales leaders were better at recruiting and advancing great team members.
In turn, running a more successful sales team impacted the engagement of team leaders over time. In this case, in poor-performing sales teams, leader engagement fell by as much as 8 points over time, while for top-performing teams, engagement levels gained slightly in the same period. In other words, more engaged team leaders achieved better sales results over time, and enjoyed higher engagement to the extent they were more successful, a virtuous cycle.
We strongly believe employee engagement is part of a business value chain in which improvements to work experience can enhance engagement, which in turn drives performance and reinforces engagement levels over time. Organizations can improve both their people management and business results by jumping into this cycle and understanding how it works for them. This promise of lower injury rates, absence, and attrition plus higher operational efficiency and better customer experience creates a compelling narrative for why employee engagement truly matters.
Authors
---
Director
Research & Innovation Centre, London
Angela supports WTW Software users by helping to design off the shelf content, based on thorough research and statistical analyses of large scale employee survey data. Her goal is to ensure that survey content is based on the latest and most robust research evidence. When she is not working, Angela enjoys films with her sons, walks with her Bernese Mountain Dog, and a good chat with friends at book club.
---
Managing Director
Employee Experience
Dr. Stephen Young is a thought leader on the transformative power of employee listening. He believes a high-performing employee experience, at work and in life, is the key to winning the war on talent and delivering sustained financial results. He has a Ph.D. in business psychology, and more than 20 years of experience advising the world's leading organisations on making employee voices louder, clearer, and more actionable than ever before. In his spare time, you'll find Steve with his kids, cycling, and supporting Arsenal Football Club. Follow him on LinkedIn.
---
Related Newsletter
EX Insights
Explore the latest insights on aspects of EX that help you drive a high-performing culture, empower leadership and attract the people your organization needs to be successful today and tomorrow