In an era of rapid technological and social change, the world of work is being radically transformed.
Smart machines have joined the workforce as our new "digital colleagues," work is increasingly being dispersed across time and space, and the rise of the gig economy has created a new blended workforce composed of employees and a wide array of non-traditional talent. Additionally, world events are challenging the way work gets done. In turn, organizations are searching for creative and sustainable approaches to organize work, while addressing the social and economic forces at play.
With so many new options facing them, leaders have an unprecedented opportunity to reinvent the way work is designed and rewarded to improve performance, contain costs and reduce risk. But they lack a systematic, efficient way to evaluate which options are best-suited for various types of work.
---
Reinventing jobs
Now organizations can gain this insight dynamically by deconstructing jobs into tasks, evaluating ways to optimize work – across technology, employees and non-traditional talent – and reconfiguring the work into new, more optimal jobs.
WorkVue, the first-of-its-kind AI-enabled software, brings our Reinventing Jobs methodology to life, allowing organizations to reimagine their workforce using exceptional visualization and modelling capabilities.
---
Efficiently and dynamically reimagine jobs
so they are optimized for employees with varying skills and reflect the impact of automation.
Understand work risk
by reviewing the type of work in jobs at the task level and overall as part of a risk management plan.
Create a more compelling employee experience
by reinventing jobs, allowing employees to focus on more meaningful, non-routine work.
Visualize and model the impact of technology on any job
by using your existing job description or one from the built-in job library.
Disperse work across time and space
through technology, employees and non-traditional talent by understanding which work can be virtualized and how to best support it.
Provide greater clarity on mission-critical work
by adapting to changing business conditions and empowering employees to focus on what matters most.
Improve business performance
by increasing overall job efficiency and productivity.
Deconstruct a job, evaluate ways to optimize the work, and then redistribute tasks across talent and automation to create new, more human-centered jobs with WorkVue.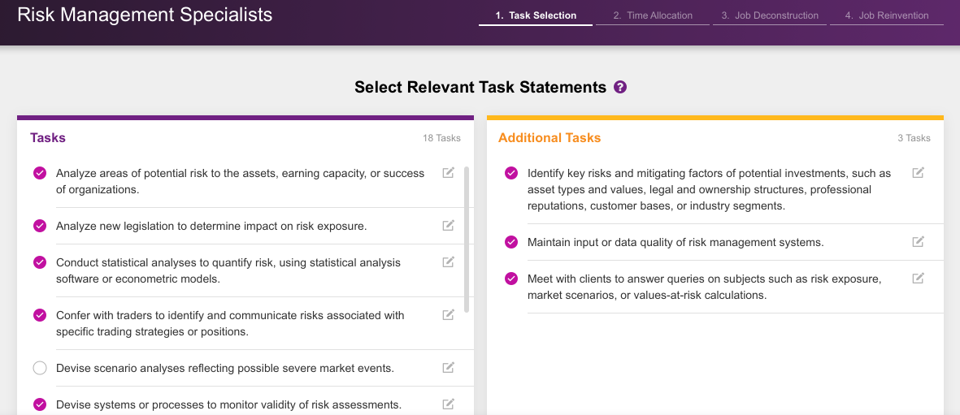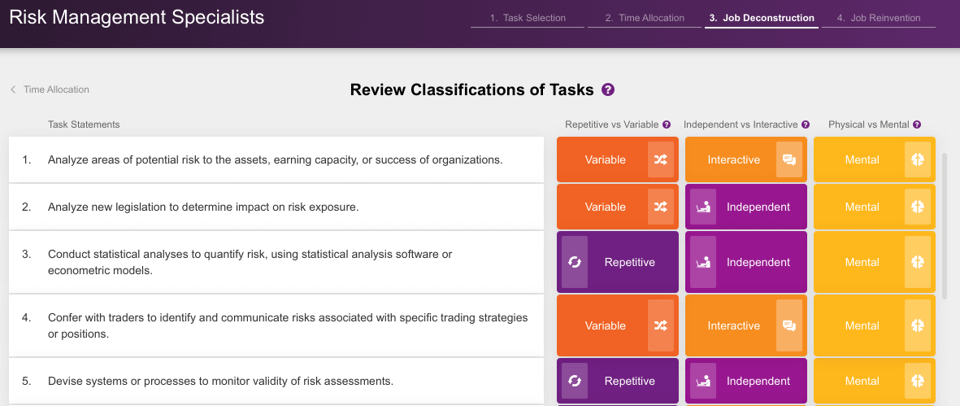 Review classifications of tasks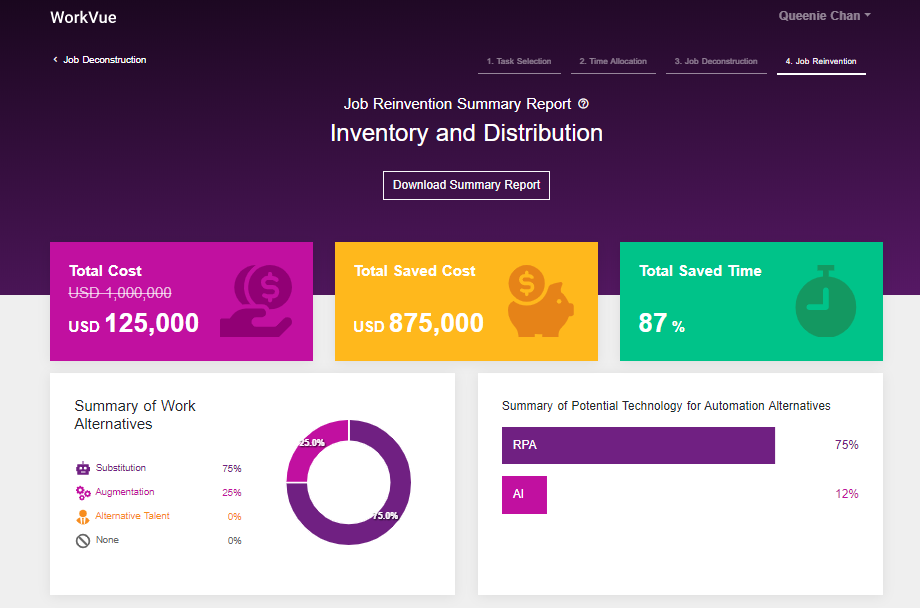 Evaluate the reinvented job
"

WorkVue allows us to study a single role, entire job classes or entire departments much faster, freeing up time to focus on key differentiators like improving the employee experience through career pathing, training and reskilling as well as change management."

Large retailer
Come explore the Willis Towers Watson difference.