As an industry, the investment management business has truly evolved over the last 30 to 40 years. Globally, the business was built on the premise that professional money managers were better equipped, compared to banks and insurance companies, to manage an individual's money safely and with professional confidence. In the early days of the professional money management business investment portfolios were simple: stocks, bonds or cash. Since then, globalisation has expanded the geographic footprint significantly and investment portfolios have grown increasingly more complex and risky.
Today, non-traditional investments are a common component to portfolios: including real estate, private equity, commodities and other alternative investments. This has increased the professional expertise needed across the industry, in addition to increasing the risk and compliance oversight needed. The rise in pension plan assets across the US, UK and Japan, the largest pension markets, has also ignited a global industry that today is a significant component of the broader financial services industry.
In the US, from the enactment of The Employee Retirement Income Security Act (ERISA) in 1974 onwards, the investment business has grown from what was considered an insignificant operation buried within the trust department of a bank or insurance company, to a multi-billion dollar industry, which includes financial centres and trading platforms across the globe.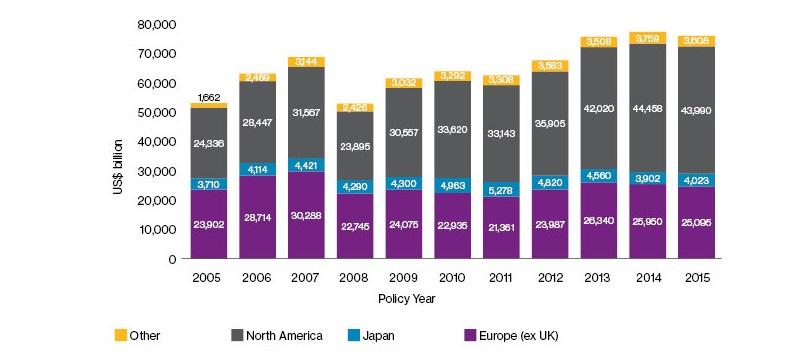 Source: 2016 Willis Towers Watson Ranking of The World's 500 Largest Asset Managers, prepared using joint research by Pensions & Investments and Willis Towers Watson
What did ERISA do to ignite this industry?
Essentially, ERISA protects the retirement assets of Americans and by implementing rules that all qualified plans must follow to ensure plan fiduciaries do not misuse assets, the investment management industry was born. ERISA created the need for independent third-party managers to invest and manage these large pools of retirement assets, due in part because of the need for 'independence' in protecting the fiduciary rights of the investors and plan participants.
Since the 1970s the investment management industry has grown exponentially, so that today the world's top 500 managers manage over US$76 trillion in assets, per the below chart. Together with alternative assets and funds from the high-net-worth (HNW) sector, total global fund assets are expected to reach US$100 trillion by 20201.
Along with this growth the industry has also seen a change in investor expectations and sophistication in terms of where they want to invest and how they want to invest. This trend is not limited to the US, it is a global phenomenon. We have seen a trend over the last several years where asset flows into active management have slowed. The rise of investment indexing is placing significant pressure on those organisations specialising in active management. Investors, both retail and institutional, are putting pressure on the fees the industry has traditionally charged to manage their money. Moreover, we are seeing a shift in buyer behaviour as a result of the millennial generation becoming a greater force in the investment marketplace.
These dynamics and macro trends have had a profound effect on the future of jobs within the investment management industry. To meet the demands of investors in this increasingly competitive and complex industry, staffing and talent needs have evolved.
Where will the changes occur? How will they affect the future of jobs?
Investment talent, initially recruited from Wall Street trading desks, redefined the role of the portfolio manager. Portfolio managers with expertise in investment and portfolio strategy across fixed income and equities were, and will continue to be, in significant demand. The gth of this 'new' financial sector drove substantial investments in not only people resources, but also technology.
This surge in staffing also created the need for jobs in key investment areas such as research, trading, product and asset class specialists and compliance experts. Since the early days of this development we have seen the emergence of new growth areas and jobs, particularly in the areas of exchange traded funds (ETFs) and solutions based investing.
Compliance roles have now become an integral part of every investment platform; the focus on risk aversion, both portfolio and compliance, being of paramount importance. This is a function that will not be outsourced but will continue to be a key business focus as investors demand stronger fiduciary oversight.
Changes will also continue to be seen within the traditional sales-driven distribution channels, both in the retail and institutional channels. Historically, investment management organisations have relied on market segmentation to deploy their sales teams to market products. On the retail side of the discussion, organisations are now discovering it is almost impossible to cover the estimated 300,000 US financial advisers. The expense associated with trying to cover this vast market has simply become prohibitive2.
We see technology, digital media and big data creating new jobs but requiring fewer sales distribution jobs. This changing landscape will disrupt hiring and create a 'new' profile for the sales executive. Simply put, organisations will not need as many sales distribution professionals as sales channels become more simplified and digital media takes hold. In terms of the sales value chain, organisations will continue to reduce the number of distributors they partner with, in the attempt to reduce cost and improve revenue. This rationalisation has already led to the downsizing of sales roles across the industry.
This job disruption will also be seen in the 'retail direct' channel, affecting many mutual fund companies, particularly in how they sell through the traditional warehouse intermediary partnership that exists today. We see a movement toward a more personalised digital advice channel, catering to the millennial investor. This highly personalised investment advice-type service will gain traction in the future, disrupting jobs and requiring fewer intermediary wholesaler roles. Leveraging social media and other digital platforms, as well as using 'on-demand' product specialists, will further increase efficiencies of the sales organisation.
As investor needs and expectations continue to evolve so too will the talent required to meet those demands. Though compensation will continue to be a top driver of attraction and retention for the new generations of talent within asset management, other drivers have and will continue to increase in importance. A firm's reputation for example, and the ability to advance within the organisation, are becoming key decision criteria for employees, according to a biennial survey of employees and employers conducted by Willis Towers Watson (figure 1).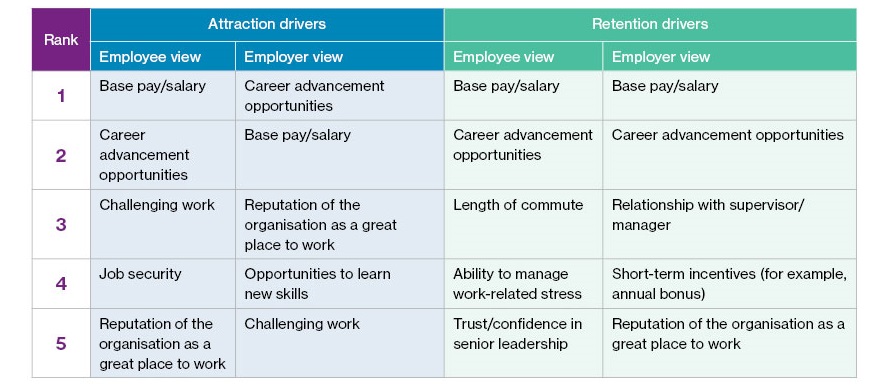 Source: 2016 Willis Towers Watson Global Talent Management & Rewards and Global Workforce Studies, Investment Management
Firms that are agile enough to align their employee value proposition with the key drivers of attraction and retention for the industry's pivotal roles will have a competitive advantage.
So, what does the future hold for the investment management industry in terms of jobs? First and foremost, there will always be the need for third- party management of retirement assets for millions of investors around the world. However, the coming disruption in the sales distribution system, triggered by a changing investor base, the ging need to reduce operating expenses and the advanced role of technology, will transform jobs in the future. In terms of absolute numbers, there will be fewer classic sales jobs. A reduction in the number of external wholesalers and the move to a more direct sales model with fewer external partnerships will drive this change. The industry will in many ways, similar to other industries, become more commoditised in its product offering. The coming disruption in the sales distribution value chain will create newer jobs, but at the same time there will be fewer jobs as asset managers strive to get closer to the end investor by relying less on distribution partners.
1 PwC, Asset Management 2020 report
2 CaseyQuirk, 'Retooling US Intermediary Sales: New Advisor Targeting Strategies', 2016