Our core belief is that employee experience sits at the heart of delivering a great customer experience and outstanding results. In fact, we believe that employee experience should be the guiding construct for human capital. We see EX as the sum of all the touchpoints and moments that matter that people have while at work. You may be investing significant effort on new reward programmes, new operating models, or new leadership programmes - but unless they significantly improve the employee experience, are they really delivering ROI? EX is so important we believe it needs to be measured, and managed.


Over forty years of working with, and researching, the world's leading organisations has revealed that there are really four basic dimensions to the employee experience. You could also ask, why do people work? Fundamentally, the workforce of today, and the future, is looking (i) to be inspired by a strong sense of purpose in an inclusive environment (ii) to be doing great work in a thriving organisation, (iii) to have a connection with great people and great leaders, and (iv) to be rewarded and to achieve their potential.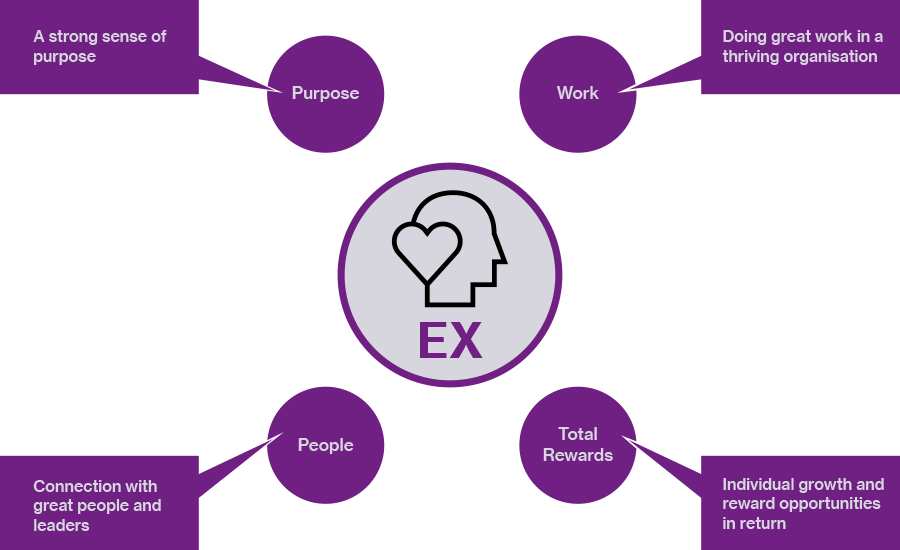 EX is multidisciplinary
The four dimensions of EX tell us the first very important thing about EX - it is more nuanced than engagement, requiring a focus on the whole system. That also means it needs a multidisciplinary approach to managing the change - leadership led, and locally empowered. This in turn requires all stakeholders to have the insights they need, in a consistent and comparable form – this is where all employee surveys are perfect.
EX can be managed
Increasingly the most progressive organisations are hiring heads of employee experience. Why? Because they know they need someone who can coordinate and drive all the various stakeholders to build a better EX.
EX is dynamic
While some aspects of EX move more slowly, others move fast, and so just as with CX, more continuous forms of measurement are needed. You need to keep an eye on the ongoing pulse of the organisation (through continuous forms of listening) but you also need to be able to react quickly and dig deep as things arise. This is where self-service survey software is absolutely necessary. This also means that agile forms of change will be needed.
EX is about giving voice
Just as CX aims to give voice to the customer, so EX gives voice to the employee. AI driven tools such as virtual focus groups offer new ways to engage with employees, give them voice, and crowdsource ideas for change.
EX is personalised
EX is both organisational (in its aggregate form) and personal. Not only do we need to provide leaders and managers with the insights they need to help them perform, we also need to provide individuals with tips and nudges to help them achieve their own personal work-related ambitions.
EX is driven by analytics
Leaders and managers need to be pointed to the issues they need to fix which have the biggest impact on performance. Smart algorithms are now able to sift through complex sets of business and survey data to provide suggestions on what needs to be focused on.
EX is a business issue
Senior leadership needs to commit to building a truly great employee experience. Why? Because it is a predictor of sustained business performance. EX is shaped by your culture and strategy, and so leadership is responsible. In our next issue we reveal ground-breaking research, which shows the specific EX factors which predict sustained financial performance. Our research tracked EX across millions of employees and hundreds of organisations. Stay tuned!
If you'd like to talk to us about any of the issues raised here, please contact us.
Worth a read
For a great read on the evolution of the employee insight space, I recommend my colleague Nick Lynn's new book, Employee Experience (EX) Leadership. Check it out on Amazon.