Insurers across the globe agree on one thing — the cost of medical care continues to rise with no light at the end of the tunnel. Drivers contributing to the bulk of the cost are hospital/inpatient services, basic medical/outpatient services, provider and employee behavior, new medical technology, and rising provider profits. The question plaguing employers remains: How can we provide effective medical benefits and promote better workforce health while also controlling costs?
How do you expect the medical trend in your overall book of business to change over the next three years compared to current rates?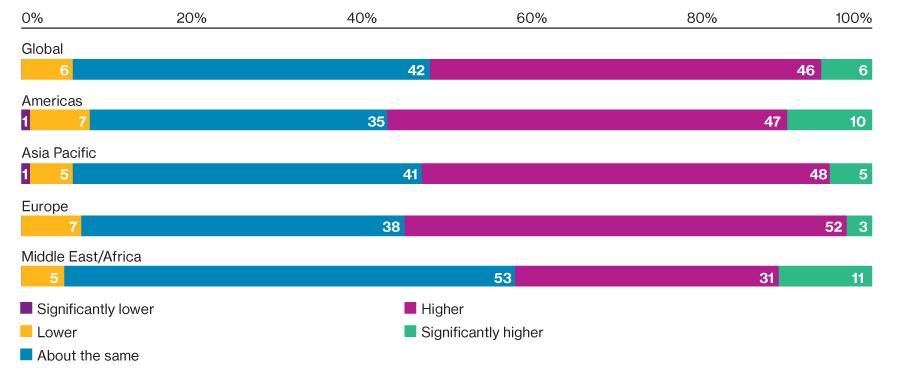 The 2017 Global Medical Trends Survey Report is the latest in over a decade of research by Willis Towers Watson on global medical trends. This year, 231 insurers across 79 countries provided insights on medical costs, what is driving them and the cost management techniques employers are using to manage them. This year's report also includes a snapshot of the U.S. medical trend drawn from other Willis Towers Watson research. Highlights from the research show:
Private medical insurance trend continues to rise globally with a projected 7.8% in 2017, up slightly from 7.3% in 2016 and 7.5% in 2015 (all weighted by GDP per capita).
More than half of health insurers globally expect trend to be higher or significantly higher over the next three years. Latin America leads all regions on trend, largely due to high inflation, while Europe continues to have the lowest trend due to the level of coverage provided through the various social security systems.
Cardiovascular disease, cancer and respiratory illness are projected by insurers worldwide to be the top three diseases for at least the next five years.
While traditional methods of cost management and cost sharing with employees continue to dominate globally, there's been a notable increase of employers offering preventive care and empowering employees to take responsibility for their own health.
Adoption of the ICD-9 and 10 claim-coding systems has remained nearly static over the last three years. Insurers' use of these commonly accepted systems makes it easier for multinational employers to get consistent claim data reporting and facilitate data management. However, more encouraging is the improvement in the types of claim data insurers now provide, especially to larger clients.