Put employee experience at the forefront of your listening strategy with targeted pulse surveys
When administered as part of a robust and agile employee listening strategy, targeted pulse surveys are a great way to drive change in your organization. and quickly and easily monitor its effects on your people.
In addition to employee surveys focused on engagement or employee experience (typically conducted every 12, 18, or 24 months), we suggest companies deploy targeted pulse surveys throughout the year (quarterly, on an ad hoc basis, or both).
Why targeted pulse surveys?
Targeted pulse surveys are generally shorter in length – often a dozen questions or fewer – than annual surveys and/or deployed to a subset of the overall employee population (e.g., a random sample across the company, or focused on employees in a specific business unit or functional area). Although pulse surveys are generally not as thorough as annual surveys, they enable more timely insights and survey content that can be more readily adjusted as needed.
A myriad of reasons drive employers to solicit feedback from their employees in this way, from measuring progress on a given priority area to gauging reactions to discrete organizational changes like restructuring, to surfacing novel suggestions on how to improve business performance.
With short, timely pulse surveys, easily accessible by mobile or other devices, you can quickly take the pulse of your team on a range of hot topics, including wellbeing, change readiness, cyber risk culture, merger integration, inclusion and diversity and more, using our extensive library of survey templates, developed with empirical research combined with the experience and expertise of our in-house human capital experts.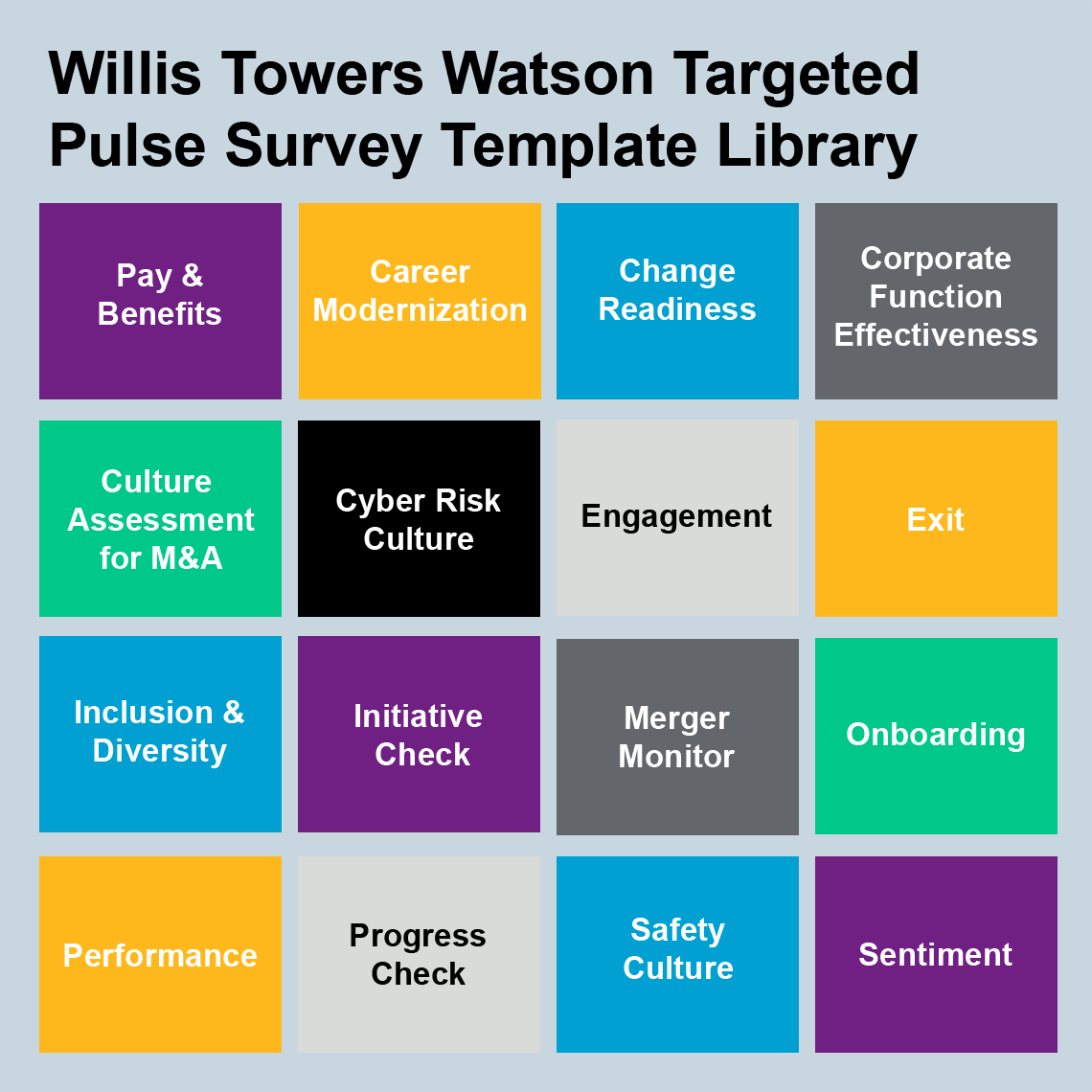 Willis Towers Watson Targeted Pulse Survey template library
Targeted pulse surveys can also be developed from scratch to custom-fit an organization's unique needs. We have decades of experience working with clients to create custom pulse survey content that generates distinctive insights needed to guide action and improve organizational performance.
Unleash the power of Willis Towers Watson's software, data and advisory services to deliver a world-class employee survey and insight program. Come explore the Willis Towers Watson difference.