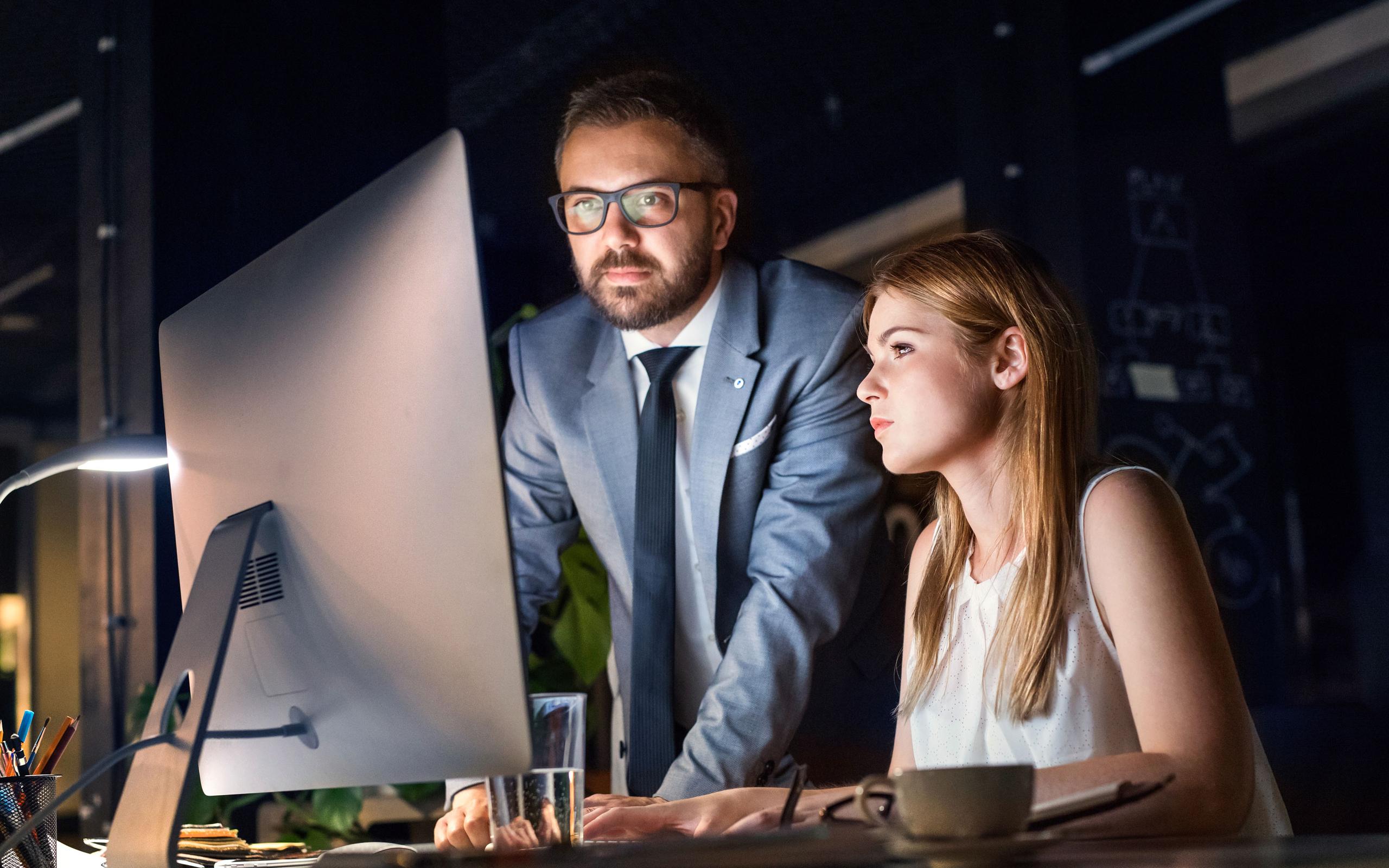 Willis Towers Watson were pleased to be interviewed for Raconteur's Future of Insurance Report, which featured in The Times.
Below is a copy of the interview with Garret Gaughan, Head of the Global Markets P&C Hub that appeared within the report:
Q: What is this new service?
A: It protects companies' greatest asset: their reputation. It is a complete risk management solution.
Companies can identify the risks that are most likely to cause damage to their reputation. They can track, manage and repair their reputation as an event is happening.
Our approach is completely new. At any moment, they can see conversations around their brand develop, in particular negative sentiment. This can then be nipped in the bud.
Our solution then insures against any loss of profit from the reputational event. It's a comprehensive package including crisis communications, brand rehabilitation, with an interim claims payment. The insurance industry now has the answer.
Q: Why is it necessary?
A: Reputations are fragile. In 2018 a single celebrity tweet criticised Snapchat's redesign, wiping $1.5 billion off Snap Inc's share price. And that's a pretty mild case.
"

In 2018 a single celebrity tweet criticized Snapchat's redesign, wiping $1.5 billion off Snap Inc's share price."

Garret Gaughan | Willis Towers Watson
The internet can be hostile. A flippant comment by a C-suite member can summon an angry mob. Campaign groups can mobilize their supporters in hours around an issue the company is blissfully unaware of.
Our service protects, pre-emptively, to ward off negative publicity. And if the worst happens, our policy covers against lost profits.
Q: Are companies ready for it?
A: It's demand led. In the last decade we've seen a rising appreciation of the value of intangibles. Up to 85 per cent of a company's value can be made up of intangibles, with 30 to 40 per cent of that made up of brand and reputation. For the FTSE 350 alone that's £823 billion of intangible value left vulnerable1.
We recently published a Global Reputational Risk Management Survey and found:
of companies believe reputational damage would translate to loss of income
lack any clear methodology for even measuring events, which is the most basic requirement.
Until now insurers simply hadn't figured out how to offer protection.
Willis Towers Watson has pioneered this solution.
Q: How does the monitoring work?
A: We've partnered with Polecat, a leading real-time reputation monitoring service with clients such as Diageo, DHL and Johnson & Johnson.
Polecat scans social media and the internet to compile a real-time risk report. It's cutting-edge artificial intelligence, able to combine sentiment and impact analysis using algorithms to cut through the noise.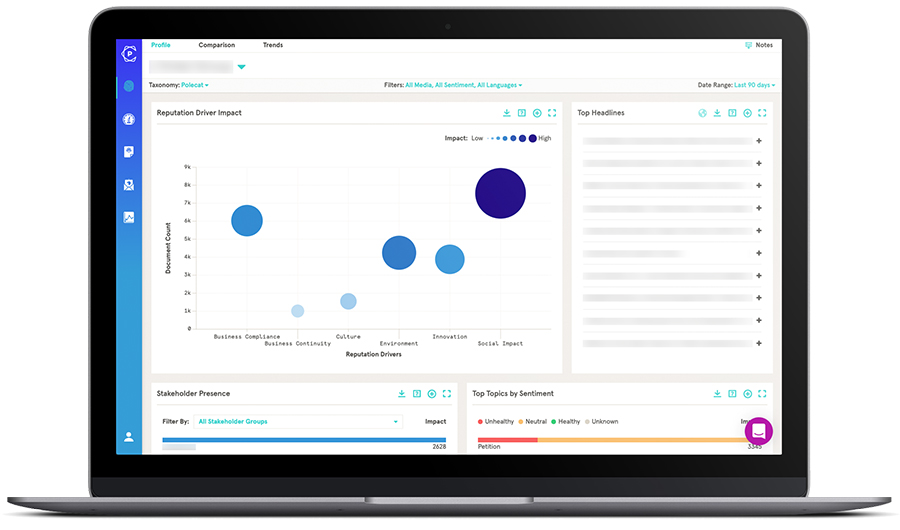 Real-time reputational intelligence
A user can explore by topic, for example what regulators or non government organizations (NGOs) are saying about an issue.
If a negative view flares up around a brand, it's clear from the outset. Bad events can be identified before they reach critical mass, so the company can remedy the situation.
Q: Does the approach deliver results?
A: Polecat's long track record speaks for itself. We've had a lot of success with boards that were initially sceptical.
We spoke to a global brand that told us they already had media monitoring covered inhouse. They had experienced a spike of negative impact around a tweet of an employee racially abusing a steward at a political rally.
The tweet read, 'Would you really want to go to a place that employs people like that?'.
A celebrity then retweeted it to his 1.8 million followers. We showed them the platform and they saw the value pretty quickly.
Q: When does the policy pay out?
A: A payout can be triggered by a small event. Even a single tweet.
We're insuring a drop in gross monthly profit, looking at the impact on earnings after an event has occurred.
There are nine perils covered, which can be purchased in combination or separately, covering a variety of scenarios, which may lead to negative publicity.
For example, if a company is subject to accusations of discrimination or harassment in the workplace that can be devastating for any brand.
The associated fall in gross profit is covered. We offer an interim payment to ensure business continuity, which companies really value.
Q: Can I cover a single brand?
A: Absolutely. We can cover a brand or a portfolio. It's also possible to benchmark against a competitor.
You monitor the types of conversations around their brand versus yours.
This is popular in fast-moving consumer goods and retail.
Q: How hard is it to get started?
A: We've kept everything simple. The policy is less than half the number of pages of traditional policies.
"

We've kept everything simple. The policy is less than half the number of pages of traditional policies."

Garret Gaughan | Willis Towers Watson
We want to ensure the wording is comprehensible and transparent.
And the technology side is straightforward too. The service is cloud hosted, so there is nothing to install.
From first conversation to going live can take a couple of months, although this can be cut to a few weeks if needed.
Q: Is this the future of reputation risk management?
A: Right now there's a view that protecting a brand is somehow discretionary. It's not.
It's critical. Reputation and brand are valuable and yet, also highly vulnerable. The way the internet works means the threats are multiplying.
Yet companies are relying on pre-internet measures, such as paying public relations agencies that offer a monthly update on the brand.
Boards need to protect their brand reputation and, when they take action, this will push others to catch up.
This will lead to reputation crisis insurance becoming as mainstream as property insurance.
Our mission is to protect the most valuable thing your business owns.
Footnote
1 https://reputationdividend.com/files/5116/1399/0723/UK_2021_Reputation_Value_Report_230221.pdf
Disclaimer
Willis Towers Watson hopes you found the general information provided in this publication informative and helpful. The information contained herein is not intended to constitute legal or other professional advice and should not be relied upon in lieu of consultation with your own legal advisors. In the event you would like more information regarding your insurance coverage, please do not hesitate to reach out to us. In North America, Willis Towers Watson offers insurance products through licensed subsidiaries of Willis North America Inc., including Willis Towers Watson Northeast Inc. (in the United States) and Willis Canada, Inc.
For more information:
Contacts
---
Richard Sheldon
Head of Specialty Broking & Senior Director, Carrier Management
---
Kevin Velan
Director, National Product Recall Team
---