Unlock More
About our "The COVID-19 Crisis" series
"The COVID-19 Crisis" series is a weekly update from Dr. Jeff Levin-Scherz, Population Health Leader and Health Management Practice Co-Leader, Health and Benefits, North America.
There is clearly great news on the vaccine front over the past few days. On Friday morning, Johnson & Johnson (J&J) released data from its global Phase 3 trial with almost 44,000 participants. The J&J vaccine (from its Jansen pharmaceutical division) was 72% effective at preventing mild, moderate or severe COVID-19 in the U.S. and 66% effective globally.
Before you think, "Wait, 72% is a lot lower than 95%," please consider a few important facts:
What's most important is preventing severe cases. There were no hospitalizations after 29 days in those who got the J&J vaccine.
The J&J vaccine is a single dose. That means twice as many can be vaccinated using the same resources, and we won't have scads of people who are partially immune from a single dose and miss the second dose.
The J&J vaccine is stable for three months in a normal refrigerator, so it can be distributed dramatically more easily.
Novavax released global data from a Phase 3 trial on Thursday. This showed 89% effectiveness in the U.K. (even when half the cases in the U.K. were B.1.1.7, the so-called U.K. variant). That trial enrolled 15,000 volunteers. There were no severe cases among those who got the vaccine. A subsequent analysis showed that the vaccine was 96% effective against the earlier strain of COVID-19.
The results in South Africa (4,400 patients), where the B.1.351 variant dominates, are not quite as good. The vaccine showed a 60% efficacy among those who were HIV negative, and a 49% efficacy among those who were HIV positive. Still, in both the U.K. and the South Africa trials, there was not a single case of severe COVID-19 among the vaccine recipients.
Novavax will test a slightly altered vaccine in South Africa next and might develop a shot that includes both vaccines in the future. Novavax expects to finish enrolling 30,000 in its U.S. trial by mid-February, so it could potentially be the fourth available vaccine in the U.S. Many expect Astra Zeneca to also file for emergency use authorization (EUA) in the coming months.
The J&J vaccine is likely to gain EUA by mid-February and will ship immediately. This will lead to what some see as a dilemma: Should I take a 72% effective vaccine now, or hold out for a 95% effective vaccine that will be available to me in a month or two?
The answer is clear. I recommend taking whichever vaccine that you can get now. Here's why:
Protection right now, when there is widespread community transmission, is most important. Community spread is declining and likely to continue to decline, so protection now will prevent the most cases of COVID-19. Protection in two months is still important, but not nearly as important as protection today.
We are making a mistake to focus on 72% (or 89% or 49%) effectiveness of vaccine against all symptomatic COVID-19 infections. All of these vaccines appear to be entirely effective at preventing severe disease. The imperative is to keep people out of hospitals and morgues!
People who do not get adequate immune response to any of the vaccines will be able to get a test in the future and either get booster shots or a different vaccine.
Implications for employers
This has enormous implications for employers. The J&J vaccine is much more compatible with onsite vaccination clinics, and it's likely that state health departments will make this vaccine available to employers rather than the Moderna or the Pfizer vaccines, which require freezing and second shots. Employers with substantial onsite workforces should be enthusiastic about the opportunity to procure any of the three vaccines that will be available in February and beyond.
Falling hospitalizations
This week represents the second week that we've seen a decrease in cases and hospitalizations from COVID-19, and the decrease in cases extends to all regions. That's a relief. There were hospitals in many areas that were short of intensive care beds and staff. The total death toll continues to climb, though, as COVID-19 has claimed at least 430,000 lives in the U.S. It's likely that this estimate is a substantial undercount. Total deaths in the U.S. from March 2020 to the end of the year were 18% higher than we would have expected.
In current status, there is some good news too. Here are two charts from the COVID Tracking Project showing recent declines in cases and hospitalizations across all regions. A decline in deaths is usually a few weeks after decline in hospitalizations.
Nationwide COVID-19 metrics by week
Data from March 19, 2020 to January 27, 2021
Data collected since March 2020 show that although new cases and hospitalizations are dropping nationally, deaths continue to rise by 7%
Daily COVID-19 cases and currently hospitalized per million in select states
Cases and hospitalizations for these states seem to have turned a corner and are improving
While cases and hospitalizations are declining, the rate of community transmission remains high throughout most of the U.S. Below is data from Resolve to Save Lives showing risk by county. The purple represents more than 640 cases per 100,000 residents over two weeks. Assuming about a week of being contagious, this means that there is at least a 1/300 chance that any given person might transmit the disease in these counties (and it's much higher in many).
Risk levels for contracting COVID-19 in the U.S.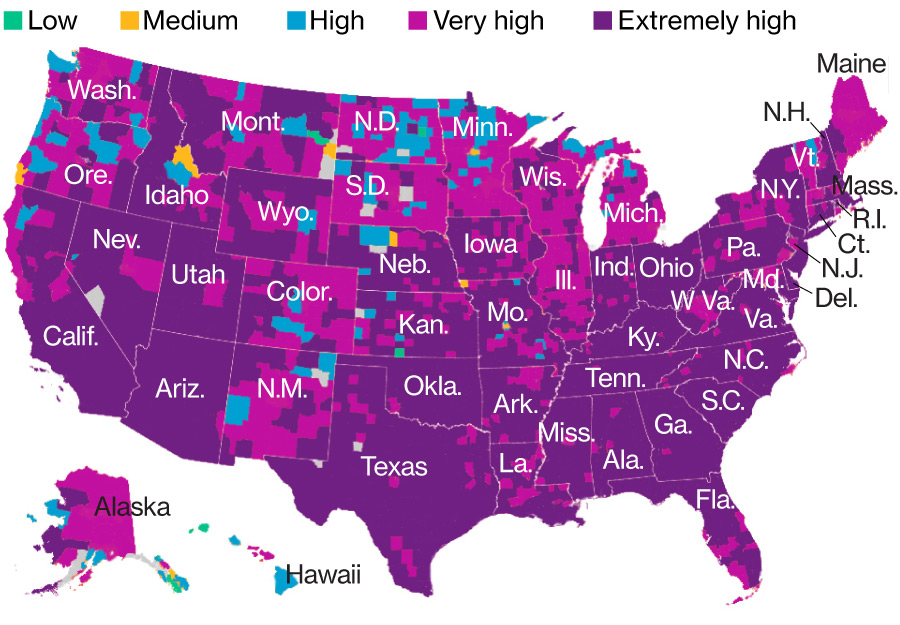 January 31, 2021
Vaccines will help us dramatically diminish community transmission and allow us to return to more usual activities. But in the meantime, distancing, remote work and masks will protect the health and lives of our employees and everyone else.
Author
---
Population Health Leader, Health and Benefits, North America
Jeff is a practicing physician and has led Willis Towers Watson's clinical response to COVID-19. He has served in leadership roles in provider organizations and a health plan, and is an Assistant Professor at Harvard Chan School of Public Health.
---