According to the 2017/2018 Willis Towers Watson Global Benefits Attitude Survey (GBAS) found:
32% of U.S. employees reported suffering from severe stress, anxiety or depression in the last two years.
Only 23% use a program from their employer's health plan or wellbeing programs.
Many employees suffer in silence because mental health as a whole suffers from a stigma, but it doesn't have to be that way. Many years ago people would whisper the word cancer and weren't willing to talk about it. Now we have races, walks and donations that address it and a whole month dedicated just to breast cancer awareness. I would love to see that happen with mental health.
From an employer perspective, avoiding the issue can be costly. We see mental health and substance use impacting employer costs directly and indirectly. Many employers are seeing an increase in their short- and long-term disability claims related to mental health. On the pharmacy side, we're seeing an increase in psychotropic medications specifically around anxiety and depression. We have a client that reported one employee's three-month substance use treatment cost over $200,000, and many others are now regularly seeing figures of half that.
Also, we are seeing many co-morbidities with medical diagnosis. If you think about someone who has cancer or had a heart attack, research has shown that 20% of those have a co-morbidity with mental health. So for those reasons, it is critical for employers today to make behavioral health a core focus of their emotional wellbeing programs.
When people suffer in silence, the risk of suicide also increases. Just saying the word "suicide" is likely to elicit an awkward pause. Yet suicide affects people of all races, colors, genders and ages. According to the World Health Organization, there is a suicide every 40 seconds worldwide. It doesn't discriminate. It's a human issue.
I'm bringing this up for two reasons: This issue is very personal for me. My brother died by suicide four years ago. I decided it is time for me to start talking about it both personally and professionally because the more that I keep quiet and say that my brother died in an accident, the more I perpetuate the stigma around suicide — and that stigma is part of the problem.
And that brings me to my second reason: I think employers can do something. And that something starts with looking at the issue and communicating why it is important to talk about mental health and communicate that as a company we want to help and have the resources to assist with both medical and behavioral health concerns.
Are employers currently doing enough?
At the risk of getting clinical again, I'd like to turn to the data. Our research shows that there are significant opportunities for employers to do more. According to our 2019 Emerging Trends in Health Care Survey: Mental Health:
Only 9% of employers sponsor worksite campaigns to raise awareness of suicide.
Only 13% offer worksite education programs focused on suicide awareness.
Most show little interest in taking actions in the next three years, (see chart).
Yet suicide is among the top 10 leading causes of death in the U.S., according to the Center for Disease Control (CDC). CDC data shows that rates of suicide from 1999 – 2016 have increased in every state but Nevada (see map). The Silver State associated the decrease with its state-wide partnerships with lawmakers, school administrators, health care systems and even gun administrators and stores. One interesting point: All school-age children in Nevada have mental health screenings every time they receive yearly school physicals.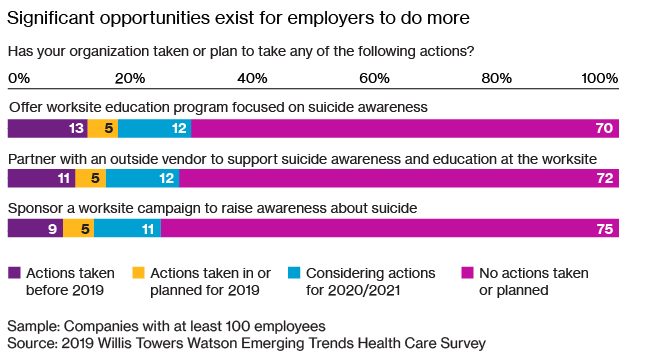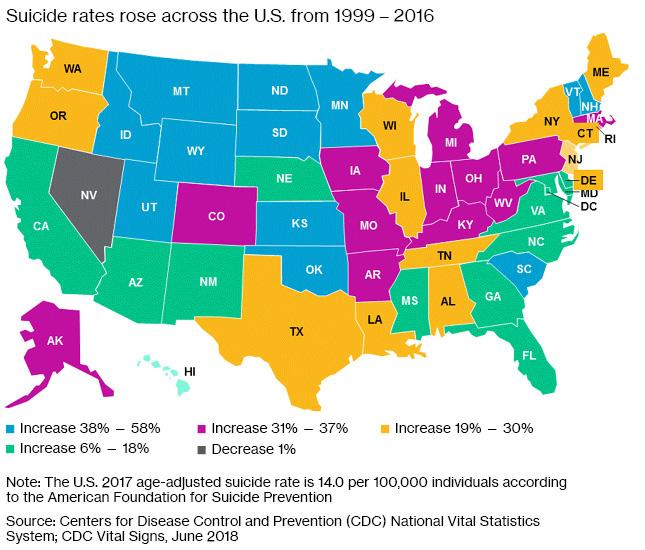 In 2016, there were approximately 45,000 reported suicides in the U.S. with up to 25% more going unreported or misidentified as accidents or overdoses or simply covered up. To put the numbers in perspective, there are 123 suicides a day.
Dealing with the stigma head on
There are many things employers should integrate into their wellbeing initiatives around the stigma of mental health.
Start with a communications strategy. Integrating your communications strategy for what you have on the wellbeing side and making sure there are behavioral health and mental health tie ins.
Encourage employees to get mental health screenings when they go for physical exams. We also have some innovative clients that have looked at this from an incentive design offering employees incentives to go get a screening for stress.
Create an awareness campaign. When you are hosting a health fair, make sure that your behavioral health and EAP vendors are present at the fair. Also if you have a clinic, integrating behavioral health into that onsite service.
Talk about mental health all year. From an educational standpoint, holding events during mental health awareness month is important, but you also need to make sure that people know all year that there is help for them regardless of the problem that needs to be addressed. Employers should communicate to employees that it is ok to feel down and depressed and here are the resources that are available to you in terms of addressing those concerns.
Sometimes people feel the stigma associated with mental health causes them to suffer in silence, but talking about suicide does not make suicide happen. Discussing mental health and suicide at work actually allows people to know that it is OK to talk about mental health. It is OK to talk about issues related to suicide. The more we talk about suicide the more we are able to tackle the shame, anger, stigma and silence around suicide.
About the author
---
Mandie Conforti
Senior Consultant
Mandie Conforti, LCSW is a senior consultant at Willis Towers Watson. She is a licensed clinician with over eight years of clinical EAP and public/private behavioral health experience. She has been with Willis Towers Watson since 2004.
---