For employers, wellbeing initiatives are no longer a "nice to have." They are a core part of a companies' benefit strategy. Today's multigenerational employees have varied and complex needs, and employers have put much of the responsibility onto employees to manage them. Employees need help, and without that help they will continue to struggle, driving up health care costs and dragging down corporate productivity.
Wellbeing incorporates four key dimensions: physically thriving, emotionally balanced, financially secure and socially connected. Each dimension is both unique and intertwined with the others. Wellbeing begins with the individual and, when achieved, extends throughout the organizational culture, the family and the larger community. For employers, wellbeing is the foundation for creating more engaged and more productive employees, contributing to improved, more sustainable business results — and a greater degree of work and career satisfaction for employees.
Companies with higher levels of wellbeing achieve levels of employee engagement that are two times higher than those of other companies. They also report higher revenue per employee, lower health care costs, fewer days lost and 70% fewer stressed employees. Employers continue to report that employee wellbeing is extremely important:
82% of employers think it is important to enhance wellbeing over the next three years.
41% of employers say they have made progress on enhancing employees' total wellbeing over the past three years.
Driving the commitment to wellbeing is the realization that a physically thriving, financially secure, emotionally balanced and socially connected workforce is a more competitive one — a key advantage in a competitive labor market. While physical wellbeing has been a priority of organizations for many years, there is a ging emphasis on supporting the integration of the emotional, financial and social wellbeing of employees. The top priorities in each by 2020 are as follows (Figure 16):
Physical: 80% will sponsor programs or pilots that target specific conditions or high-cost cases.
Emotional: 61% will establish a companywide behavioral health strategy or action plan.
Financial: 59% will offer and promote decision support on boring, refinancing and consolidation of debt.
Social: 65% will include wellbeing as part of the organization's corporate social responsibility strategy and mission, including implementing diversity and inclusion initiatives.
Figure 16. Top two actions in each wellbeing category that employers are planning or considering in the next three years
*"Planning for 2019" or "Considering in 2020"
Sample: Based on respondents with at least 1,000 employees
Employers are expanding their focus on physical wellbeing beyond the traditional programs that target high-cost cases. Employers are adding programs to improve engagement through apps that promote sleep and relaxation, and affinity groups both in person and via social media to promote health and wellbeing (Figure 17).
Figure 17. Employers expand their focus on physical wellbeing
Sample: Based on respondents with at least 1,000 employees
Creating a healthy workplace environment
Employers are increasingly focusing on strategies to integrate health and wellbeing into the culture of the organization. While only 31% of employers say they've made progress on creating a healthy workplace environment, two in three will make it a priority over the next three years (Figure 18). Just over half (53%) assess the work environment as well as health and wellbeing initiatives to align with company culture.
Almost half of employers (46%) also indicate health and wellbeing is a core part of their EVPs (Figure 19). Some of the means by which employers are connecting wellbeing with the workplace culture and EVP are:
Offer flexible work options such as flex hours, work from home and summer sabbaticals (64%).
Design policies and programs to include stay at work and early return to work following disability (62%).
Improve the physical environment to encourage physical activity (61%).
Integrate workplace safety and wellbeing strategy and initiatives (59%).
While employers talk about promoting managers' involvement in supporting wellbeing initiatives in the workplace, measuring that involvement is still low on the list of priorities. Only 9% of employers measure manager support of employee wellbeing, but that figure could jump fourfold to 36% in two years.
Figure 18. Two in three organizations think a healthy workspace is important over the next three years
Figure 19. Employers take action to align wellbeing with their EVPs
Sample: Based on respondents with at least 1,000 employees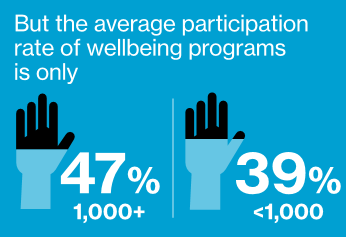 Hand icons showing the average participation rate of wellbeing progams
Sample: Based on respondents with at least 1,000 employees
Engagement
Like health care plans, employers recognize that they need to apply a more human-centered design that addresses an employee's wants and needs and focuses on the employee experience. Just over a quarter (26%) use a human-centered design, but this is set to double in two years (Figure 19). The lack of a human-centered design could explain the weak participation rates observed at both large and small employers alike.

Apple icon, with text reading 32% of employees say their company's programs have encouraged them to live a healthier lifestyle
Best practices: Wellbeing
Have local health champions or committees to promote a healthy workplace
Chart: 51% best performers, 31% high-cost companies, 20% best performer's lead
Use key influencers , testimonials and viral messaging to communicate through the social networks of the company
Chart: 43% best performers, 29% high-cost companies, 14% best performer's lead
Build health and wellbeing into the organization's employee value proposition
Chart: 48% best performers, 34% high-cost companies, 14% best performer's lead
Incorporate diversity and inclusion priorities in benefit program design
Chart: 40% best performers, 29% high-cost companies, 11% best performer's lead
Chapter 6 — Integrated wellbeing: Companies are committed to employee wellbeing