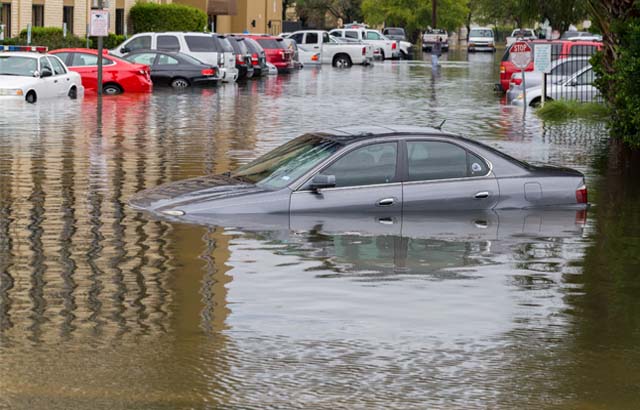 Estimates trending downward, but uncertainty remains
Forecasts have become more conservative since we released our June Hurricane Season Outlook, in which forecasters predicted anything from a below average to an above average hurricane season. Since that report was published, there have been two hurricanes: Hurricane Beryl, which formed from a tropical wave that moved from east to west across the Atlantic, and Hurricane Chris, which formed as a tropical disturbance just south of Bermuda, then intensified to a Category 2, only to scrape Newfoundland before heading out into the North Atlantic.
While neither hurricane reached landfall, our most recent report, which was published in late July, indicates that a major hurricane landfall in the U.S. remains a possibility, despite forecasts for a generally inactive season.
The chart below shows updates from the three main centers issuing hurricane forecasts. All three forecasts have reduced the risk since early season forecasts, mainly due to the clearer picture we now have for this year's climatic conditions that will control the rest of the season.
Our latest report also shows some lingering uncertainties about the strength of the developing El Niño and its influence on suppressing the hurricane season.
What's an El Niño?
The term "El Niño" is one phase of the El Niño – Southern Oscillation, or ENSO, a term used to describe an alternation between climate conditions affecting wind patterns and sea surface temperatures in different parts of the world. Sea surface temperatures in the eastern Pacific Ocean vary from year to year and tell us whether we are in a warm "El Niño" phase or cool "La Niña" phase of ENSO. This affects the wind patterns across the North Atlantic which can be act to enhance or suppress hurricane activity from one season to another.
So, hurricane activity is partially controlled by the cooling and warming of the equatorial Pacific Ocean surface, as this is connected to wind shear (a change in wind speed with height) in the Atlantic through ENSO. The second half of last year's hurricane season was characterized by the cool phase of ENSO, known as La Niña, which supported the high activity. However, this year looks different.
The latest forecasts are increasingly recognizing El Niño (the warm phase of ENSO) conditions for the peak of this year's hurricane season with around 60% likelihood, and only a 2% probability of a La Niña forming. If El Niño occurs this year, as is now most likely, we can expect an increase in winds over the tropical North Atlantic, inhibiting hurricane development.
Quiet season or not, preparation remains key
While current predictions indicate a relatively quiet hurricane season, particularly in comparison to last year, it only takes one major hurricane making landfall in a built-up area to create a significant loss. So with the remainder of the season still ahead of us, this is no time to be complacent. If you're living or working in a hurricane-prone area, make sure you have a plan in the event of a storm.
Looking back: The cost of hurricane season 2017
The 2017 Atlantic hurricane season left paths of destruction and devastation across the U.S., Caribbean and Puerto Rico. It produced 17 named storms, 10 of which were classified as hurricanes and 6 of which were classified as major (between categories 3 to 5 on the Saffir Simpson scale, a recognized standard of hurricane wind measurement). According to the Accumulated Cyclone Energy Index (a measure of total overall seasonal storm activity), 2017 was the most active seasons since 2005.
Two major storms, Harvey and Irma, hit the U.S. after 12 years without a major hurricane. Harvey hit in late August, flooding wide areas of Texas and Louisiana. Irma battered Florida leading to huge insurance losses and setting new state-wide damage records. Puerto Rico and many of the Caribbean islands also experienced devastating losses when Hurricane Maria hit as a Category 5 storm. Overall, 2017's U.S. property damage resulting from Harvey and Irma is estimated between $150 and $200 billion, with an additional $20 to $30 million estimated for lost productivity, according to Moody's Analytics.
About the Authors
---
Head of Weather and Climate Risks Research
Geoff joined Willis Towers Watson in 2013, and works with the Willis Research Network stakeholders and academic partners to match business needs to the latest in scientific research, and derive tangible outputs for Willis Towers Watson to help advise its clients to advance their understanding of risk from weather and climate related hazards.

His background is in meteorology and climate science, having worked in forecasting for over a decade for the UK Met Office and Bermuda Weather Service, in all aspects of delivering forecast services from media broadcasting to delivering warnings and actionable guidance on extreme weather phenomena such as tropical cyclones and heavy rainfall leading to flooding.

He holds a BSc in Environmental Science from the University of East Anglia, and a Masters (with distinction) in Climate Change from University College London. He is also an active Fellow of the Royal Meteorological Society.
---