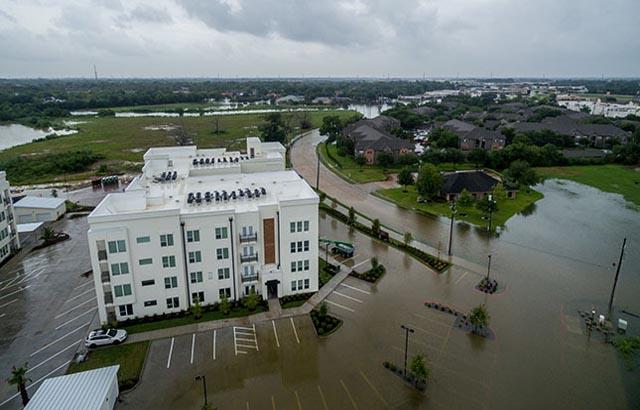 Here's a brief recap of what was covered:
Hail hazard modelling
Dr. Michael Kunz and Dr. Heinz-Jürgen Punge, WRN partners at Karlsruhe Institute of Technology (KIT), presented their latest work on hail modelling, which included upgrades to the hail event footprint methodology and how they've been adapting their work in Europe to cover hail hazards in Australia. This was followed by a discussion on hail storms across different parts of the world, the natural variability of hail climatology, some of the longer term trends and the expectations of changes due to global warming. This is a key peril in Europe, and a significant driver of catastrophe losses. The research with KIT has been ongoing for over half a decade, and underpins the Willis Re European Hail Model, built by our internal model development teams to better assess and price hail risks.
Sequential hazard vulnerability
Professor Tiziana Rossetto, from the University College London, EPICentre, presented – results on the relationship and interaction between multi-hazard sequential events on the physical damage to structures, including the correlation between earthquake and tsunami behavior, and how advances in empirical and analytical techniques have helped to accurately model and assess the damage interaction between the two. The session was opened by Dr. Crescenzo Petrone, Willis Re International, who gave an overview on how the work carried out through the years by WRN on tsunami and seismic risk has contributed to reinforce and differentiate our views.
Correlation between wind and flood in U.K.
University of Exeter's Dr. Ben Youngman presented an investigative study, along with parallel analysis by Willis Re International's Model Research and Evaluation team, that examined the correlation between strong winds and flooding in the U.K.— a key issue we've recently discussed with our partners in the insurance market. The analysis showed two approaches, as there are many ways in which wind and flood events can be defined and correlated, but also highlighted the uncertainty and sensitivity of the results between different approaches. This topic will be studied further by our internal teams and our WRN fellows to find answers.
Corporate risk profiling: Managing your risks
In our last session of the spring seminar series, Jessica Tsang, alongside members of her team from the University of Cambridge Centre for Risk Studies, presented a fascinating overview of their Global Risk Index (a.k.a. Pandora) output, illustrated with vivid case studies of corporate risk profiling. From a threat taxonomy of 22 classes, including components such as commodity prices, market crash, social unrest, interstate conflict, epidemic, power outage and cyberattack, a series of scenarios were developed, whose impacts are communicated by such metrics as GDP@risk and revenue@risk.
These results quantify enterprise risk management perspectives on corporate viability and allow evaluation of differing resilience strategies. Jonathon Gascoigne from Willis Towers Watson's (WTW's) Capital, Science and Policy practice provided examples of how this innovative work is being applied across a wide range of WTW applications, crossing private and public sectors, demonstrating new opportunities for risk transfer in combination with other risk management instruments.
The wrap-up:
Overall, we had very positive feedback from this first spring series of WRN seminars, both in terms of content and format. These types of events are essential to make sure our WRN research projects are relevant and current, while raising awareness of the latest findings from our academics partners. They help to understand the concerns of the market and gear the new data and tools produced by the WRN around these challenges. We plan to organize more events, and take some of these events to our offices in other locations, to complement the larger afternoon seminars we normally hold in the London office.
Through the WRN, we also hold webinars and produce insights pieces to go into more depth on subjects of interest. These events are essential to raise awareness of the work of WRN and how it can help the insurance market to better assess and manage extreme risks. If you have any inquiries or questions regarding any of the spring seminar series sessions, contact us.
Author
---
Head of Weather and Climate Risks Research
Geoff joined Willis Towers Watson in 2013, and works with the Willis Research Network stakeholders and academic partners to match business needs to the latest in scientific research, and derive tangible outputs for Willis Towers Watson to help advise its clients to advance their understanding of risk from weather and climate related hazards.

His background is in meteorology and climate science, having worked in forecasting for over a decade for the UK Met Office and Bermuda Weather Service, in all aspects of delivering forecast services from media broadcasting to delivering warnings and actionable guidance on extreme weather phenomena such as tropical cyclones and heavy rainfall leading to flooding.

He holds a BSc in Environmental Science from the University of East Anglia, and a Masters (with distinction) in Climate Change from University College London. He is also an active Fellow of the Royal Meteorological Society.
---