Imagine if you could predict the future. It would be pretty amazing.
Imagine if you could tell which parts of your business were likely to succeed, and which were likely to fail. Pretty amazing too. Imagine being able to tell managers the things they need to fix in order to achieve high performance. Well, now you can.
We're excited to give our Sustainably Engaged readers an exclusive sneak peek into our new manager dashboards for Willis Towers Watson Pulse Software and Willis Towers Watson Employee Engagement Software, now built on a unique predictive analytics algorithm. We'll be launching very soon.
Here's what we did.
We took years of analytics experience…
For many years we've been building a library of predictive analytics across all major sectors and performance outcomes. We believe this library contains more client analytics solutions than any other. For each client, we identified the people factors that predicted performance on their strategic key performance indicators. In retail, for example, we are invariably asked to identify the predictors of customer delight and sales growth. In manufacturing, we typically identify the predictors of safety and manufacturing output. And so on. More recently we've been helping clients identify the factors needed to drive an agile and digital culture. What we have found is fascinating.
…and while we know that all organizations are different…
The first thing we noticed was that every company is different. For example, what drives sales growth or wallet share in one organization could be quite different from another seemingly similar organization. The reason they differ is because each has its own strategy, history, purpose, values and culture. And so they operate differently, and have unique strengths and weaknesses.
…we were able to identify common predictors of key performance metrics.
Having said that, after we ran more and more analytics solutions we started seeing patterns repeating across key performance outcomes (typically financial, customer, HR or operational). Despite the cultural variations between organizations, a number of key predictors began cropping up time and time again. What was also fascinating was that these repeating factors were different for each outcome measure. What drives sales for example, is not the same as what drives talent retention. It is only because we have run so many analytics solutions that we have been able to identify these underlying performance predictors.

So we developed a predictive algorithm to drive manager insights.
While some of us might find this kind of stuff fascinating, the challenge is to bring these analytics to managers in a way that doesn't bamboozle them with statistics, but helps them drive performance. This is where our unique predictive algorithm comes in.
For a number of years our manager dashboards have identified the unique strengths and weaknesses for each part of an organization, based on its scores - how they compare to external sector or high performance benchmarks, how they compare internally to the rest of the company, whether they are improving or declining, and whether they are important predictors of engagement (which we know predicts business performance).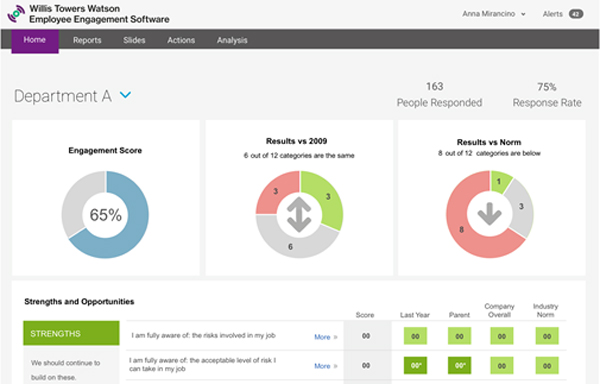 Now, we can tune the algorithm to the predictors of key performance metrics.
Drawing from our extensive predictor library, should clients wish, we are able to load those predictors into the algorithm driving managers' dashboards. For example, we find that the top recurring predictors of sales relate to aspects of leadership and customer focus. This makes great sense if you think about a retail network, for example, where well led teams, totally focused on the customer, really make a difference. We take the specific predictor questions behind these themes, build them into your survey and load the algorithm to focus on those predictors. The manager's dashboard will then show the issues that most predict sales, and where their scores are weak. Add to that our built-in library of suggested actions, designed by subject matter experts, and the manager's job just got a whole lot easier.
And, it gets better. You can fine-tune the predictive algorithm to your organization's unique predictors.
Even better, if you wish, we can gather data from your organization, identify the links between your culture, workplace behaviors and key performance metrics. We test this over time, and refine. We then load an algorithm into your manager dashboards with the specific predictors of your nominated KPIs and direct managers to the issues we know drive performance for you.
Look out for our forthcoming release and enjoy the power of predictive analytics for managers.
Author
---
Managing Director
Employee Experience
Dr. Stephen Young is a thought leader on the transformative power of employee listening. He believes a high-performing employee experience, at work and in life, is the key to winning the war on talent and delivering sustained financial results. He has a Ph.D. in business psychology, and more than 20 years of experience advising the world's leading organisations on making employee voices louder, clearer, and more actionable than ever before. In his spare time, you'll find Steve with his kids, cycling, and supporting Arsenal Football Club. Follow him on LinkedIn.
---