Our last update highlighted improving performance by companies in the technology sector in 2016, with a second-half turnaround strengthening financial results compared to 2015. For a more detailed analysis of the sector's 2016 financial performance, see "Fourth-quarter pay-for-performance update for the technology sector: A positive trend," Executive Pay Matters, March 27, 2017. Our blog this quarter explores how the latest results affected annual incentives for 2016 and long-term incentive plans (LTIP) that culminated in 2016.
To recap, a year ago, stuttering 2015 performance meant that bonus payouts for the technology sector were middle of the pack when compared to all the sectors we reviewed. The median payout was below target (97% of target) and most CEOs received a bonus between 50% and 100% of target.
Improved results in 2016 elevated bonuses, as shown in Figure 1. The median payout increased to 100%, reflecting goal-setting that generally anticipated improved performance in the sector during 2016 and payouts were distributed fairly evenly above and below target levels.
Figure 1. Distribution of CEO bonus payouts in the technology sector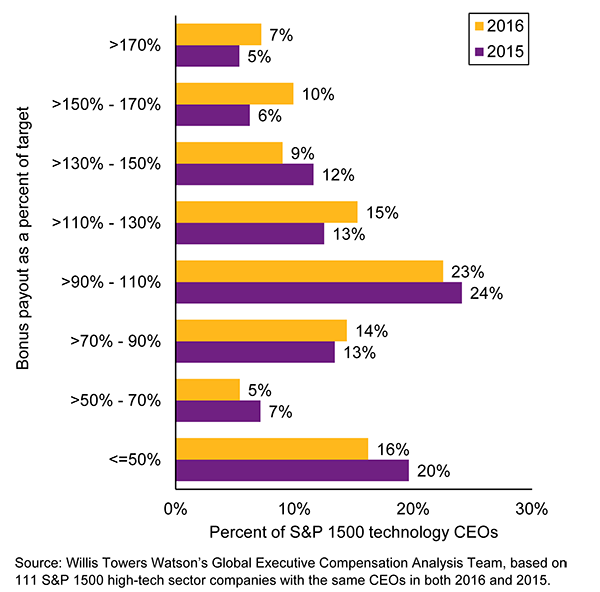 Many of the companies that paid lower bonuses for 2015 results paid higher bonuses for better performance in 2016: 41% of the sample was above the target range (more than 110% of target) versus 36% below the target range (90% of target or less). A company-by-company look reveals how most companies changed payout buckets in 2016:
29% moved significantly up or down by three or more ranges
42% moved moderately up or down by one or two ranges
29% stayed in the same payout range
We also reviewed the results of LTIP payouts for performance awards ending in 2016 (for grants generally launched in 2014). We compare the award payout to the award target in two ways: the LTIP payout without the impact the change in stock price has on the share-based plans, and the LTIP payout with the change in the stock price. Figure 2 shows the distribution of these outcomes.
When payouts are examined without the change in stock price, we see about a quarter of the sample is at either extreme (either at or below threshold or at maximum), and, a third of companies paid out near target. But when we consider the impact of stock performance over time, the target-or-better scenarios tend to become more valuable, as strong performance generally combines with robust stock performance. Including stock performance, the median LTI payout is 136% of target, and 60% of plans paid out above the target range, compared to a median LTI payout of 107% with 42% of plans paying above target when stock gains are excluded. We also see far more plans in the top bucket: close to 40% in this sector (more than 170% of target). As total shareholder return was significant for this sector throughout the later part of 2016, share prices had a large positive impact on higher levels of LTIP payouts.
Figure 2. LTIP payouts ending in 2016 as a percent of target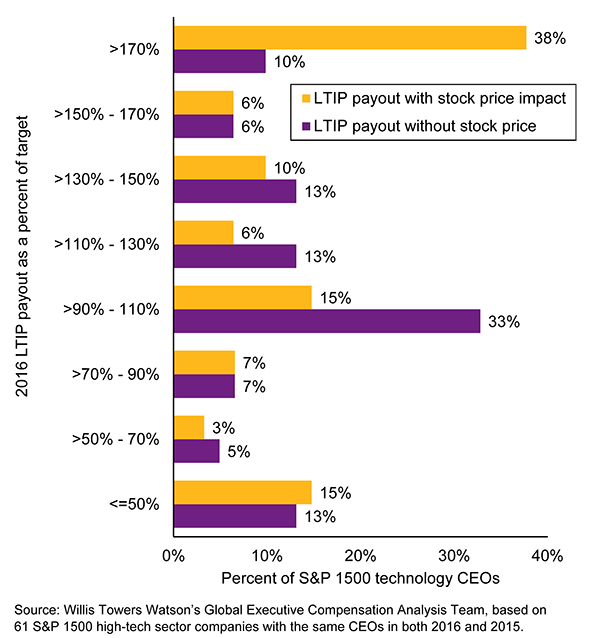 What's striking is that one-third (33%) of the LTIP sample fell in the target range, which compares to 23% of bonuses in the target range in the short-term incentive plan sample in figure 1 above. While some of the difference is attributable to performance, it stands to reason that the complexity of setting long-term goals is another contributing factor. This discrepancy between short- and long-term incentive target setting (when you remove share price impact from LTIP payouts) has led companies to seek alternative and more robust ways to set their incentive plan goals.
Increasingly, companies are considering how predictive analytics can be used to help calibrate annual and long-term incentive plan goals. In response to market demand, Willis Towers Watson has developed a proprietary approach to simulate future financial and stock performance to estimate the probabilities of various degrees of goal achievement. This modeling helps companies calibrate incentive plan goals and ranges.
The technology sector still faces headwinds in 2017, including potential curbs on visas for talented technology employees from overseas and possible sourcing concerns for key electronic components and materials. However, investors anticipate tailwinds as well, including increases in demand for phones and tablets globally, strong brand presence leading to continued growth in the sector, and exciting potential initial public offerings.
Stay tuned for our next sector update that will examine mid-year performance and provide a preliminary sense of whether 2017 will continue the upward trend in pay-for-performance awards. For a look at 2016 pay outcomes for CEOs in the broader S&P 1500, see "Pay-for-performance update for the S&P 1500: pay for 2016 performance," Executive Pay Matters, June 27, 2017.