The research, which takes into account data up to the end of 2016, found that AuM for North American managers increased by 7.7% over the period and now stand at US$ 47.4 trillion, whilst assets managed by European managers, including the UK, increased by 2.8% to US$ 25.8 trillion. However, UK-based firms saw AuM decline for the second consecutive year, falling by 4.5% in 2016 to US$ 6.3 trillion.
Although the majority of total assets1 (78.4%) are still managed actively, its share has declined from 79.7% from end of last year as passive management continues to make inroads.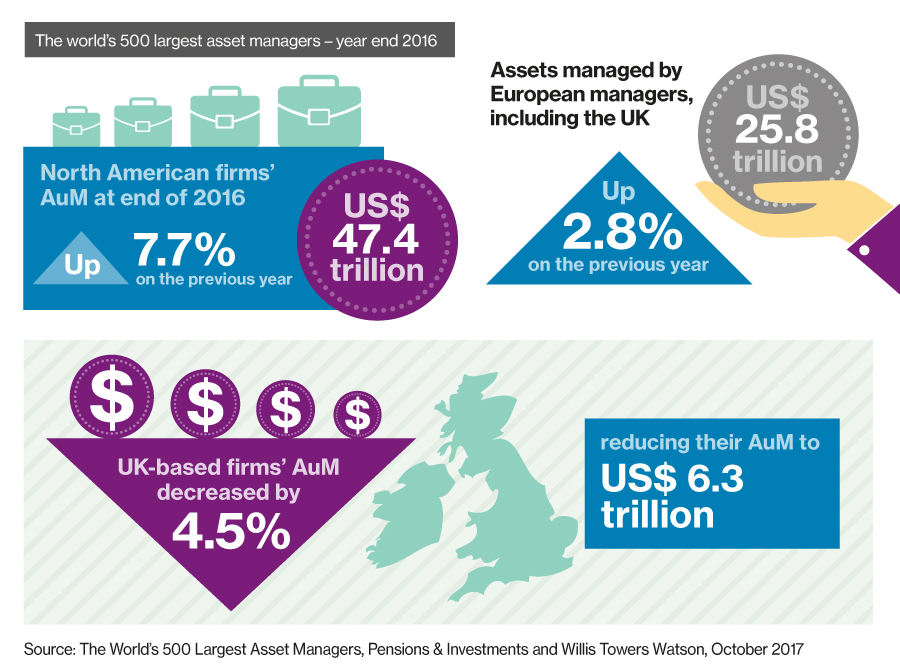 The 20 largest asset managers experienced a 6.7% increase in AuM, which now stands at US$ 34.3 trillion, compared to US$ 26.0 trillion ten years ago and US$ 20.5 trillion in 2008. The share of total assets managed by this group of 20 largest managers increased for the third year in a row, rising from 41.9% in 2015 to 42.3% by the end of 2016. Despite this, the bottom 250 managers experienced a superior growth rate in assets managed, rising by 7.3% over the year.
As with previous years, equity and fixed income assets have continued to dominate, with a 78.7% share of total assets1(44.3% equity, 34.4% fixed income), experiencing an increase of 3% combined during 2016. Continuing from the strong growth they experienced in 2015, assets1 in alternatives saw a 5.1% increase by the end of 2016, closely followed by equities at 4.1%.
Footnotes
1 Based on a subset of asset managers in the 2016 ranking who provided relevant data for all years since 2012.
View report