CEBU CITY, 02 June 2017 — Central Visayas' salaries are 19% lower compared to the salaries in the National Capital Region, on average, according to a report released today by leading global advisory, broking and solutions company Willis Towers Watson (NASDAQ: WLTW).
The company recently hosted the 2017 Compensation and Benefits Forum in Cebu, where they showcased the trends in compensation and benefit programs to executives and leaders from the Human Resources, Finance and general management functions.
In the recently completed Philippine Total Compensation Survey – Central Visayas which is conducted annually and is designed to provide companies in Cebu with guidance on how competitive their compensation and benefits package are relative to their peer companies, salaries of the clerical and entry-level business support positions are lower by 25% which is primarily driven by the minimum wage difference between Region 7 and NCR. The gap, however, becomes narrower at the Middle Manager and Executive levels, at 15% compared to the National Capital Region. This is largely because at these levels, the companies are moving their Managers and Executives across locations so the portability of compensation package plays a critical role.
Based on the study, employees in Central Visayas tend to stay longer in the company, showing a lower attrition rate of 12% compared to the rest of the country. "The high percentage of employee resignation continues to hound the business in the Philippines, especially in Metro Manila given the cut-throat competition for talent. This does not seem to be a major issue yet in Central Visayas, making it a very lucrative location for business expansion and start-up, aside from lower labor cost", according to Vangie Daquilanea, Global Data Services Practice Lead for the Philippines, Thailand, Cambodia and Myanmar, and one of the speakers at the event.
Talent Landscape in Central Visayas. The employee workforce in Central Visayas is predominantly composed of the millennials or Generation Y, which is at 78% of the total workforce. "This should be a very good reference for companies in revisiting their recruitment strategies as well as retention programs. In order to attract and retain millennials, employee engagement factors such as challenging work, flexible work arrangement, and a well-communicated career path detailing how they will progress and be promoted in the organization are some of the top considerations", said Daquilanea.
Figure 1: Labor Market Profile in Central Visayas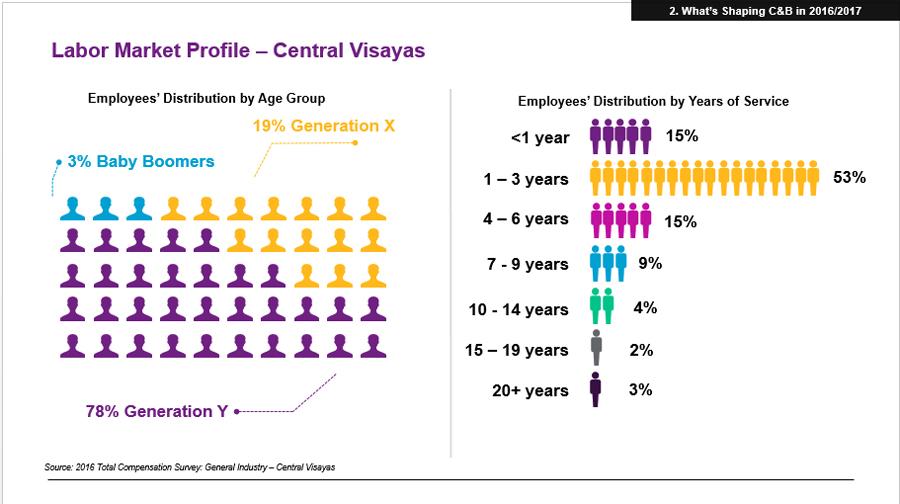 Benefit Programs for Employees. A big percentage of the workforce in Central Visayas are within less than a year to three years in tenure, comprising 68% of the total workforce. While majority of the workforce are quite young in tenure, benefit programs are very important for them. Healthcare coverage can, in fact, make or break a job offer. The companies understand this, but they also have some struggles in terms of the looming benefit program cost.
Willis Towers Watson's Asia Pacific Benefit Trends Survey has shown that rising benefit costs keeps employers awake at night. Over half of the companies surveyed said that over a quarter of their benefits cost goes to healthcare. Out of these healthcare expenditures, the greater proportion of the spend goes to managing illness conditions. "The challenge being put on the table is for employers to give equal attention and resources to keeping employees healthy as a longer-term strategy to managing healthcare in the workplace", according to Susan La Chica, Willis Towers Watson's Practice Head for Health & Benefits – Philippines.
Retirement benefit program a must. Although the workforce is far from the mandatory retirement age, "preparing for a relevant retirement program for the employees can actually help in employee retention as well as productivity at work", said Romeo Carabeo, Willis Towers Watson's Retirement Practice Head. Based on the study, employees with a more generous employer retirement plan are substantially more confident about their income in retirement, which in turn is linked to being more productive at work.
The companies are also encouraged to help employees channel their savings through appropriate retirement instruments and plan ahead to reduce uncertainty about their income in retirement.
Figure 5: Mandatory Retirement Program in the Philippines
Positive business outlook in Cebu. During a live poll in the Cebu event, attendees from the business sector overwhelmingly indicated a positive business outlook for Cebu. Business investors are pouring in and infrastructure projects are heavily supported by the government.
Overall, it seems that all the right elements for a successful business endeavour in Central Visayas are in place – favourable business support and abundant talent landscape. With the appropriate Human Resources programs, it will be rather difficult to fail in Cebu.
About the survey
The Total Compensation Survey Report is an annual survey compiled by Willis Towers Watson's Data Services Practice. The survey, aimed to address organization's most challenging pay questions, such as how their pay strategy measures up to their competitors or if companies are overpaying or underpaying their employees, looks at a range of industry sectors and job grades from factory shop floor to executive suite, and focuses on salary data, HR programs and practices as well as benefits programs.
The survey was conducted in July 2016. Approximately 89 responses were received from companies across 12 industries in Central Visayas. Learn more about the annual Compensation Surveys. Click to purchase the latest Total Compensation Survey Report – Central Visayas online.
About Willis Towers Watson
Willis Towers Watson (NASDAQ: WLTW) is a leading global advisory, broking and solutions company that helps clients around the world turn risk into a path for growth. With roots dating to 1828, Willis Towers Watson has 40,000 employees serving more than 140 countries. We design and deliver solutions that manage risk, optimize benefits, cultivate talent, and expand the power of capital to protect and strengthen institutions and individuals. Our unique perspective allows us to see the critical intersections between talent, assets and ideas — the dynamic formula that drives business performance. Together, we unlock potential.