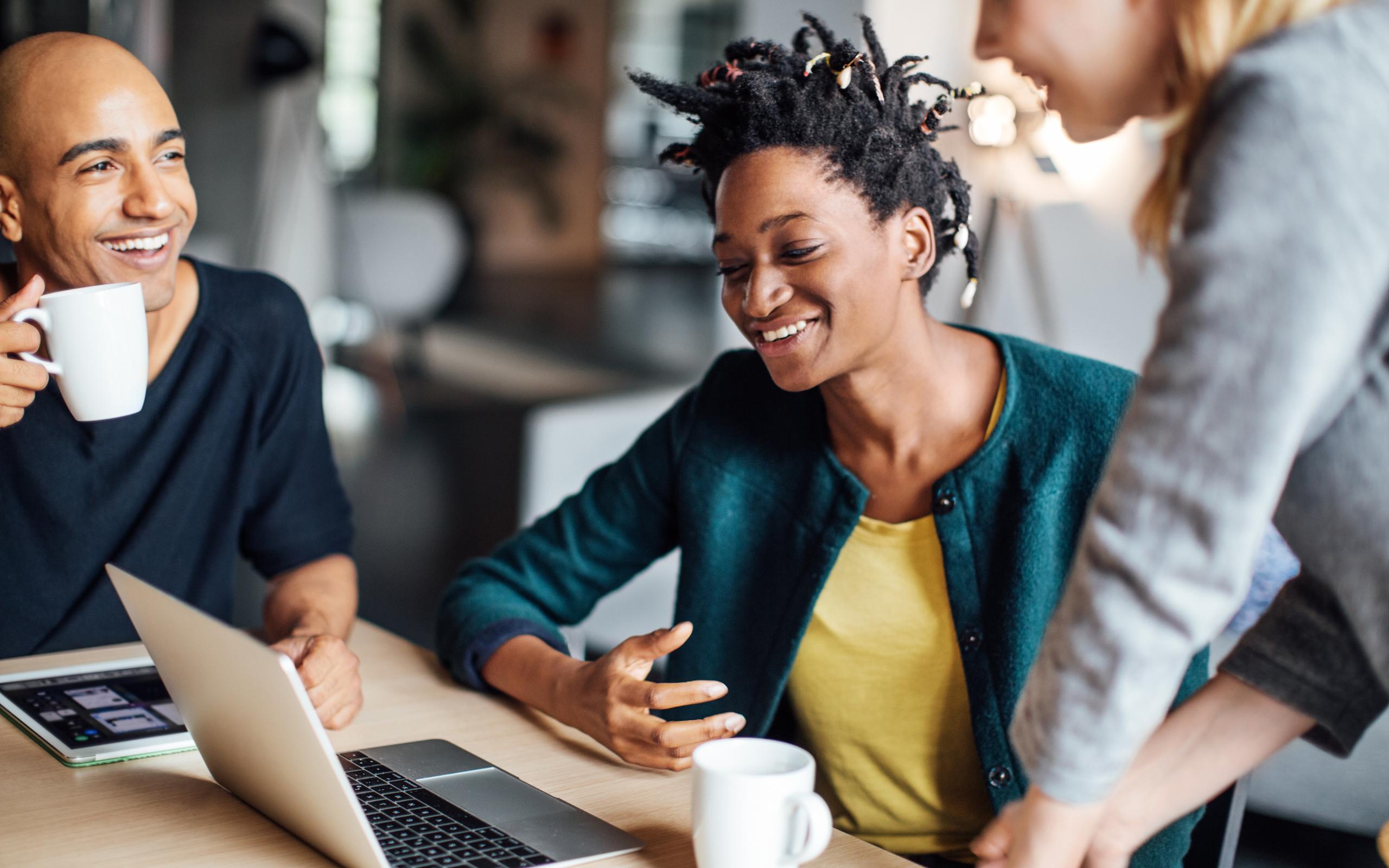 Mastercard is a purpose-driven organization with demonstrated success in driving profit through purpose. During the period from 2010 to 2020, while connecting purpose to profit, company leadership achieved average annual profit growth of nearly 19%, a 40%-plus return on capital and a total shareholder return approaching 1,600%.
In the company's view, such profits are tied to a commitment to fair employee compensation, benefits and careers, as well as community. Mastercard supports initiatives on environmental sustainability and leadership in financial inclusion, working on its goal to add 1 billion unbanked people around the world onto the financial grid by 2025, with a specific focus on under-represented areas such as sub-Saharan Africa.
"

The magic of diversity is that when you give people a level playing field, they will win — we will win — because they always had the potential to do so."

Mastercard CEO Michael Miebach and Executive Chair Ajay Banga
To support its purpose-driven culture, Mastercard shifted focus to a decency quotient (DQ) that drives its culture and everything the company does inside and outside of the organization. The decency quotient aligns with data from Willis Towers Watson's Workplace Dignity Survey that reports 94% of employers recognize dignity as important to driving business success.
Mastercard Executive Chair Ajay Banga said, "Decency is the foundation for the kinds of relationships that drive respect, innovation, urgency and enterprise-wide thinking. It's what supports and inspires people to believe that they can trust you and that you will have your hand on their back and not in their face. This lets them know that they can bring their full hearts and minds to all that they do."
In 2019, Mastercard's total rewards and talent teams partnered in developing a purpose-driven total rewards strategy to connect with "Priceless Possibilities" for its employees and an employee value proposition "Enabled by the Whole You." The new total rewards philosophy "offers a competitive total rewards program that provides employees with the flexibility to meet them where they are and where they want to go, with the choice they need to best support their colleagues and serve their partners and clients."
Its guiding principles:
Meet individual needs (choice & security concept)
Provide competitive (market-based) total rewards
Recognize results (pay for performance)
Ensure fairness and transparency (DQ)
In its annual Sustainability Report, "Doing well by doing good," Mastercard outlines its success in achieving inclusive growth, creating a more inclusive world through its products, programs and partnership. Internally, its people and culture programs leverage the company's core values to make Mastercard the place where the best people choose to be.
In 2020, Mastercard created a further challenge to develop a new total rewards model that embraces diversity, equity and inclusion (DEI) while supporting new ways of working during and after the pandemic, and increased emphasis on employee wellbeing. The company also sought to drive sustainability goals, and ESG more broadly through its multi-billion-dollar investment in total rewards, while practicing flexible cost management and optimization.
A new Equitable Total Rewards model achieved these objectives through pay, benefits and career equity — all anchored by wellbeing at the center (see Figure 1):
Figure 1: Equitable Total Rewards Model
Equitable Total Rewards supports Mastercard's premise that global inclusion and diversity is about more than bringing together people with different backgrounds. It's a belief that differences enable Mastercard to be a better team — one that makes better decisions, drives innovation and delivers better business results. "At Mastercard, we strive to create meaningful connections, inspire acceptance and cultivate a culture where we all belong."
According to CEO Michael Miebach and Executive Chair Banga, "The magic of diversity is that when you give people a level playing field, they will win — we will win — because they always had the potential to do so, when given the chance."
Mastercard adopted the following tenets to build a culture of inclusion and belonging at its company, in communities and in the world:
We are committed to gender equity and the principle of equal pay for equal work.
We are dedicated to recruiting and developing female leaders, and we have increased the representation of women in our workforce and in leadership positions.
We offer our employees compensation and benefits to support their entire experience, both personally and professionally.
We work to provide a safe and healthy workplace that enables employees to achieve their full potential.
Mastercard's approach is human-centered, providing employees what they need, when they need it. It also becomes humanistic by adding what company leaders consider the human touch. The company made changes to total rewards in support of doing what mattered most to Mastercard's employees and doing it consistently around the globe through minimum global standards, including for example:
01

The Whole You

Supporting employees at work and outside of work

Flex work
Enhanced maternity and paternity leave
Five volunteer days per year
20 days bereavement leave

02

Investing in You

Commitment to retirement readiness

Minimum 10% of pay retirement contribution across all plans
100% immediate vesting across all retirement plans

03

Inclusive benefits

All families are not the same
Family building financial support — adoption, fertility treatment, surrogacy
Minimum 16 weeks gender-neutral new parent leave (includes adoption)
In March 2021, Mastercard announced that compensation for its executives will be tied to ESG goals and specifically to improvements in achieving carbon neutrality, financial inclusion and gender pay parity. The company recently pledged to reach net-zero emissions by 2050, and priced a $600 million sustainability bond, with proceeds to be used to maximize carbon reduction and foster inclusive growth.
"We have embedded inclusion, sustainability, and decency into the heart of our business —blending purpose and profit," Miebach said. "We believe these ESG goals, which our senior leaders have the ability — and responsibility — to influence, will help our business grow and thrive for years to come."
Mastercard is proud of its progress: The latest data show women represent nearly 40% of the company's global workforce and 32% of senior management roles. In the U.S., racial and ethnic minorities represent 37% of the workforce and 33% of senior management. Women at Mastercard earn $1 for every $1 men earn. In the U.S., racial and ethnic minorities earn $1 compared to every $1 earned by White employees.
Mastercard also is proud of the financial inclusion of its employees through its minimum global standards. For example, all employees have the opportunity to receive a contribution of 10% of base pay on a matched basis to employee retirement plans. Employee participation reached over 92% last year.
The company knows there is still progress to be made and continues to find new ways to support its purpose and decency quotient through total rewards.
A version of this article originally appeared in WorkSpan Daily on June 4, 2021.
Authors
---
SVP, Total Rewards, Mastercard
---
Managing Director and Chief Innovation & Acceleration Officer
---
Senior Director, Human Capital & Benefits
---