In the first part of our Resilience Series, we discussed how organizations could strengthen employee resilience, and why it was so important to do so heading into a period of uncertainty. Now, many months into the pandemic, it's continued for longer than many of us feared, and clearly isn't going away anytime soon.
With varied government and corporate responses to this crisis, we can expect continued uncertainty and no natural resolution to wellbeing challenges that employees across the globe are demonstrably experiencing.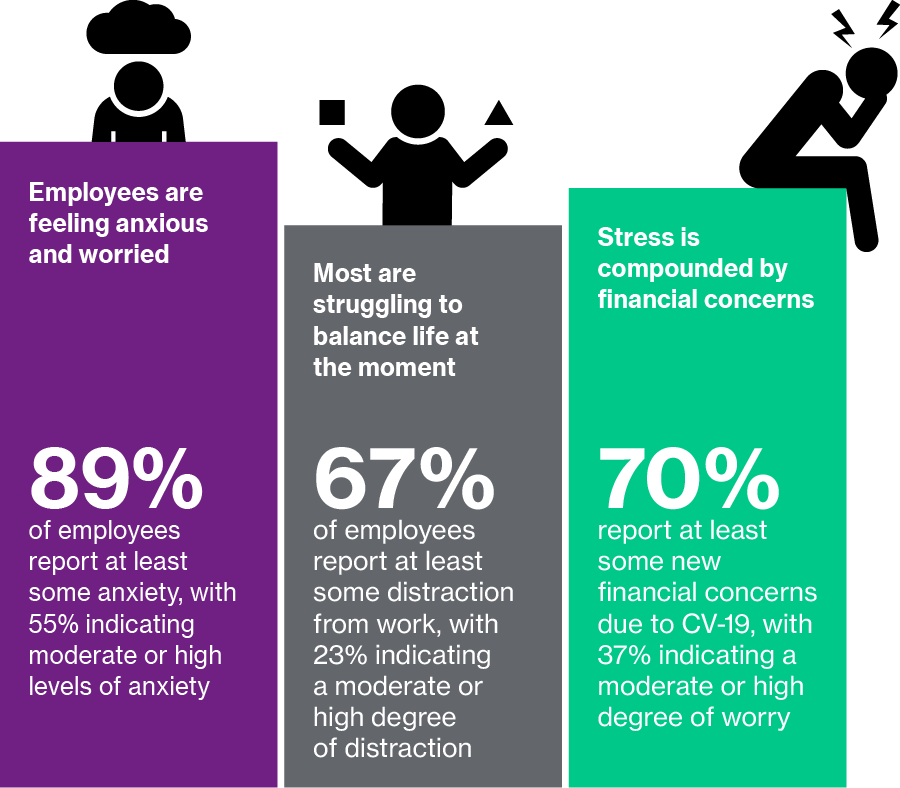 Data show that many employees are facing additional stress due to COVID-19.
These are concerning, but unsurprising, statistics. Employees have been feeling the strain as we ask them to work in new environments, think in new ways, and act differently. These experiential factors have been compounded by very real economic strain, putting an unusual amount of pressure on employees everywhere, across every dimension of their wellbeing.
Building and sustaining employee resilience – the ability to face stress, uncertainty and change head-on and navigate to a better place – is as important now as it has been in living memory. How organizations respond to managing employee resilience will define the success of their employee experience (EX) as we eventually transition into recovery.
To achieve this, we believe focusing on managers is critical. Managers have always been the glue holding teams together. But now more than ever, employees need to feel connected, have confidence in their leadership, and be communicated with effectively.
Managers play a key role in all of this – but they're feeling the same strains as everyone else. By focusing on better supporting managers, we can drive a reset in the resilience of employees and unlock high performance.
Are managers getting the support they need?
In our North America Talent Implications Survey earlier this year, fewer than a quarter of employers reported increased development opportunities for managers since the start of the COVID-19 crisis. This is a significant gap that needs to be closed in order to provide managers with the support they need.
Our partners at meQuilibrium, the world's foremost digital solution that builds employee and enterprise resilience, tracked a significant rise in mental health and productivity risks across Q2 2020 when compared to the same period in 2019, with anxiety, loss of productivity, and risk of burnout particularly notable.
meQuilibrium's Founder & CEO, Jan Bruce, said on the topic: "The perfect storm of COVID-19, racial unrest and global economic uncertainty is challenging managers in unimaginable ways as they are the front line for safeguarding wellbeing, productivity and engagement of the workforce. To lead effectively, they need to have the cognitive and emotional capabilities – soft skills, or more accurately human skills – like emotion control, emotional intelligence, empathy and focus. While these skills have historically been difficult to measure and build, the science of resilience is incontrovertible and show these skills can be learned."
And while these universal needs are true, every organization will be experiencing nuanced challenges of their own. Effective listening strategies are critical in understanding specific as well as universal needs, and ensuring that training put in place is targeted and effective.
Pulse surveys are easy to implement, effective in helping to understand managers' feelings, stressors and needs and can connect them to the right resources and programs. Quantitative data generated through more traditional surveys can be complemented by Virtual Focus Groups, AI-powered conversations which give managers a voice, providing leaders with a deeper understanding of sentiment.
Personalizing support programs
Using the data and insights gathered from employee listening, we can better equip managers with communication, tools and training to address key areas and boost their resilience. A manager support program can include resources such as:
Platforms or apps that can assess and build both individual and team resilience through personalized skill-building journeys. Our survey results indicate that most employers (72%) have (47%) or are planning/considering (24%) offering mindfulness and resilience programs hosted on apps. Apps like meQuilibrium help build resilience muscle among managers, teaching them how to model and mentor resilience, and build adaptable teams.
Manager training on essential topics like leading through uncertainty, managing remote teams and avoiding burnout. More than half of employers surveyed recently1 identified that their managers need development in fundamental areas to managing talent in today's crisis: managing agile/remote workers, empathy, and change management.
Manager-specific communication, like toolkits to outline the support you provide them as managers and to their people. It's critical to ensure that your managers are aware of the programs and resources offered, how they can access them, and how to direct their teams to the right support and tools.
Measurement is key
After implementing these solutions, it's crucial that we continue to measure their effectiveness – and give managers opportunity to provide feedback on how they could be improved, or where else they might need additional support.
When employers take steps to support their managers, their managers will subsequently take better care of their employees. As their role becomes increasingly important in today's world, organizations must take the necessary measures to prepare managers on a fundamental level, ultimately leading to a stronger and more resilient business.
Footnote
1 Restoring Stability: Employee Experience and Wellbeing, United Kingdom, May 2020
Authors
---
North American Strategic Sales & Marketing Leader, Communication and Change Management
---
---