We can all see the world of benefits changing around us, owing to how COVID-19 has changed our lives in the past couple of years. While benefits have always played a key role in the overall perception of rewards, they have now further evolved by encompassing holistic wellbeing solutions, to provide a unique and differentiated employee experience.
Today, we can see a greater focus of organisations on creating a richer employee experience and developing a strong employee value proposition guided by choice, flexibility and technology.
More and more Indian employers are measuring effectiveness of benefits programmes in terms of improvement in employee wellbeing and employee experience, in addition to cost management and adoption of digital solutions.
Key considerations for employers to review their benefit programmes is based on below three key dimensions:
Adopt a digital strategy: 86% of employers plan to have an enhanced digital strategy in the next two years. Adopting a digital strategy with benefits in mind will keep employers in pace with the changing benefits space.
Innovate: Wellbeing, inclusion and diversity—benefits are becoming broader and more inclusive. Innovation in terms of delivering a unique employee benefits experience would require looking inwards and understanding the unique requirements of the workforce.
Listen and communicate: Stress and the impact of remote working can take a toll on the workforce. With a listening strategy, employers can be more confident that the current programmes are making the intended impact on their employees.
In today's highly unpredictable, digitally disrupted workplace, employee benefits and wellbeing programmes are critical to a company's ability to attract, retain and manage talent. As the workforce and work trends are evolving, organisations' benefit programmes also need to evolve rapidly. How can organisations begin to map their transition to more relevant and effective strategies and programmes?
Transforming benefits over the next two years
WTW's 2021 Benefit Trends Survey India findings share that over the next two years, employers are planning to make enhancements in healthcare benefits (58%), flexibility and choice (54%), support for mental health (64%) and support for lifestyle improvement (52%), among others.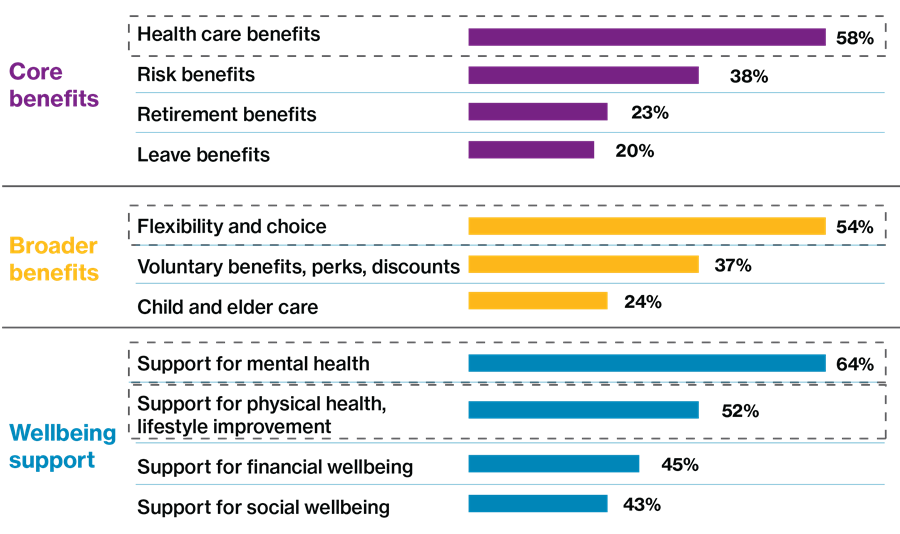 employers are planning to make enhancements in healthcare benefits, flexibility and choice, support for mental health and support for lifestyle improvement, among others.
Actions employers are planning to take over the next two years for transforming their benefit strategies and programmes
Source: WTW's 2021 Benefit Trends Survey, India
Holistic employee wellbeing will be the catalyst for organisations in making a successful transformation and a reimagined employee benefits programme will be the solution to differentiate and personalise employee experience. Adopting an integrated digital strategy is the only way to ensure that the benefits approach meets the needs of all workforce segments. Delivering a personalised employee experience while optimising costs is going to be the key.
WTW is pleased to present Benefits4U - an exclusive, by invitation only, Employee Benefits Forum in India.
Benefits4U is a dedicated forum for employers to get together to discuss the current state and future of employee benefits in India. This cuts across the spectrum of Total Rewards, Retirement Benefits, Insurance, Wellbeing, Inclusion and Diversity and all the varied benefits offered to employees.
We anticipate that this forum will help generate a sustained and meaningful dialogue among employers cut across industries about best practices, implementation experiences, challenges, expectations and path breaking innovative ideas. This forum will serve as an opportunity to build and share homogenous capabilities while enhancing the prevailing network amongst different segments of HR leaders (including CHROs, Rewards leaders, C&B leaders and other practitioners).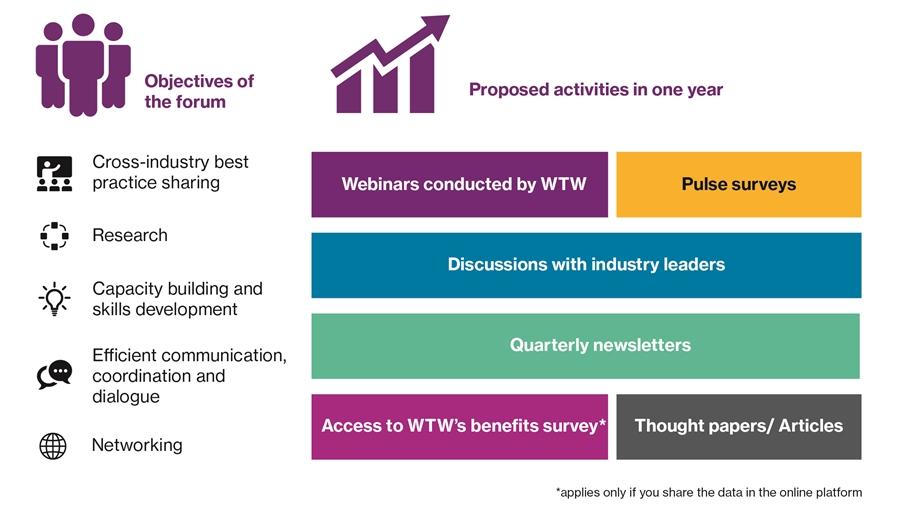 Benefits4U Forum Objectives and Proposed Activities
To know how your organisation can benefit from the Benefits4U forum, download the detailed brochure or fill the form on the right hand side and a WTW representative will contact you shortly.