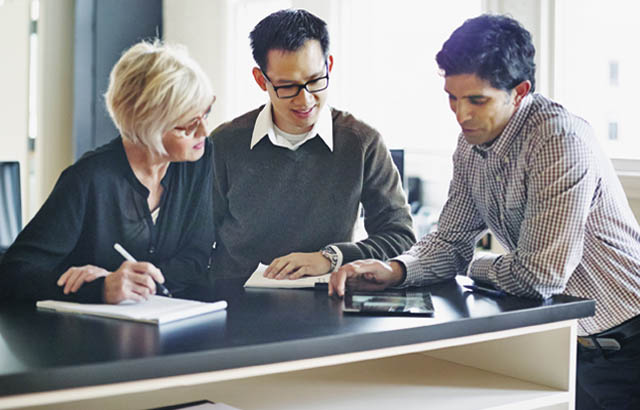 Most HR managers want a single unified world where everything online feels the same, and plan and program information is clearly communicated across a plethora of channels, so we can truly meet employees where they are in their professional and personal lives. But how can we do that in a complex world of partners, systems, matrixed organizational hierarchies, and rapidly changing business demands? It's no small feat, but with a planned, four-step approach, it's in reach.
1. Understand your employees
The notion of persona development has taken on a life of its own over the past few years. In the context of employee experience, we might seek to understand our employees across key psychographic trends. For example:
What motivates them?
How do they like to consume information?
Do they prefer to browse and ponder, or click and expect it'll be fine?
When looking to the future, do they think about their next gig, the next step on their career ladder, or their retirement prospects?
There are many types of persona dimensions that inform the tone, structure, and timeliness of information in a way that impacts behavior. Understanding the nuances of each persona allows you to tailor an experience that resonates with your target audience.
2. Personalize communication and plan for behavior change
Armed with a wealth of persona characteristics, your next step is to fold in relevant plan and program information with a view to changing behavior. What are you trying to accomplish, in what timeframe, and how do you phrase the call to action to really get action?
A personalized experience gives a sure foundation, for example:
Promote the idea of escalation or catch-up contributions as the year progresses for employees participating in a savings plan
Highlight college savings programs as part of an overall financial wellbeing series for employees with dependents
Publicize global mobility opportunities for employees with an expressed interest in seeing the world
Serve up opportunities to get involved in local inclusion and diversity networks and events especially for new hires and employees who have recently switched work locations
A highly relevant and timely call to action is more likely to spur interest, raise awareness, increase engagement and encourage action than a one-size-fits-all campaign to promote global mobility, inclusion and diversity, wellness, performance or career development.
3. Integrate partner systems
I can use my watch to buy coffee, pay my bills and soon hail my own car to pick me up in the rain. Yet you want me to log in using passwords (sometimes different ones) every time I want to see my timesheet and PTO balance in the same place? Something's not right with this situation.
Ah yes, integration utopia: the fascinating pendulum of risk versus convenience against a backdrop of increasing data breaches around the world. Truth be told, this idealistic and expected integration is actually starting to happen in the HR domain. It is entirely realistic to display real-time account balances alongside last month's pay, or up to the minute health elections next to my wellbeing score.
The concepts that we have heard about such as data subscriptions, APIs, connectors, and more, are slowly rotating and circling in towards some sort of standard. The table stakes for any partner or integration discussion have moved from "can you do SSO?" to "what data sets do your clients customarily subscribe to in order to increase adoption rates and impact decision support?"
4. Use Artificial Intelligence (AI) where it makes sense
Is AI real? Yes. Is it a "thing"? No, it's lots of things. Just as we struggled to define Web 2.0 in its earlier stages for HR, the concepts of AI comprise several different tools and approaches. Some you may want to embrace them; others you may want to watch and learn just a bit longer.
In the communication arena, some pertinent examples of potential uses of AI come to mind:
Use a chat bot (one that also has personalized responses plus coaching content and not just generic answers) as an efficient and productive channel
Re-prioritize content and impact search results based on usage patterns and usefulness ratings
Combine marketing intelligence and campaign management to target evolving messages to different populations based on activity
Trigger micro processes to push messaging and create events in downstream systems based on behavior
How do I make this real?
The importance of providing a consumer-grade employee experience is often underestimated. It can help organizations drive higher levels of engagement, build deeper employee relationships and secure a better return on your rewards investment. But the path to creating ideal customer journeys is a difficult one to make real in practice. Start by thinking through personas, personalization, integrations and AI.
Need help getting started? Drop me a note, let's talk explore what makes sense for your … personas!
About the Author
---
Senior Director, New Business
---