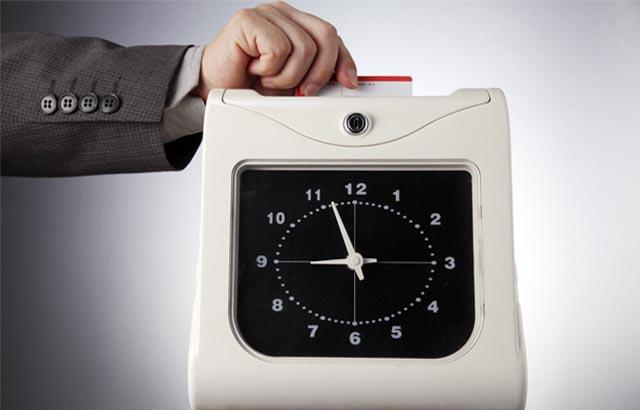 Getting compensation right
Our recent Getting Compensation Right Survey revealed the scope of the task confronting employers who are aiming to get compensation right in today's highly dynamic global work environment. In this series, our experts take a deeper dive into three key areas of opportunity based on our findings – base pay management, fair pay (this post) and pay-for-performance.
---
The increasing level of debate on social fairness is pushing the question of pay equity up the political agenda in key global markets. The U.K., Germany, France, Australia, New Zealand, U.S. and Canadian states have all moved to strengthen existing requirements around gender pay equality. In contrast, for employers pay competitiveness has been a top priority in designing employee salary arrangements, whereas internal equity has had less focus. This hasn't always been the case. When we first joined Willis Towers Watson nearly 20 years ago, the first training session that each new Rewards analyst received was on the fundamentals of Rewards and contained this image: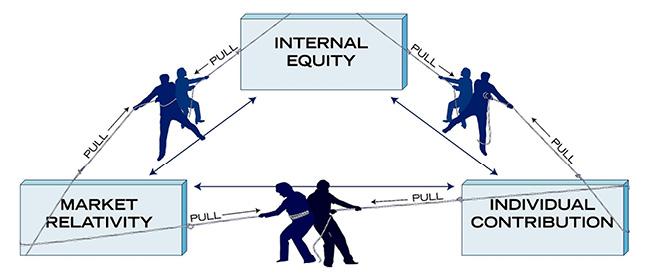 We were taught that each company had to decide where it wanted to position itself in relation to these competing priorities. This would guide their salary structure design: For example, a focus on internal equity might have meant narrower pay bands and common annual increases.
We haven't used this image regularly for at least 10 years. Its demise reflects that, for the majority of our clients, base pay has become principally about market competitiveness and individual performance. Indeed, results from our global 2018 Getting Compensation Right Survey confirm these two factors are currently the most important in determining base pay.
However, our findings suggest this may not be the case for long.
Due to the regulatory changes more companies now have to demonstrate externally that they're fulfilling legal obligations on equal pay. Likewise, in markets such as the U.K., regulations aimed at encouraging companies to do more to advance women in the workplace are renewing the focus on equal opportunity.
Our survey shows the impact of these developments on base pay management, with respondents in in the U.S., U.K., Canada and Germany saying that gender pay equality will become an even more important factor over the next three years.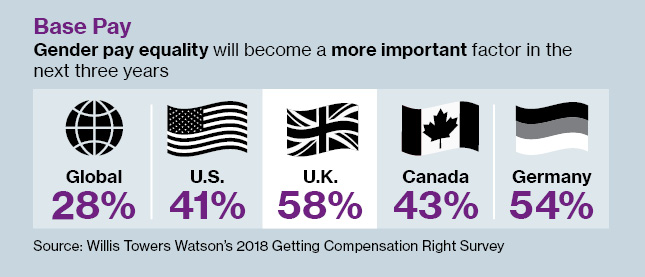 What does this mean in practice? In the U.K., U.S., Canada and countries across Western Europe where there's more regulatory pressure, we've seen:
Equal pay audits and analytics to help companies understand what's happening within their organizations from a gender perspective and, for some, an ethnicity perspective
A slice of the annual pay budget being used to address equal pay concerns or additional funds being requested
Increased governance around hiring salaries and promotions
In recent discussions with clients, there's been debate over whether a renewed focus on pay equity could mean a return to much narrower pay bands. One client with a large number of customer-facing roles said they were expanding use of "rates for the job" at lower levels. However, the majority of our clients agree that, while greater consideration will need to be given to internal equity, market competitiveness and individual performance will continue driving compensation.
In addition to gender pay equality, we also see political focus moving toward pay equality by ethnicity, living wage and the disparity between executives and employees (CEO pay ratio).
Why does this matter?
Because base pay continues to be the most important factor in attracting and retaining employees, regardless of their demographic.
The demand for employers to be more transparent about how they reward their employees will continue to increase.
Employees who believe they're paid fairly are more engaged.
So back to the future? No, not quite, but we know there will be more attention paid to internal pay equity. And what we mean by pay fairness and equal pay will continue to evolve. This means employers will have to be ready to meet the challenge of demonstrating their commitment to fairness in employee compensation as it will be a key part of employee attraction and engagement.
2018 Getting Compensation Right Survey Results Preview
The Getting Compensation Right Survey explored how technology, innovation and automation are influencing rewards practices around the world. Thank you to the nearly 2,000 respondents from almost 50 countries around the world who participated.
About the Authors

---
Senior Director, Talent and Rewards (Europe)
---
Director, Talent and Rewards (Americas)
---