In 2019 we believe employee insight will be driven by people analytics, employee experience, high performance culture, wellbeing and agile/design thinking.
People Analytics
In a growing number of our clients, employee insight is now managed by small people analytics teams, whose interest is not just in running surveys, but in connecting data from multiple surveys, HRIS and other sources to identify patterns and linkages, and even build predictive models. A common starting place is to try and answer questions such as, "What drives, or predicts, our employee turnover?"
Business analytics packages, or our own Employee Engagement Software, make this relatively easy.
For the more mature teams, the goal is to identify which factors predict business performance. This is a harder nut to crack, and in truth not many do it very successfully. Not only does it require good data, and good software, it requires expertise in knowing how to handle, and model, complex data and statistics. Our own People Analytics team are helping clients around the world understand what predicts safety incidents, or breaches in risk, or production output, or increasing sales or operating margin. Big questions which really allow HR to get the attention of the exec.
Case study — At a large Dutch bank, the People Analytics project lead believes in making HR more evidence-based. The client uses our self-service survey platform for survey management, continuous listening and tracking employee engagement and experience. They use a calendar that spreads the different HR topics over the year to allow more dedicated and smaller surveys on HR topics like engagement, leadership, diversity, collaboration or performance.
fullscreenClick to enlarge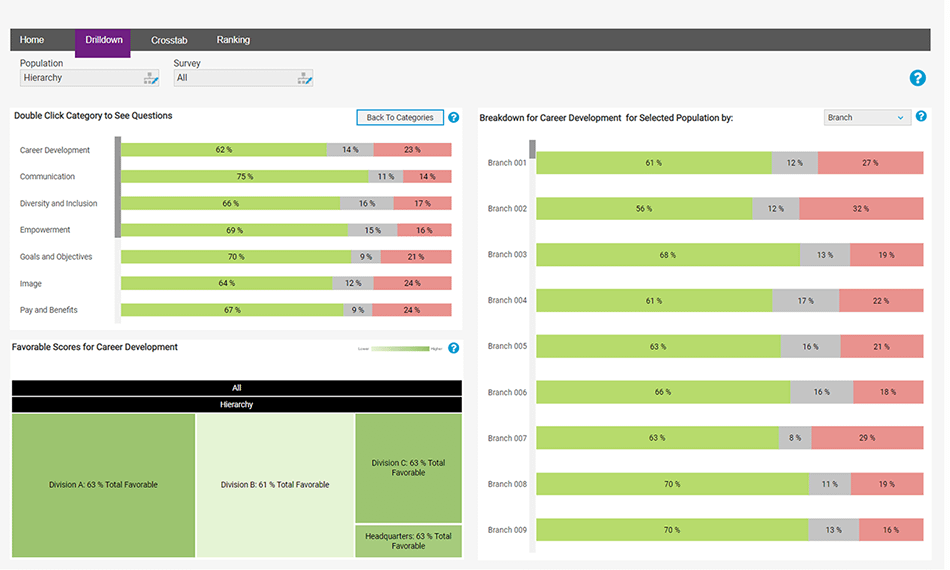 Employee Experience (EX)
The focus on employee experience is becoming more common place, and for good reason — it's the acid test that the strategy, policies, systems and programmes being worked on actually have some impact. Increasingly clients are employing heads of EX tasked with taking a holistic view of the end-to-end experience and ensuring it is placed center stage as they introduce change. EX draws heavily on the principles of Customer Experience (CX) particularly around the use of frequent or continuous measurement, qualitative data, and techniques such as segmentation and persona building.
Case study — A leading industrial technology company wanted to build a stronger sense of purpose within the business. To identify the path forward we used our survey insights together with insights from stakeholder workshops to develop a detailed roadmap, which led to a review of HR priorities. 239 HR projects were reduced to nine priority activities, in which we:
Developed an employer brand that brings people into focus. Our brand book guides how to use the employer brand and importantly connects the corporate brand elements, values, behaviours and vision of the client.
Developed a digital culture engagement strategy, stakeholder framework, persona map and communication plan.
Created and produced a YouTube film that tells a "beyond tomorrow" story, to excite existing employees and engage with clients and candidates.
Developed a campaign to promote human diversity, using different interventions to connect with people with different mind-sets and at different stages of the culture change.
The outcome was a future focused employee experience with behaviours, values and touchpoints aligned to the corporate purpose and brand.
Wellbeing
We find a growing interest amongst our clients to strengthen business results by developing a strategy that connects the physical, financial, emotional and social components of wellbeing. Indeed we know that companies with higher levels of wellbeing achieve significantly higher revenues per employee, lower healthcare costs, and fewer days lost. We use survey measures to assess employees on these components, and combine with a diagnosis of the programs and practices the organization has in place.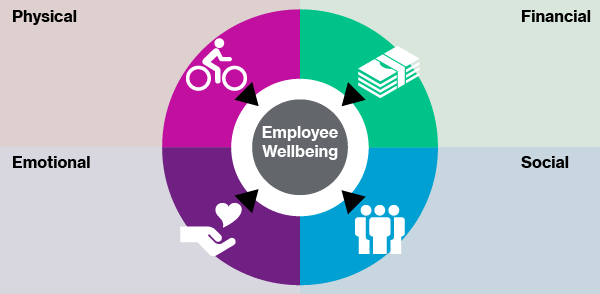 Case study — In one client organization we surveyed employees, and used behavioral science techniques to identify unique personas within the organization based on their wellbeing profile. We found 33% were 'Thriving' (i.e. positive on all components), 18% were 'Vulnerable' (i.e. low social and emotional wellbeing), 13% 'Unhealthy' (i.e. low Physical wellbeing), and 26% 'Stretched' (i.e. low financial wellbeing, and 9% 'High Risk' (i.e. low on all components). Profiling these personas and then being able to report to managers how their teams segment is a powerful tool.
Continued focus on High Performance
The desire for organizations to strive towards high performance is ever present. Regular readers will know that we define high performance organizations as those with both great financials AND great cultures, and that we track them to identify their unique hallmarks. As we published earlier in 2018, high performing organisations excel in (i) having a strong and inspiring purpose, (ii) being highly driven, agile and innovative, (iii) providing fantastic growth opportunities, and (iv) developing a strong culture of trust.
Case study — A high performing consumer goods company in a multi-year culture journey designed to bring speed into the organization and shorten the time from product idea to market. They had a singular focus on behaviors to drive greater confidence, creativity, and curiosity; to push boundaries and bring more innovation to the table. Their cross-functional team focused on three areas to drive change: Communication and Sustainability (incl. commitments and leadership training); Decision Effectiveness (incl. eliminating layers of review, and introducing 'skunk works' innovation teams) and Innovative Thinking (incl. design thinking, hackathons and consumer immersion).
Agile/Design Thinking
It seems that organizations the world over are trying to "go agile" and find ways to bring the methodologies and general principles of agile to new domains. The employee survey is a great example where agile thinking, particularly in the use of sprints, brings many benefits. Sprints transform the project experience by working collaboratively at pace, for a defined period of time, and are great for chunking up a project into fast paced manageable parts. Design thinking is an excellent approach for designing insight strategies, and questionnaire design, encouraging teams to be empathetic to the end-user experience at all points.
Case study — A global pharma with 50,000 employees introduced agile design thinking to their survey project. They held design sprints with squad leaders working directly in our software. The result was a fast paced project which removed the need for traditional weekly meetings, and significantly reduced the time from project start to survey launch. The result was a fresh and dynamic client experience, and reduced time and cost.
Contact us if you're interested to find out more about any of the topics in this paper.
Author
---
Managing Director
Employee Experience
Dr. Stephen Young is a thought leader on the transformative power of employee listening. He believes a high-performing employee experience, at work and in life, is the key to winning the war on talent and delivering sustained financial results. He has a Ph.D. in business psychology, and more than 20 years of experience advising the world's leading organisations on making employee voices louder, clearer, and more actionable than ever before. In his spare time, you'll find Steve with his kids, cycling, and supporting Arsenal Football Club. Follow him on LinkedIn.
---