Financial services disrupted
We're at the beginning of a fourth industrial revolution, characterised by the fusion of technologies and the convergence of the physical, digital and biological spheres. Its effects are already being felt in financial services, with the advent of robo-advisers in wealth management, online-only banks and peer-to-peer funding.
This technological disruption is also blurring lines across sectors and industries, a development that is especially relevant to financial services. The use of common technologies and platforms is bringing global industries closer together and changing the competitive landscape.The new players include fintech and insurtech companies as well as disruptors in other industries.
In Asia, for example, Tesla has partnered with established insurers to offer a vehicle package featuring customised motor insurance that accounts for its vehicles' autopilot safety features as well as maintenance costs. As it moves toward fully autonomous vehicles, Tesla is in a unique position to compete with property and casualty insurers in cases where traditional insurers are not willing to lower the risk premium1.
At the same time, technological breakthroughs in areas ranging from artificial intelligence and robotics to blockchain technology and telematics, are upending not only the way in which financial institutions interact with customers and the products they offer but how work gets done. Because so much of the work in financial services involves information processing, it is especially susceptible to automation. Over the next 20 years, more jobs in the financial services industry are considered at high risk of automation than in any other skilled industry (figure 1).
Figure 1: Automation and digitalisation are affecting financial services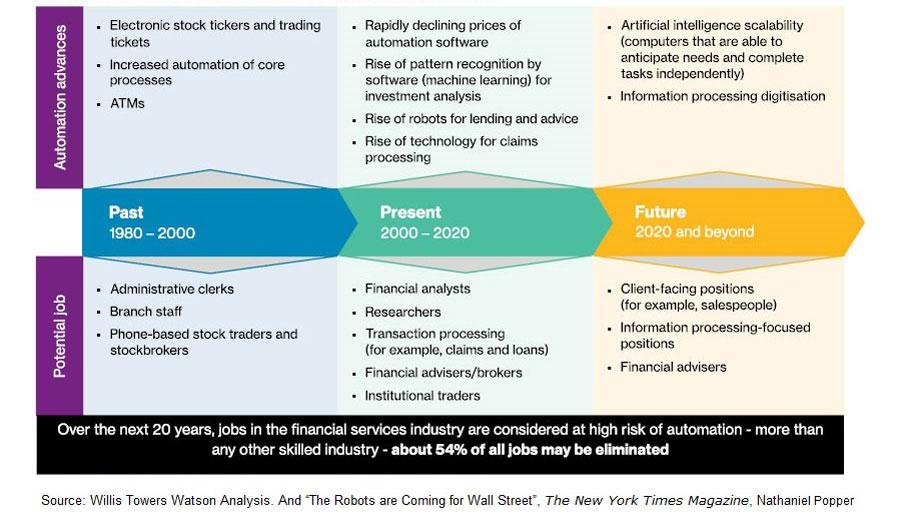 In addition, the on-demand, gig economy offers options for getting work done using non-employee talent: for instance, contingent workers, talent on a platform and alliance partners. Companies expect to increase their use of non-employee talent over the next three years (figure 2).
Figure 2: Non-employee talent is growing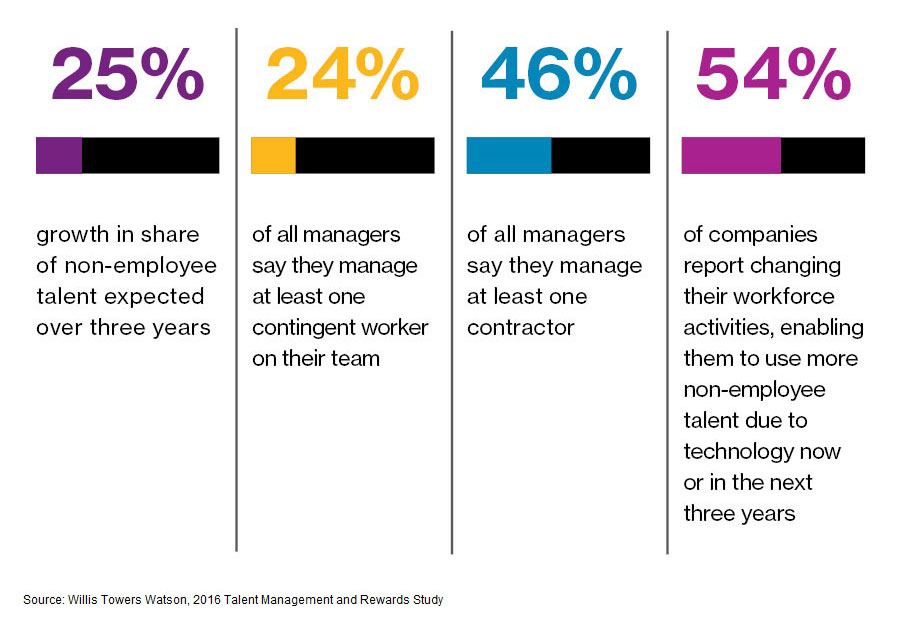 Rethinking how work gets done
Since the second industrial revolution, organisations have been focused on jobs and employment as the primary means of getting work done. Yet today's business leaders must navigate a world beyond employment where work can be accomplished using non-employee talent as well as automation.
This transformation of work requires that an organisation deconstruct jobs into tasks or projects. Once an organisation disaggregates a job, it is able to tap a range of sources for getting work done – from robotics and AI to employees on talent platforms, contractors and alliance partners.
To help with this process, organisations, regardless of industry, should consider grouping tasks into three buckets and then determine how to best accomplish the work in each bucket.
Routine cognitive or routine manual work that needs to get done on a regular basis.
Motor insurance claims processing is a good example of this type of routine work. Until recently, this was a human-intensive, time-consuming and often error-prone process. Today, motor insurance companies can disaggregate claims handling tasks – for example, identifying damaged parts, assessing the extent of the damage, estimating repair costs and recommending a payout – and use a combination of AI, big data and cognitive analysis to perform these tasks. It's now possible to process motor insurance claims in minutes in an efficient and accurate manner. As a result, the need to negotiate a settlement is minimised and the customer experience improved.
Non-routine tasks that require some level of insight and intelligence.
Organisations can employ AI or a pool of specialist talent for these tasks. For example, a bank may opt to hire a user interface specialist via a talent platform to design the look and feel of a mobile app while internal talent focuses on app development and testing.
Tasks that require a human touch, empathy, creativity and innovation.
For instance, it's especially critical for financial advisers to empathise with clients following major life events (such as death or divorce) in order to better assess the impact of a given event on a client's long term financial plan. Many wealth management firms employ automated workflows to minimise manual tasks, thereby freeing up advisers to spend more time understanding the needs of their clients and delivering creative investment strategies.
Finally, it's important not to confuse this deconstruction and dissemination of activities with outsourcing, which involves having intact jobs performed by a third party at a lower cost.
The following metrics can help organisations evaluate each option for accomplishing different tasks:
Speed to capability - How do we develop new capabilities as quickly as possible, recognising how rapidly competitive advantage can be dissipated?
Cost - How do we acquire new capabilities as efficiently as possible – that is, with an optimal mix of fixed and variable costs?
Risk - How do we develop new capabilities by taking on as little risk as possible? This involves two key aspects. As work moves outside the organisation, it is critical to mitigate the risks associated with the potential 'lack of control' of the workforce (for example, liability or loss of IP). In addition, as the half-life of skills continues to shrink, it is essential that an organisation insulate itself from the rapidly rising risk of obsolescence.
Our analysis reveals that financial services companies that deconstruct jobs in this manner can typically realise savings in the 60% to 80% range.
Case in point: automating compliance
Figure 3: A sample analysis: technology enablement/replacement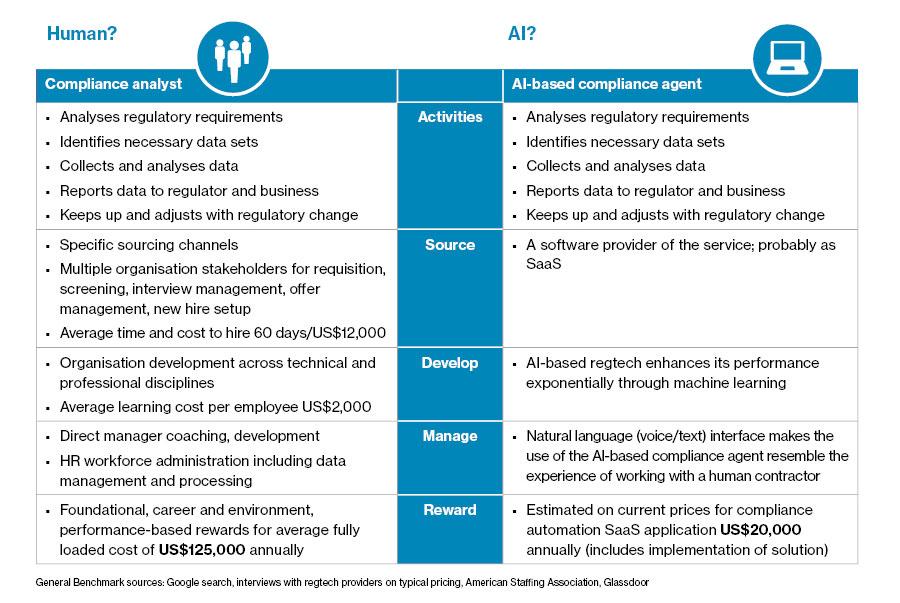 Among the areas where financial services firms are deconstructing jobs and exploring new options for getting work done is regulatory compliance. Stricter regulations are prompting financial institutions to find ways of improving the compliance process, which can be costly, labour intensive and error prone.
Many institutions are turning to regtech, a sub-class of fintech, to address their compliance challenges. Combining big data analysis, robotic process automation (RBA) and machine learning, regtech automates the compliance process. We recently helped a retail banking client and a life insurance company that were facing compliance pressures deconstruct their compliance jobs and implement a regtech solution. In both organisations, there was a heavy reliance on manual processes that increased the risk of inaccuracies. And as regulations increased, more employees were needed to handle compliance tasks. As a result of their regtech implementation, these organisations transformed their compliance process making it faster and cheaper and reducing the risk of errors that can result in fines.
An AI-based regtech solution can deliver many advantages including ongoing performance enhancements through machine learning, improved data quality and analysis, and significant cost savings.
A new value proposition
This transformation of work spawns new employment relationships that require business leaders to rethink their value proposition and accompanying rewards.
It's not possible to be the employer of choice for everyone. Therefore financial institutions need to identify their key talent segments and develop relevant and personalised work experiences for these segments. It's important to identify areas where great talent really makes a difference and where good enough suffices and to plan the value proposition accordingly.
Traditionally, many organisations have regarded non- employee talent or contingent workers purely as a cost play, not requiring a formal value proposition. But in a world beyond traditional employment, it's crucial to identify all the workers and stakeholders whose engagement is critical to the organisation's business success. As organisations begin to focus on the work and available talent (internal and external) as opposed to jobs and full-time employees (FTEs), they can find themselves competing for pivotal capabilities that often they can only access through external sources. In this situation, it's essential for organisations to develop a relevant value proposition for these workers.
The drivers of attraction and retention for non-employee talent or contingent workers may not be the same as those for FTEs. For instance, contingent workers may place a higher premium on work arrangements that offer greater flexibility as well as opportunities for networking and development. In addition, when an organisation is not an employer, it may not be possible to offer certain elements of the traditional employment deal such as health and retirement benefits. Consequently, rewards for contingent workers need to be individualised, short term and imaginative. While money is always important, non-monetary rewards can play a critical role in attracting, retaining and engaging external talent. What other voluntary benefits can an organisation provide to contingent talent to transcend the typical transactional nature of such relationships?
Working for a prestigious company or on a high-profile project that will enhance a worker's reputation and ability to secure future work is often regarded as a significant reward.
The ability to work remotely can be a valuable reward element for workers who prefer and need this type of flexibility and value the potential for improved work/life balance.
Opportunities for learning can also provide a powerful reward, as new knowledge can enhance workers' résumés and increase their earning potential. The new world of work will require all workers not only to improve existing skills but to undergo radical retooling at various intervals – for example, a sales rep acquiring skills in the area of AI. In developing learning and development programmes, organisations can't go it alone. They should consider partnering with a third party such as a university or online training company to deliver programmes that meet the needs of their key talent.
Figure 4: The opportunity: lead the work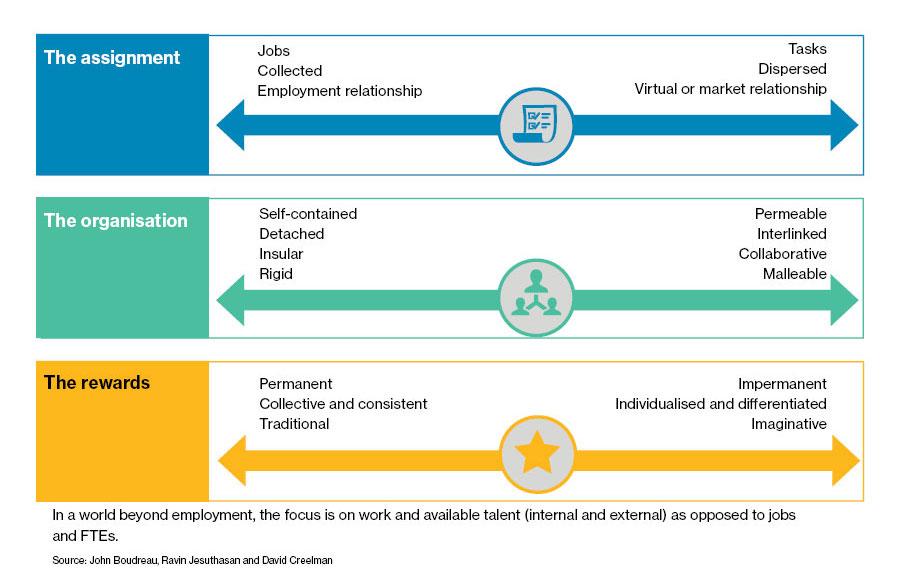 Organisational boundaries are malleable. Being able to decide which work is to be completed inside the organisation as opposed to externally becomes a strategic issue as the right decisions can deliver significant business value to an organisation. To learn more, see John W. Boudreau, Ravin Jesuthasan and David Creelman, Lead the Work: Navigating a World Beyond Employment (New York: Wiley, 2015).
Start by experimenting
What steps can financial institutions take now to get started on this journey? Organisations should consider experimenting with this new plurality of means for getting work done.
Identify jobs in areas where your organisation is having difficulties attracting talent. Alternatively, identify areas where work has been done in the same way for a long time and where you suspect that the work could be done better, faster and cheaper. Pick a few jobs and examine how these might be deconstructed into the three buckets discussed above and evaluate the cost, risk and speed to capability implications of different work options.
Once you have a sense of the work options you'd like to pursue, experiment – for example by hiring an AI vendor for one task or an individual on a talent platform for another.
Communicate your plans to all the stakeholders – leaders, manager and employees – who will need to understand this new way of getting work done. And identify leadership skills gaps – leadership in the new work ecosystem will be more about orchestrating different work options and less about leading people. Lastly, share your lessons learned as you go along and stay up to date with how other organisations are approaching the future of work.
---
1 Electrek, 'Tesla expands on its new car insurance program as self-driving technology improves', February 2017.