Climate change and the associated risks are gaining increasing prominence in all elements of society, and events correlated to climate change seem to constantly be in the headlines. It is therefore no surprise that this issue is becoming increasingly important for pension schemes, as highlighted in our recent article: Climate change is moving up the pensions agenda.
The UK is set to be the first major economy to require climate risks to be considered and reported on by pension schemes. On 8 June this year, following consultation, the new climate reporting requirements for pension schemes were confirmed, and final regulations are now being issued. In order to comply, trustees and sponsors of large schemes (those with assets over £1bn) need to begin taking action now. On 5 July, once the new requirements had been announced, the Pensions Regulator (TPR) began to seek industry views on how they will regulate this activity and set out further guidance on the actions and disclosures expected from trustees.
What are the new requirements based on?
The new requirements for large UK pension schemes are based on a framework developed by the Task Force on Climate-related Financial Disclosures (TCFD)1. The TCFD was established by the Financial Stability Board with the aim of developing recommendations "for more effective climate-related disclosures" that could promote more informed decisions and aid understanding of the climate-related risks in the financial system. At present many stakeholders do not have a clear view as to which companies "will endure or even flourish" and which are "likely to struggle".
The corporate disclosure recommendations, which are mirrored for pension scheme disclosures, are based on a framework of:
Governance: the organisation's governance around climate-related risks and opportunities
Strategy: the actual and potential impacts of climate-related risks and opportunities on the organisation's businesses, strategy and financial planning
Risk management: the processes used by the organisation to identify, assess and manage climate-related risks
Metrics and targets: which metrics and targets are used to assess and manage relevant climate-related risks and opportunities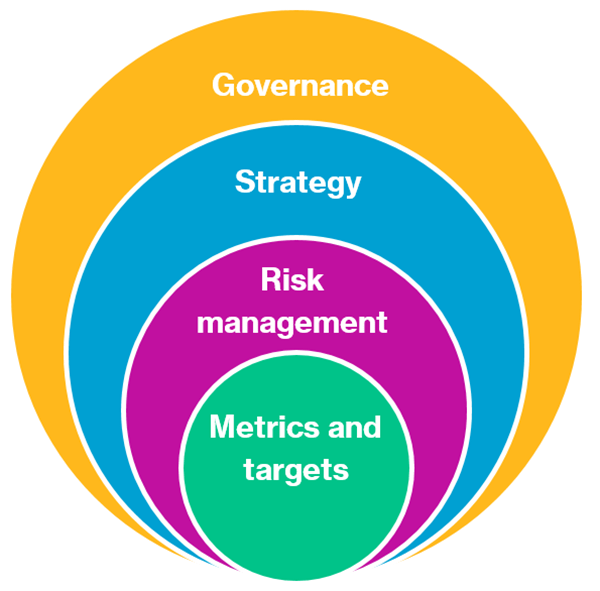 Framework developed by the Task Force on Climate-related Financial Disclosures
Although the framework for corporations is currently voluntary, the Chancellor has announced that between 2021 and 2025 the UK will start to require TCFD-aligned disclosures in stages from larger asset owners and companies, while the Financial Conduct Authority has required adoption by 'premium listed companies' since the start of this year. Consequently, many sponsors of large pension schemes will already be considering these TCFD requirements for their own financial disclosures.
How do the regulations apply to pension schemes?
Where the regulations apply, trustees of schemes must carry out the activity summarised below and prepare a report outlining how they have met each of these requirements. The report is to be produced to the same timescales as the Trustee Report and Accounts, seven months from the scheme year end, and is to be published on a publicly available website.
The above represents a summary of the full requirements set out in the regulations released following consultation2.
When do I need to do this by?
At the moment, the legislative requirements for TCFD disclosures only affect the largest schemes (those with more than £1bn in assets), but the regulatory direction of travel is clear, with the expectation that all schemes should be considering climate-related risks and opportunities irrespective of whether the specific TCFD requirements apply3.
Schemes with assets over £5bn4 (as well as master trusts and CDC schemes) will have to comply with the new governance requirements from 1 October 2021.
Schemes with at least £1bn5 of assets will have to comply by 1 October 2022.
We may expect that, following the Department of Work and Pensions' review in the second half of 2023, legislative requirements will extend to schemes under £1bn from late 2024 or early 2025.
How do we start?
As with most new requirements, it may be difficult to know how to get the ball rolling, but we would suggest some simple steps to start the process.
Identify roles and responsibilities – Who will undertake the governance activities in relation to your scheme's climate risks and opportunities? This group can determine a process for identifying risks with the support of professional advice. It may be useful to establish a working party to take the planning and detail forward.
Understanding – Take advice to understand the requirements and reasonable steps the trustees and sponsors can take to fulfil their duties. This will also help form a combined, collaborative view on climate change.
Sponsor engagement – Engage with the sponsor to understand their aims and objectives as well as their expectations of your scheme's investments.
Review current exposure to climate-related risks and opportunities – Speak to asset managers and investment consultants to start to gain an understanding of how your portfolio measures up, but don't overlook wider impacts on your scheme's liabilities and on the sponsor covenant with input from the actuarial and covenant advisors respectively.
Regulator guidance – Adapt as new regulator guidance comes out in the coming months on compliance and disclosure requirements.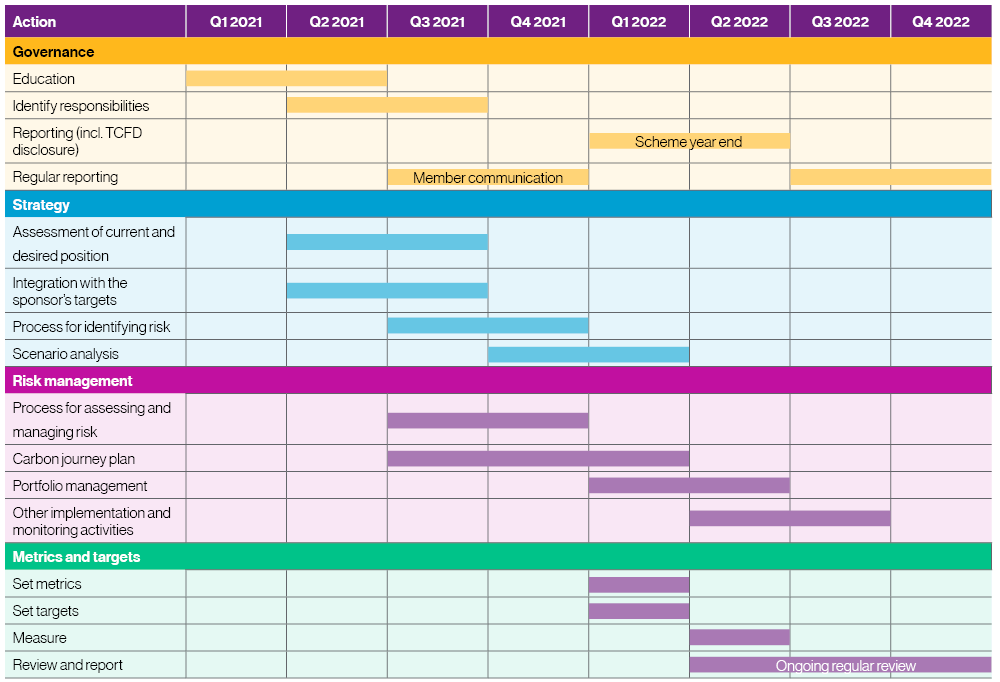 Actions that can be taken towards the Task Force on Climate-related Financial Disclosures requirements for UK pension schemes
Summary
The new regulations act to ensure that the largest pension schemes reflect climate issues as part of the operation and strategy of managing their risks and opportunities.
While we anticipate that the approach to addressing climate-related risks will be different across schemes and is likely to evolve over time, we believe it is important that all schemes take proportionate action now.
We have been working with a range of large schemes and sponsors in different industries that are required to comply with these new requirements, and have helped many trustees develop their approaches to tackling these new challenges. The new requirements will need significant effort to address properly and there are benefits from a risk management perspective to not falling behind actions that others are taking, so it is important to make an early start.
If you would like to discuss how these requirements apply to you, how you might comply with the requirements and also more generally, how you might most effectively address climate-related risks and explore climate-related opportunities, please contact your Willis Towers Watson consultant or James Wintle (details below).
Footnotes
1. See: Task Force on Climate-related Financial Disclosures
2. See: The Occupational Pension Schemes (Climate Change Governance and Reporting) Regulations 2021
3. See: Storm clouds on the horizon: practical steps schemes can take now to address climate change
4. As measured at the end of their first scheme year following 1 March 2020 (insured annuities not included in asset value for threshold test)
5. As measured at the end of their first scheme year following 1 March 2021 (insured annuities not included in asset value for threshold test)
Contact
---
Managing Director, Retirement
---